Importance of being Eco Friendly
Every industry nowadays has a responsibility towards the environment that they are a part of. Going green or being eco friendly is not just a part of a fashion or a trend but it is an essential responsibility many companies are adopting today. By adopting practices that will cause less or zero harm to the environment and making products that are environmentally friendly in nature the companies can help conserve and protect the environment that they are functioning in.
Innovation is the key to making products that are environmentally sustainable which do not harm the environment and also do not compromise on the quality and standards of the product. Companies have to make products that are eco friendly, which will not affect the profits negatively and are of the best standards and quality, which is needed in the product. Many companies are trying to find such innovative ways to reduce their carbon footprint as well as make the best products they can and stay competitive with the competition.
About KMC
KMC Chains Industrial Co. Ltd is a chain manufacturing company with its headquarters in Taiwan. It manufactures and sells different types of chains like bicycle chains, driving chains, oil pump chains, motorcycle chains, industrial chains etc. in many countries all over the world. It is a famous and leading chain manufacturing company. Cyclist participating in the Tour de France also uses chains for their bicycles manufactured by KMC chains. KMC is a top manufacturer of chains in the world and a leading and famous brand for buying chains.
KMC has innovated and come up with eco friendly ideas to help make their chains as eco friendly as possible. This will help them contribute to conserving the environment and reducing their carbon footprint. KMC is concentrating on making its products more eco friendly and bringing in more eco friendly production methods and products in the chain manufacturing industry. This effort to bring in eco friendly products, environmentally friendly product development initiatives and culture, will help KMC make great quality products without harming the environment. KMC has become the world's first chain manufacturer to obtain the carbon footprint certificate as it tries to reduce its carbon footprints as much as possible.
The company by following this thought process has come up with Eco ProTeQ (ETP) series chains for this year's Cycle Taipei. This Eco ProTeQ (ETP) has enhanced anti-corrosion and anti-rust coating and has focused on making the manufacturing process as eco friendly as possible. The company has also passed environmental standards and also tried to reduce carbon emissions at its factories wherever possible. The Eco ProTeQ (ETP) treatment technology improves the chain protection by coating the entire component so that it forms a durable anti corrosion surface. It has majorly increased the anti-rust co-efficient, the anti-rust capabilities of this series of chains even in adverse conditions.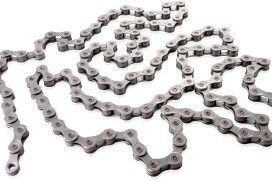 These bikes can be used for BMX, Road Bikes and Mountain bikes. By improving the anti-rust and anti-corrosion factors of the chains, in this Eco ProTeQ Series of chains, KMC has greatly increased the durability factor of these chains. If they last longer they are naturally more environmentally friendly. By launching this special environmentally friendly chain coating the company is taking a good step towards a more sustainable and eco friendly chain manufacturing industry.
As we see above KMC has launched environmentally friendly chain coating as a step toward environment protection and conservation. That companies like KMC need to take these steps towards conserving the environment, reducing their carbon footprint and saving the environment for a better and sustainable environment in the future.