We've seen houses made of wood and concrete but a house constructed entirely out of natural and recycled materials is something else altogether. Such a home was built by Michael Reynolds, a self-sustainable abode that aside from using natural and recycled materials, also has the ability to generate its own power, water and food.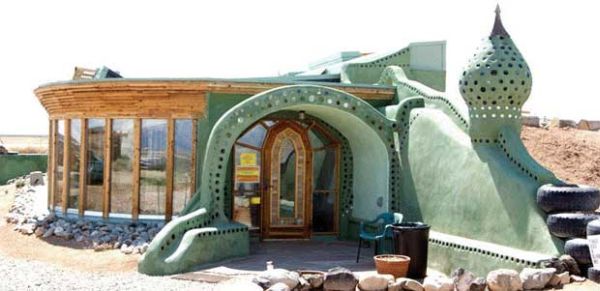 Earthship Biotecture, a company which specializes in building and designing earthships, was founded by Reynolds who wanted to build a house that could accomplish three things – use recycled materials and other components which are abundant on the planet; depend entirely on natural energy sources for its power, water and food; and finally, be constructed by anyone without the need for previous construction skills.
These aims of Reynolds appear to have been achieved in his unique U-shaped homes made from scrap tires and other junk. In time, the houses evolved into what are now known as earthships. They're made for various purposes and sport different designs.
After having seen the success of earthships in open areas all around Europe and America, Reynolds now wants to take his brilliant concept to urban cities. His next move will be to bring the project to the polluted city of Philadelphia. Since the houses are constructed from recycled and organic materials, they can promote the concept of sustainable development in major cities.
As the earthships also have provisions for self-generated utilities including electricity and food, the company is positive that they will be successful with the poorer sections of society. Another added bonus is that the houses can be made by anyone, therefore generating unlimited employment opportunities for the urban unemployed to uplift the economy of the city.
Sustainable homes are nothing new but Reynolds's earthship project stands out as it doesn't require construction skills. We especially like the fact that it can be used as a housing solution for disadvantaged sections.
Via: Philebrity