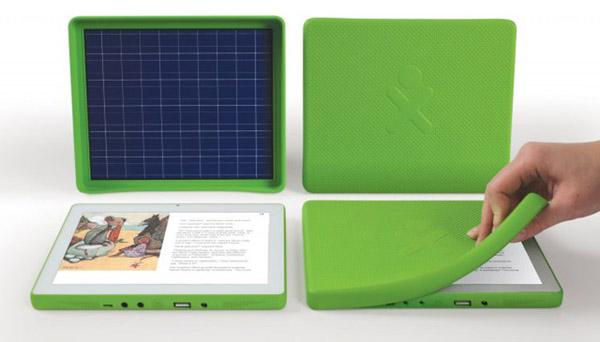 With the growing craze for eco friendly gadgets, 2011 was the year that saw greater potential in the demand of greener gadgets. This year the predictions are that yet more innovative projects are in the making. There are a few eco friendly gadgets that will be the talk of the town in 2012 for their functions and efficiency.
OLPC's XO-3 Tablet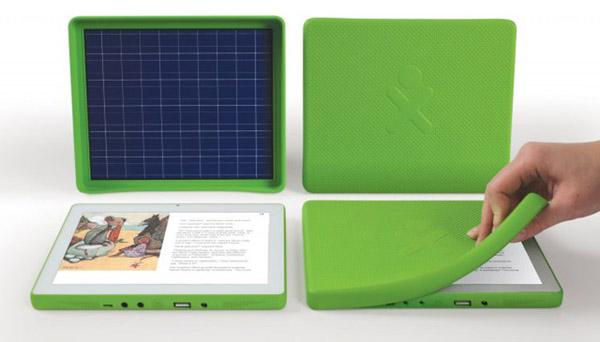 This eco conscious laptop features an eye catching green plastic cover. The eco credential of this unique gadget is that it gets charged by solar energy. The solar panels provided with the laptop serve the purpose of capturing solar energy to the optimum. Alternatively, it also gets charged by the wind up mechanism. It comprises of an 8 inch screen having a resolution of 1024×768 and comes equipped with 521 MB RAM. It runs either on Linux or on Google's Android operating system and has a price tag of $100.
Rukus bluetooth solar powered speaker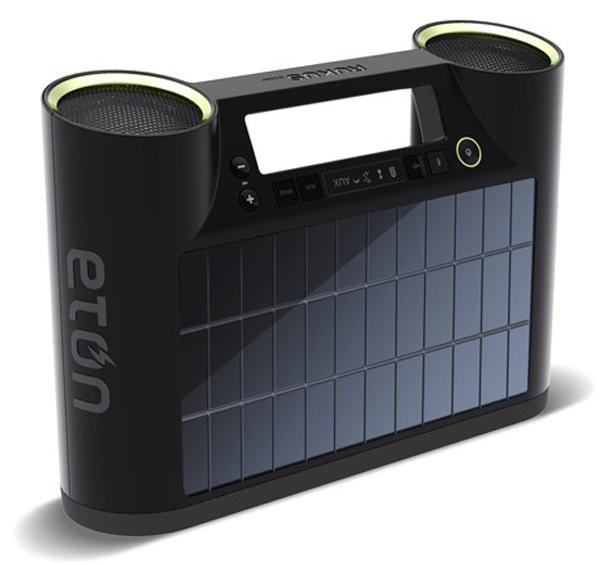 This portable Bluetooth sound system runs on solar energy. The 40 square inch solar panel, which has a square contour, captures solar energy to recharge the lithium battery. Thus, within six hours the device gets fully charged. On cloudy days the AC adapter empowers the gadget. The device comprises of integrated USB port that can recharge any other device as well with solar energy. Functionally, it is capable of streaming music from any sort of Bluetooth enabled musical device.
SolarFocus' Solar Kindle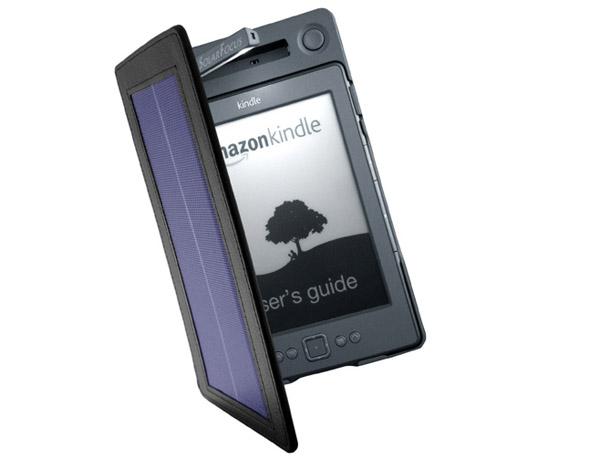 The popular e-reader, now comes with a solar powered cover. The plastic exoskeleton of this e-reader cover has solar panels to trap the sun's power. The dual charging ports provided inside the SolarKindle cover make the e-reader capable enough to run for three consecutive days with a single charge on a cloudy day. On sunny days the panels will automatically pick up charge and store it in the reserved cell so that it can guarantee three months of reading without disturbance. The built-in reading lamp works for 50 hours at a stretch without calling in for recharge. It costs $79.99 only.
Panasonic DMP-BDT320 Eco Blu ray player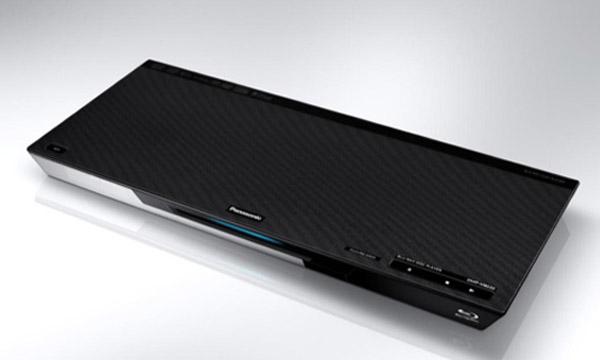 The rush and hush about the eco intelligent gadget from Panasonic is that it comprises of Smart Eco Sensor. It senses the movement of the user and switches on automatically. It operates at eco mode when the user is within 16 feet from this gadget and utilizes only 0.1 watts of power. Likewise, when there is movement within this range the gadget turns to quick start mode.
Nest self programming thermostat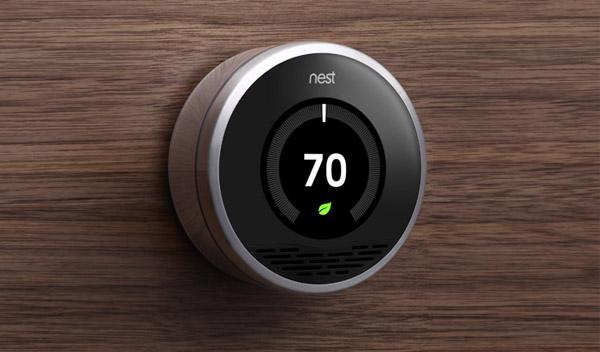 Nest Learning Thermostat is the brainchild of a team of engineers headed by ex Apple engineer Tony Fadell. It is an automatically adjustable thermostat. The activity sensors, knob based design and the weather feedback secured from internet by virtue of its Wi-Fi connection enable the device to self program its temperature according to the environment of the place where it is mounted. This indicates there will be 50 percent less consumption in electricity. Therefore, it cuts down on the domestic electricity bill.
Wagan tech portable solar power generator

This solar powered generator works on plug and play technology and empowers the AC electricity based gadgets. The whole process is carried on without any noise or sound. The functional parts of this power generator are the self equipped solar panels, hybrid cell and the power inverter that make the device incredible. This project looks forward to provide light to remote villages that are without electricity till date.
AOC 22-inch HD USB based monitor

This revolutionary USB based 22 inch plug and play monitor is made from recycled materials. The LED technology renders crystal clear picture of 1920 x 1080 resolutions at 60 Hz. But in comparison to its high end efficiency the energy consumption is 50 percent less than the conventional CCFL backlight monitors.
SmartLook home energy display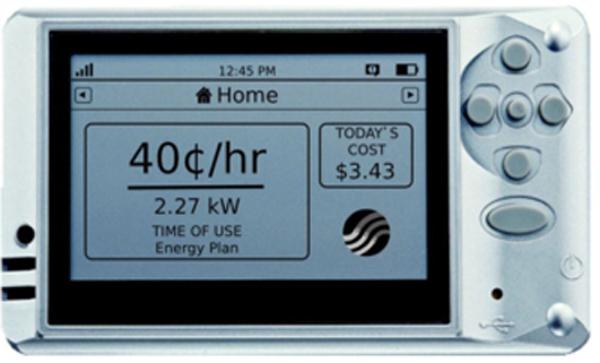 SmartLook is another eco conscious gadget in this bandwagon that works in monitoring the total energy consumed by a family every day. This smart gadget has been manufactured by the company, Hoside. The most advantageous part of the device is that it calculates the subsequent cost of energy spent on a particular day, so that the user can make necessary planning and adjustments accordingly to cut down on electricity bill. It also records the data over a considerable time for future reference.
Switch75 LED light bulb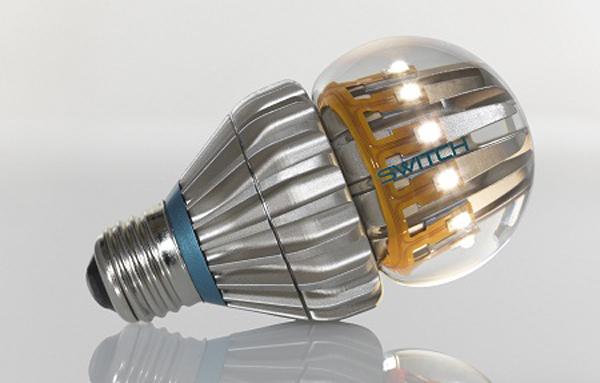 This beautiful bulb is a highly efficient light that has been conceived and developed by the company Switch. There is a specially engineered liquid cooling arrangement within the bulb that is devoid of mercury. But that does not convey that the lights do not provide enough illumination. It dispels heat sinks but definitely imparts maximum illumination in lesser power. It utilizes only 16 watts of electricity to produce 50 percent more illumination.
Genius DX-ECO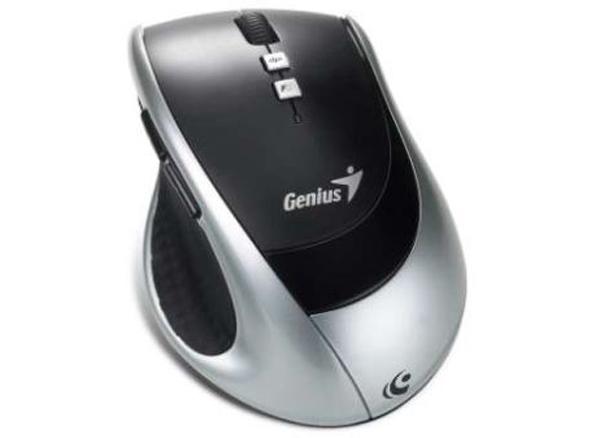 This palm fitted compact mouse neither requires battery nor any wireless power transfer to remain working. The revolutionary Taiwanese mouse DX- ECO, developed by Genius, runs on capacitors and holds charge for the whole day. It remains functional even at a distance of 15 meters from the source, offering frequency of 2.4 GHz. Equipped with four keys, scrolling wheel and sensor it can give the traditional mouse a run for money.