Scarcity of land is a growing problem, leaving engineers and architects trying to find ways to accommodate people, their needs and functions. This problem will further take tole as the population will grow, burdening the existing land even more. A viable solution is to design structures that can take into consideration multiple purposes. As such, mixed use buildings are emerging as the ideal way to go about tackling the problem. Designers Emanuela Ortolani and David Vecchi have proposed designing New York's City Theater using the mixed use method in view of rising prices of land.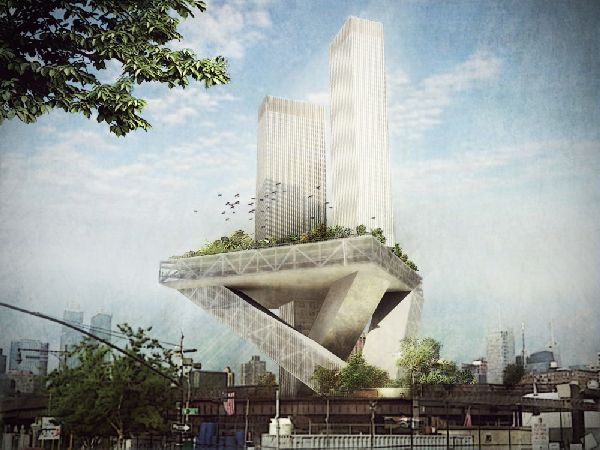 The renderings were showcased at the ESA gallery to highlight the function of the building, which will accommodate various needs like housing, work place and the theater itself. The design attempts to incorporate green space into the architecture. However, instead of situating it at ground level, the space will be built on a raised platform measuring about 6,000 sq meters. The platform will be connected to the sea walk in front of the Hudson River. It will also connect with Gansevoort Plaza and W 34 St through the ex railway line.
The residences will be used by the actors and staff of the theater. Proceeds from the rent or sale of the apartments will be used to fund theatrical activities. Aside from living quarters and work spaces, there will be areas set aside for recreational activities like sports as well as a restaurant and a hotel.
The project may seem a little too large to take on, but in view of trying to bring all requirements together, the design itself seems intelligently thought out. For now, the renderings will remain renderings and we'll have to wait to see if the designers' proposal is selected for the city theater. Till then, we expect to see more such concepts being thought out for inspiring designs for mixed use buildings.
Via: Archdaily