A warm spring's day conjures images of a chilled drink in one hand and working a barbecue grill with the other. A time to gather with friends and toast the coming of summer. But, as everyone knows, a BBQ grill doesn't come cheap. If you want one of good quality, be prepared to shell out a tidy sum of cash. Radical Motor Sports based in Saudi Arabia is a custom automaking group that works on cars and bikes though their specialty lies in building sandrails or buggies. The team's recent endeavor saw them creating a very cool BBQ out of the front end of one 1978 GMC Pickup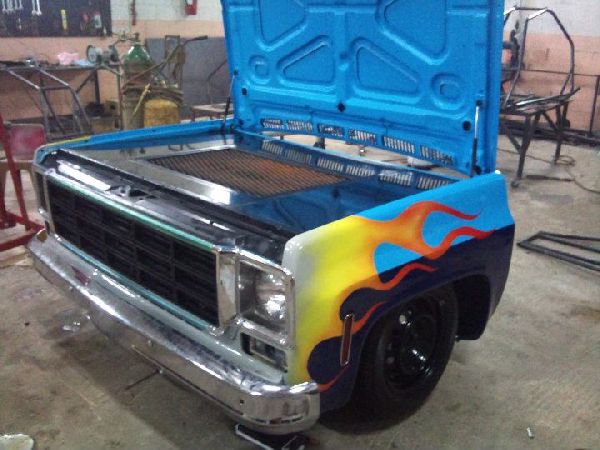 The truck is especially suitable for such a project as it's large enough to roast a good amount of meat. The compartment that once housed a big V8 now sports a large grill that stretches almost all the way across.
The blue grill looks awesome with red and yellow flames licking the sides and the top. The contraption still retains the headlights, the front wheels and the front bumper, though we aren't sure if the lamps are still functional. We're also not sure if the BBQ operates using charcoal or gas as no details have been given.
What we do know is that Radical Motor Sports has given ordinary folk an idea of how to recycle old vehicles headed for the scrap yard. Most car owners will know that it isn't easy parting with your ride no matter how beat up it is. While some manage to say goodbye to their machines, others prefer to give them a new lease of life. Radical Motor Sports has shown us how we can turn old cars into functional and useful products.
Via: Ohmz