Most of what we thought about in science fiction is coming to reality. Apart from being eco-friendly, the car designs of the future aren't even terrain specific. There are many multi-terrain and multi amphibious vehicle concepts that are gaining popularity. It is a matter of time when we see them on the road, or in the sea, or who knows maybe even in the air. If successful, these designs would shape our future, if not, these would inspire others who would change our future. Both ways it is a win-win situation, so let us check out all these designs.
Multi Amphibious Vehicle by CT&T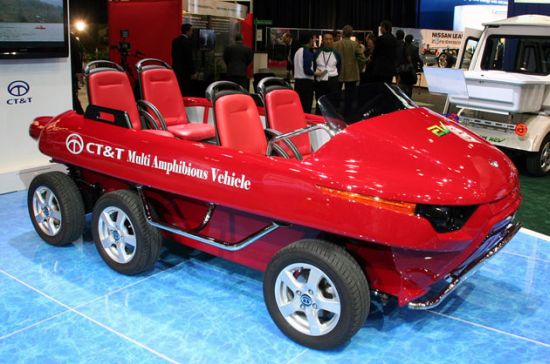 CT&T, a Korean car manufacturer, has launched its four-passenger Multi Amphibious Vehicle. The electric car is designed to tackle most conditions on land and water. With a top speed of 40 mph on the road and 10mph on water, the performance of this car can be considered sufficient for any urban commuter.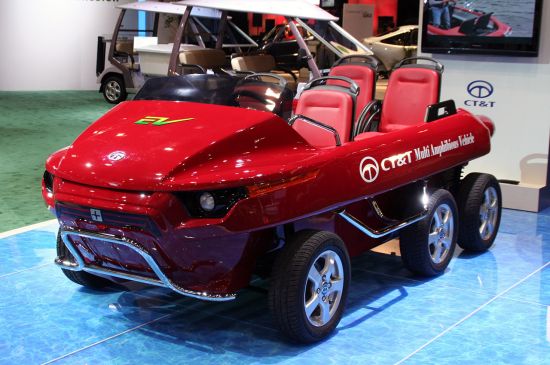 This six-wheel vehicle is powered by an electric motor when on the road. However, when it is in water, the same source empowers the twin propeller. What the car lacks is a roof, otherwise it's a charming vehicle designed with a soft attitude toward the environment.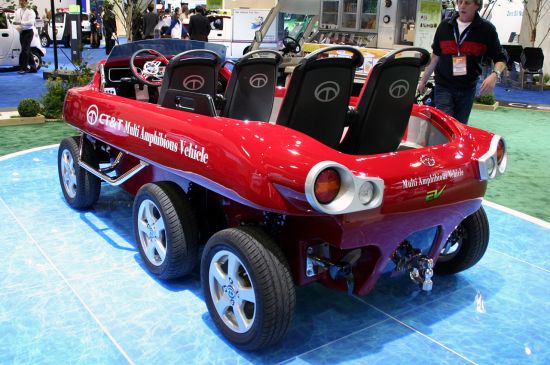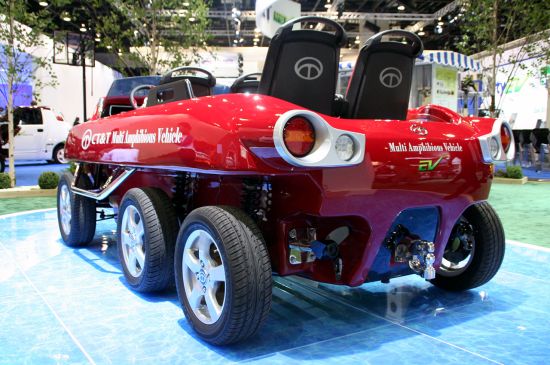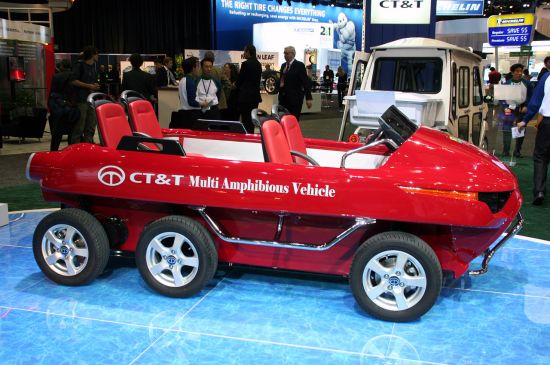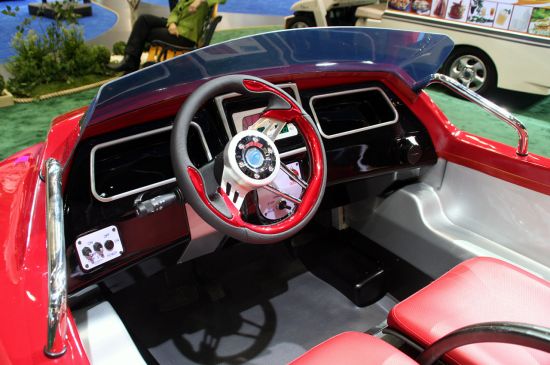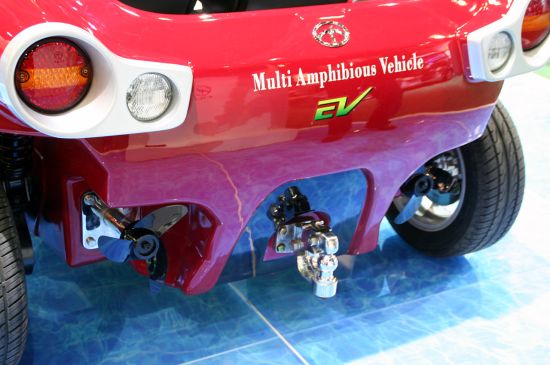 Via: AutoblogGreen
Some similar  multi-terrain and multi amphibious vehicle concepts
1. Chase 2053 – Hydrogen vehicle that can move on both land and air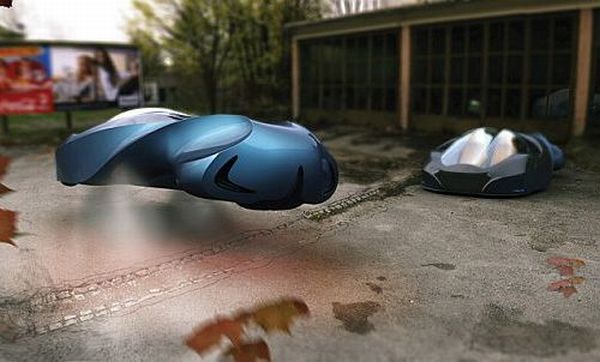 Keeping in mind the chaotic future of the vehicular traffic in our mega cities, Norwegian designer Thomas Larsen Roed has come up with the concept of a car that can run both on land as well as in the air. It would aim at making daily transportation swift and speedy in future urban conditions. The three-wheeled conceptual vehicle, named as Chase 2053, will come skinned with carbon nanotubes. It would be providing considerable strength at all the places required.
Made for the year 2053, the vehicle has a core made out of mycelium, a process not requiring advanced facilities. Equipped with an engine running on hydrogen for zero emission levels, the exteriors are made of polycarbonate and stretch material. This would help in keeping it safe from any kind of damage. Furthermore, due to very less fixed tools and moving components, the vehicle has very less weight. This makes it more suitable for mass production.
2. Opel Icona all-electric concept vehicle for land and sea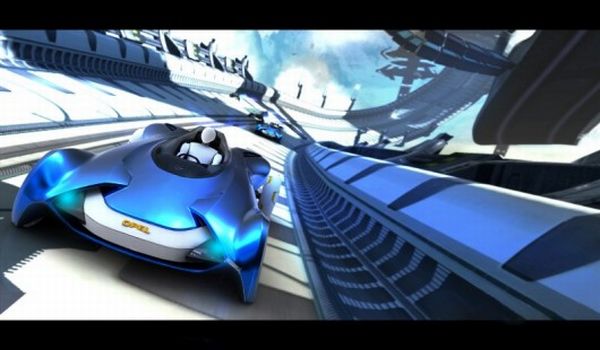 Swedish designer Juan Pablo Bernal P has come up with an all-electrical vehicle named Opel Icona that uses natural elements for powering itself. The car is designed for year 2050 with options of land and water mode.
Opel Icona features four electrical motors in each of the four wheels. Furthermore, it runs on normal electric power on land mode. But, for water mode, it works with the help of a sail retracted from its storage area and inward rotating wheel arms to reduce drag.
3. An Electric Car That Dives Underwater: The Rinspeed sQuba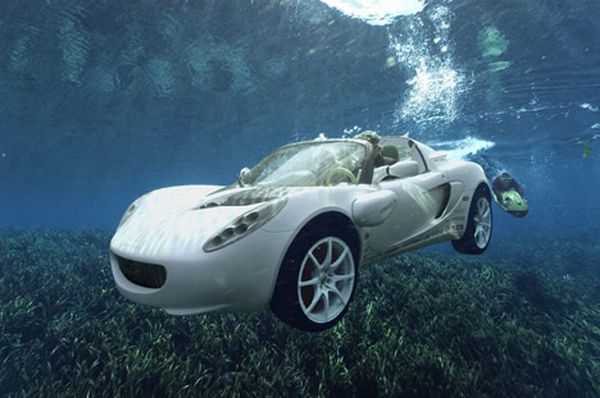 This amphibious car is capable of running both on land and underwater with ease. Equipped with three zero emitting electrical engines, the car uses one of it on land. However, it uses the other two for the underwater commute through the currents. The amphibious car called sQuba can reach to the level of ten meters underwater and won't pollute it while diving due to its zero-emission electrical engines.
The sQuba is made up of carbon nanotubes giving it considerable strength. In addition, it is also ultralightweight when you compare it to other cars of its size. In order to breathe underwater, the car has a self-contained support system. This supplies enough fresh air into the interiors for the driver and a passenger.
4. Manta concept three-wheeled amphibious vehicle is powered by electricity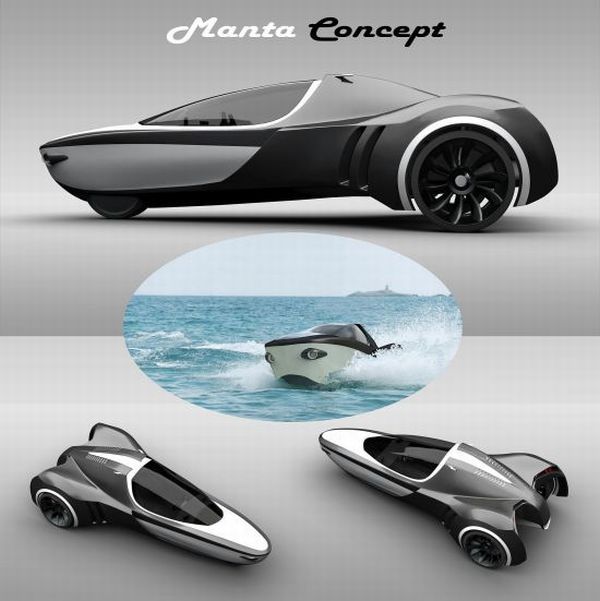 The brainchild of Belgium based designer David Cardoso Loureiro, the Manta concept vehicle is an ideal vehicle for people living near a water body like a lake.The three-wheel concept vehicle is designed for those who like to have a quick boat ride but don't like loading or unloading their boat from trailer.
This one person amphibious vehicle can turn into boat at just a click of a button and is so designed that it gives excellent handling capabilities and speed in water. Wheels that are designed as blades can turn at 90 degrees to propel the vehicle in water. Rear wheels of the vehicle are powered by individual electric engines. Applying the relatively simple concept, the vehicle can be produced at a low cost for a great value.
5. YEE Flying Car Concept by Students of South China University of Technology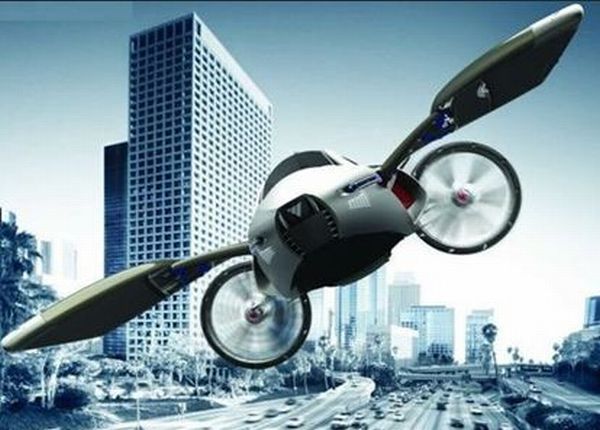 Although just a concept right now, this prototype made by three Chinese students, namely Pan Jiazhi, Zhu Wenxi and Lai Zexin, looks like it can really fly. The flying car concept, named as Yee, has been designed for those urban movers, who want thrill and excitement. It has a very fresh design and look to it. It is easy to operate and that is exactly what extremely busy urbanites want for their fast moving life. The unique design and use of new energy sources make it a perfect eco-friendly car and an ideal candidate for the contest theme: the harmonious coexistence of people-car-nature for which it has been basically designed.
6. Aircraft of the Future: Flying yacht and sailing aircraft by Yelken Octuri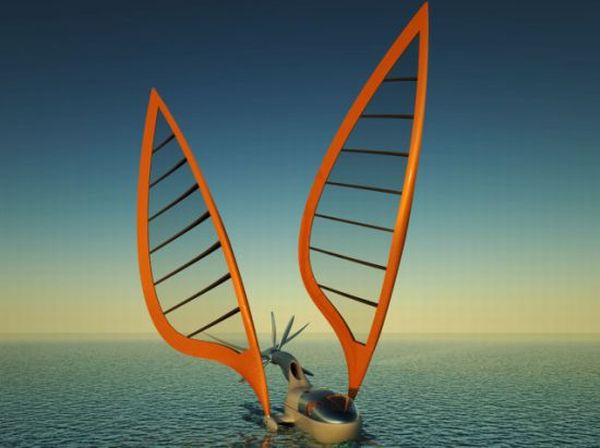 This futuristic concept vehicle, designed by Yelken Octuri, are sure to mesmerize those who love those flying cars. The two concept vehicles are called Flying Yacht and Sailing Aircraft. Both of them look like they have walked out straight from some sci-fi flick. Flying Yacht is a yacht that can be converted into a seaplane, while Sailing Aircraft is a seaplane that can be converted into a sailboat. The four mobile masts of the flying yacht help it to transform into a plane. The four masts are lowered to become wings of the plane as the sails retract to convert yacht into a plane. Designed for the princes Aziz, Dawood and Hashim, corporate executives of Masqat Airways, the flying yacht depends on its four masts for propulsion.
Sailing Aircraft transforms into a sailboat by converting its horizontally positioned wings into two straight sails. Strategically positioned at the joints, sails can be adjusted as per the flow and force of wind.
7. Mazda TONBO concept gives new meaning to a sports car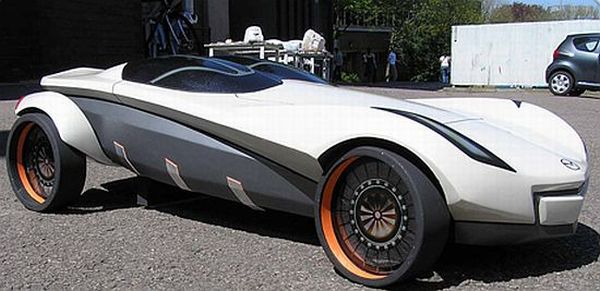 Whenever one thinks of a sports car, the first few things that come to mind are a very powerful engine, a design that turns a few heads and some mind-boggling speeds. This new concept car designed by DedekDesign and Mazda of Europe adds a whole new feature to sports cars. The car can be driven in water. The car runs on Hydrogen fuel cells to keep the air clean, and only emits pure water and nothing else. The Mazda TONBO also takes care of some parking troubles with its new innovative feature called anti-vandal parking system.
8. sandYou – A car that can run on water too!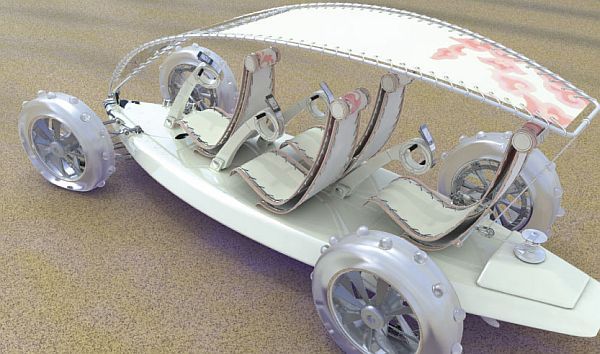 The concept vehicle sandYou has been inspired by the shape of a surfboard. This dual vehicle will run on electric motors imbibed inside the main body. The vehicle will have four life jackets, which will rotate with the wind and act as turbines to charge the batteries with clean and green energy. The fans incorporated within the wheels also act dually as boat propellers maneuver it in water. The four lightweight seats made out of wood and tissue, with a small box attached at their sides for carrying personal items, make the main frame of the car. For those with the inclination for sailing, a foot pedal will also be provided in front of the seats. The roof, made of simple canvas for blocking out the sun, can also be converted into sail by simply cranking the winch.
9. EkranoYacht: A flying yacht designed as a permanent residence for 2025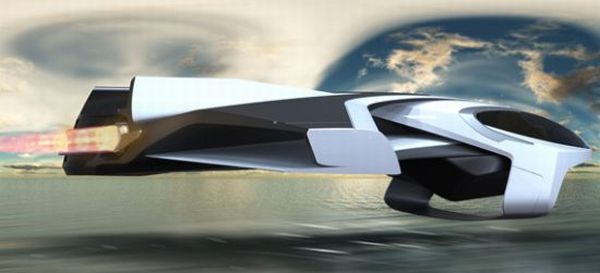 Here is another interesting yacht concept that can fly. Designed for a permanent residence, this yacht can fly and float and is described as a wing-in-ground effect vehicle powered by Hydrogen. Named as EkranoYacht and designed by student designer Jaron Dickson, the vehicle gives us a glimpse of the future yachts. The 36.5m craft of the vehicle can accommodate six people comfortably and flies 4 meters above the water surface and aims at giving clean and green sea travel. Made for permanent residence, the interior also has large windows for natural air with an open floor plan. It does approximately 400kph in full light and can handle waves up to 3.5 meters. The craft can be easily used as a normal yacht whenever needed.
10. Pathfinder – An eco-friendly amphibian vehicle for future nomads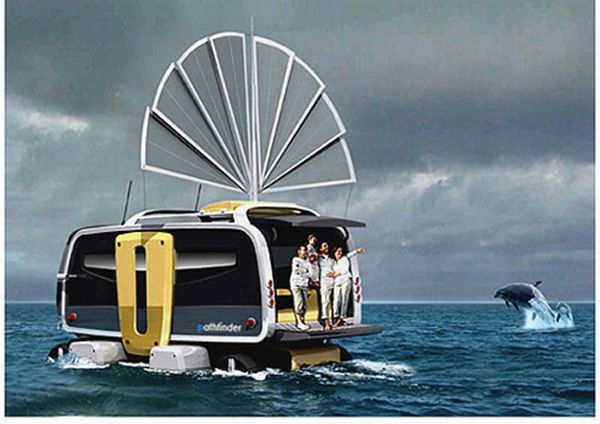 If traveling seven seas across the globe is what you dream of, then probably this new concept vehicle is precisely what you need. Made for driving comfortably on road and water, the Pathfinder can be an ideal vehicle to resort to, whenever you are hit by that travel bug. The new concept vehicle is 100 percent eco-friendly with the use of alternate sources of energy, like hydrogen fuel cells, a retractable solar roof and ability to harness the wind power as it surfs on the water. Fitted with four motors in each of the four wheels, this vehicle can be switched to sail mode whenever one wants and can have that ultimate globe-trotting experience.