If you are thinking of some good way to get rid of your Apple computer that has become obsolete, there is nothing better than recycling it to create something unique and useful. If you happen to be an Apple fanboy, you just don't need to throw away your old iMac or PowerBook into the trash can. Instead, you can use your creativity to make something interesting from it, such as a desk lamp or a wall clock, which would be a great addition to your living space. After the jump are seven creative products made from discarded Apple computers, especially the iMac.
Old Apple Mac and iPad DJ helmet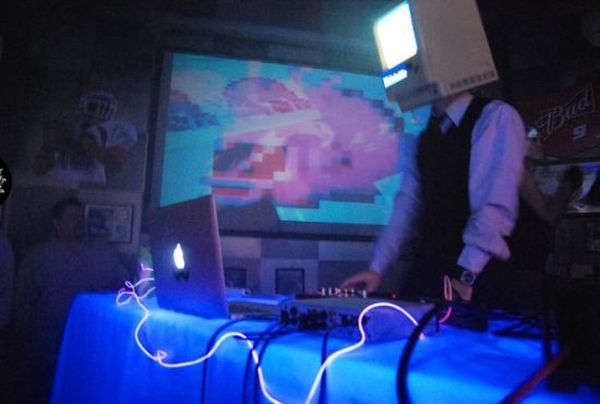 DJs are always seeking for unique ideas to make their equipment noticeable. This visualizer helmet was made by DJ Kid Chameleon from LA and his friend Terrence Scoville, who happens to be a design student. An obsolete Macintosh Plus, a bicycle helmet and an iPad was soldered to create this techno DJ helmet. Moreover, an electroluminescent gear was used to get those funky and cool lights. An iMac running Resolume Avenue controls the shebang and a MIDI keyboard along with a Wiimote is used to trigger the video.
Recycled Apple PowerBook Cover Clock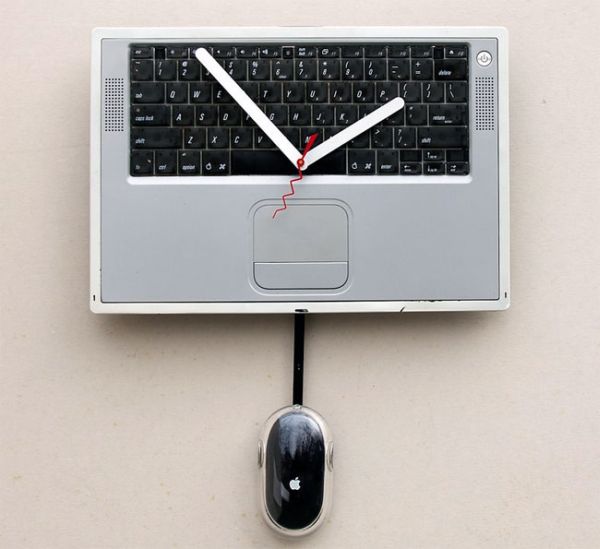 Instead of throwing away an obsolete Apple PowerBook, you can reuse it as a swanky wall clock. The Recycled Apple PowerBook Clock is geeky but a creative and intellectually idea. The inventor of this clock smartly used a 15-inch old PowerBook, along with a mouse that was suspended to function as a pendulum. This elegant piece of recycled craft is sure to give a different look to the wall of your geeky den.
iMac as a Hamster Cage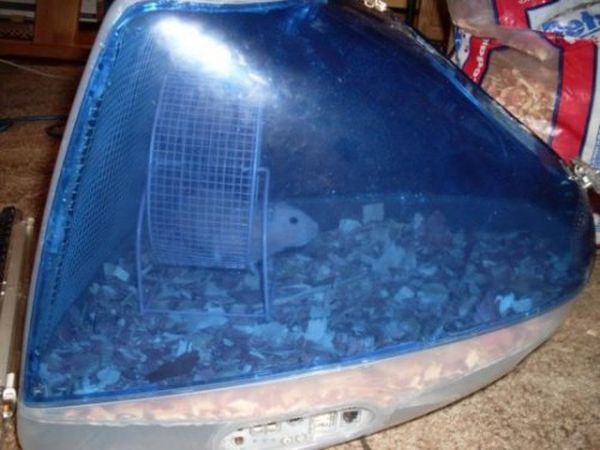 How about reusing your old iMac that has been lying idle in the corner of your storeroom as a Hamster Cage? An anonymous guy had an unwanted iMac, so he went ahead and used it to create a cool home for his pet hamster. He took his blue iMac and removed the guts to insert mesh walls to make a cage. He placed wood shavings and some water for the rodent inside. The cage was given proper ventilation to comfort the hamster.
Fish Tanks made from iMacs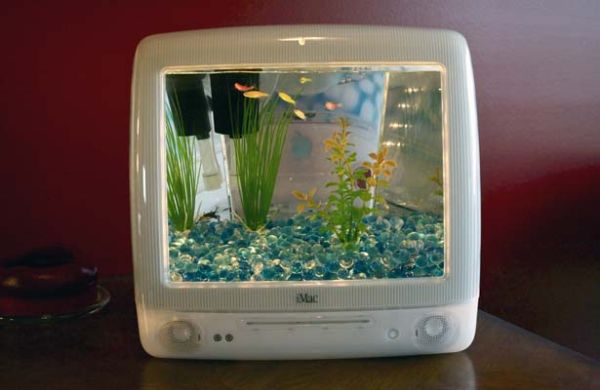 Jake Harms, a professional photographer based at Nebraska, U.S., thought of a new and creative way to repurpose his old iMac, which he was asked to throw away. He decided to reuse the iMac as a new home for his finned friends. For the same, he removed the entire electronic parts in the monitor and fitted a custom made aquarium. Though it took him some good time to create a perfect curved shape of the fish tank to replace the iMac's curved cathode ray tube screen, but he succeeded to create a fabulous aquarium for his fishes out of the iconic colorful computer. He now collects these discarded machines from local recyclers and makes iMacquariums in a variety of colors, including red, blue, aqua, smoke and white. He sells them online for $250 each.
The iTerrarium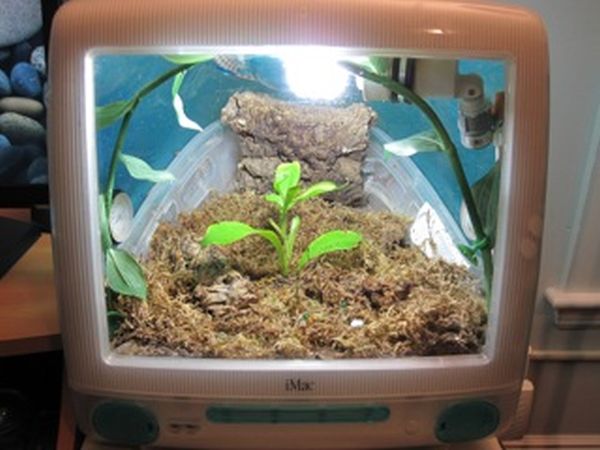 After the iMacquarium comes the iTerrarum made by Paul Riddell of the Texas Triffid Ranch. He simply extracted the electronic components of the Apple iMac and placed a terrarium inside. The handle on the top was changed into a removable access hatch. The enclosed terrarium appears like a landscaped plant biosphere. This is an extravagant reuse of the discarded Apple iMac as a home decor.
iMac G4 desk lamp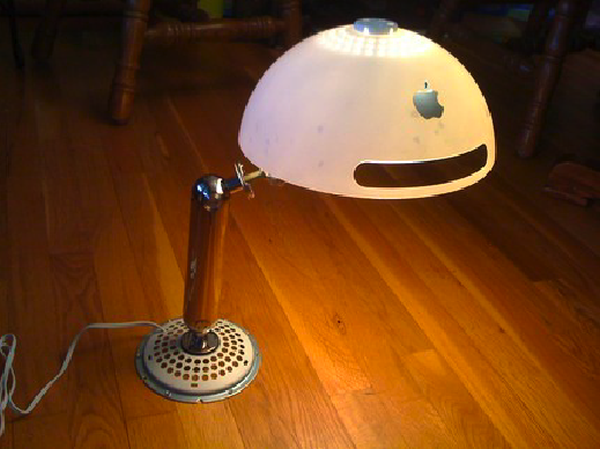 The iMac G4 was nicknamed as iMac lamp due to the semi spherical base of the desktop, which appeared like a desk lampshade. The owner of an unwanted iMac G4, Nicholas, thought of actually reusing the base of his discarded desktop into a desk lamp's shade. By employing a bulb and an arm stand connected to the wall plug along with the base of the iMac G4, he created the desk lamp. Since the beautiful lamp bears the Apple logo, it could be a perfect gift for an Apple fan.
Apple Mailbox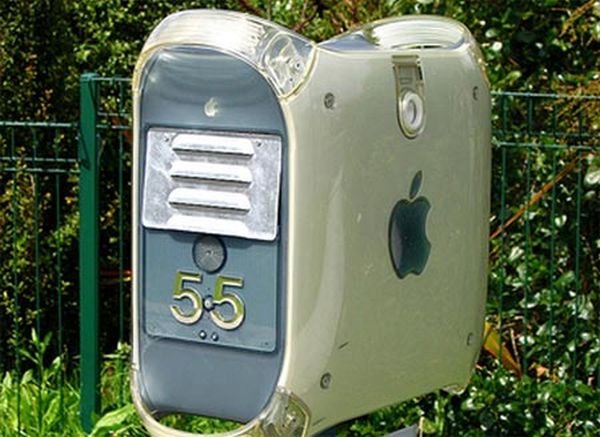 The unique Apple mailbox was created by an anonymous Apple lover from Auckland, New Zealand. The creator has excavated an old G4 and changed it into a mailbox. This pleasant new idea of making use of an otherwise waste iMac G4 as a mailbox was finished with a front flap and address numbers.