Bamboo has always been used as a material to build decorative items and scaffoldings. Let's have a look at some other unique and eco-friendly gadgets that can be created using bamboo.
Bamboo Slider Case for iPhones
In-case has developed a bamboo slider case to protect your iPhone from scratches and to make it lightweight for you. Being naturally safe, the company has made these cases using reclaimed and unused bamboo. The recycled bamboo recovered from scaffoldings and chopsticks was used to develop this slider case. Now, your iPhone would not seem to be that bulky to you. The In-case store is offering this case for $34.95.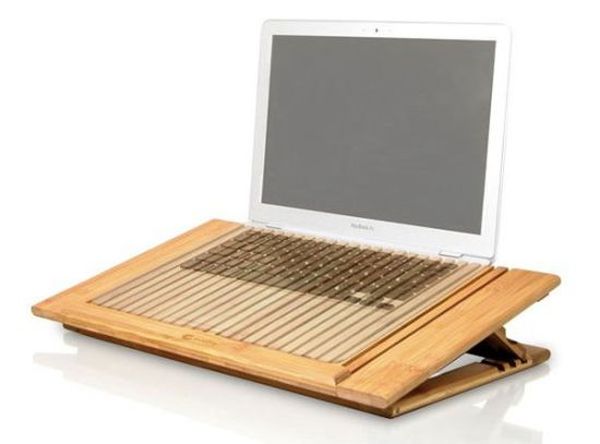 You may find laptop coolers in different designs from varied brands. There are special features that each one of them claims to offer. But, look at this unique and eco-friendly notebook cooler range that has been developed by Macally. All their laptop coolers with built-in fans are made of bamboo. The range includes ECOFAN and ECOFANPRO versions of the cooler. While ECOFAN has a stand with a fixed position, ECOFANPRO comes with a stand whose height can be adjusted. Any notebook up to the size of 17 inches can be accommodated on these laptop coolers.
This is an eco-friendly air purifier that is bamboo charcoal-based. This purifier contains a very-very fine powder of charcoal, bamboo and clay. You may keep it in your car or closet to remove any kind of bad odor as its capacity to absorb such odors is very high. Developed in the shape of a cube, the product is packed in a micro-honeycomb structure. This two-inch cube has about the same surface area as four football pitches would have. So, you may now imagine why it runs for about a year without refilling. You may own this cube for about $28.50.
Macally has come out with EcoFad, which is an eco-friendly notebook holder as it is made of bamboo. It also includes a mouse pad made of bamboo. The holder's grooves are designed after keeping in mind that it has to circulate hot air and keep the notebook cool.

The Haiku Satori ceiling fan is quite efficient and environment-friendly. Moso bamboo is used to create its blades. If your house has a natural décor, it will surely complement the look. This green fan has an advanced aerodynamic design that is three-dimensional. You will get all the operating modes in its infrared remote control. The Satori fan also features a digital inverter controller. It offers advanced-level safety features to the user.