Some of the most fun toys that we had as kids were some of the simplest ones. One somehow feels that as kids are growing up, modern life is making this a lot more complicated for them with all the fancy plastic gadgets and electronic toys. We see many of them nowadays even reluctant to get away from their gaming consoles and television sets even for a breath of fresh air. This in no way is a criticism of the kids, but how technology seems to have taken away some of the simple joys. Riding a bicycle is one of the best feelings in the world as it gives you a thrill akin to flying when you do it for the first time.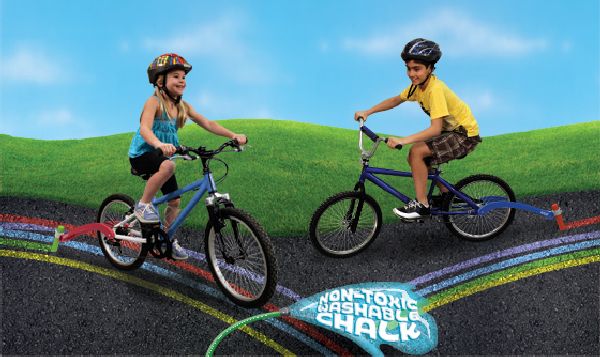 Chalktrail is a fun toy that adds a bit of colorful enthusiasm to the activity. The toy is simple enough and kids can use it on their without any adult supervision. A plastic attachment to the rear wheel of the bicycle and a colorful chalk placed inside it allow you to leave a trail of bright colored chalk on the road. Kids can spin around and draw as many designs as they like. A project on Kickstarter, it has already reached its goal but you can still back the project and get Chalktrail for $20.
You can fit it onto any type of bike and all you need to do is fit the chalk of your color choice and you are good to go for almost one and a half mile on single color. By the time the chalk wears out, your little one will be drained as well. The creators of Chalktrail call it 'Artivity' and we sure love the idea as it is clean and promotes a healthy habit which allows kids to get out and get a bit of fresh air and exercise.