Creating art in any form requires ingenuity, and if the artist is using materials that aren't really meant for that purpose, he needs much more than simple skills. Artist Daniele Papuli creates incredible installations made out of paper. This sculptural piece dubbed as Cartoframma comprises of more than ten thousand strips of paper that open out into magnificent waves of water, swirling and creating a great effect. This piece can easily be mistaken for a fiber because of its fine curves, even though it is made of paper.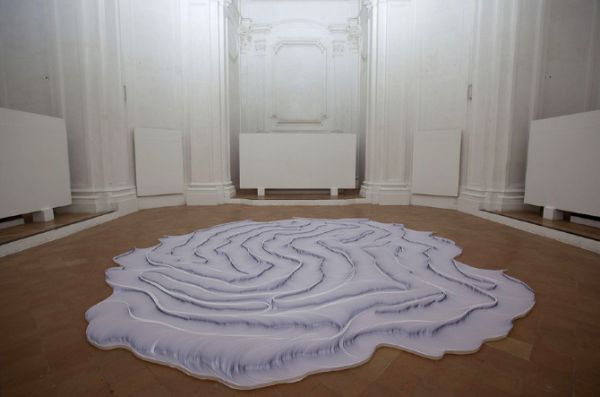 This Italy based artist treats materials with an altogether different approach, and creates things, which are beyond one's imagination. He was groomed in art at the Accedemia di Belle Arti di Brera, where after experimenting with various other materials, he decided to work with paper. It was after a trip to Berlin, where he attended a workshop on the methods of manufacturing paper. Since then, there was no looking back and Papuli went on to make the most of this delicate material, experimenting with its shape and vigor.
Paper on one hand, is very complicated to work with, because it is fragile, but on the other hand the ease of molding it into any form, shape , patter,etc. renders it flexible. Daniele conducted different experiments with handmade paper, instead of buying it, and it is through his hard work that he was able to come up with innovative and creative pieces out of his own perceptions.
This skilful accumulation of paper creates a brilliant scene of streams, which soothes the mind. It looks, as if it is a large creased piece of silk with graceful curves extending about in different directions.
Via: Iamcarisu