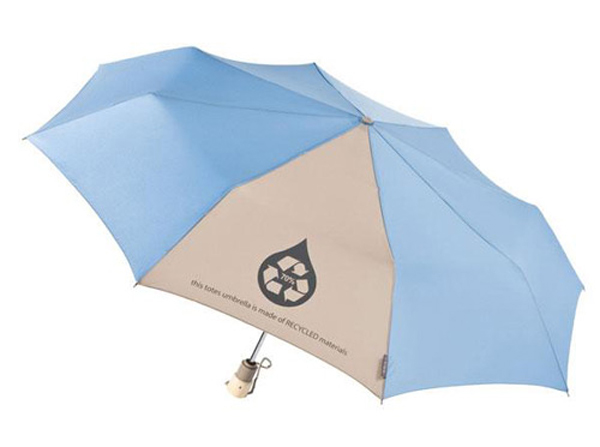 Eco friendly umbrellas can keep you dry and yet have no adverse impact on the earth or its environment. It is high time we should gradually change to an eco friendly lifestyle. As of today, for every product on the earth, eco friendly and sustainable alternatives are available. Here is a list of environmentally friendly umbrellas for you. Some of them preserve energy and some have been recycled from discarded materials.
Totes Eco Auto Open/Close 'brella Umbrella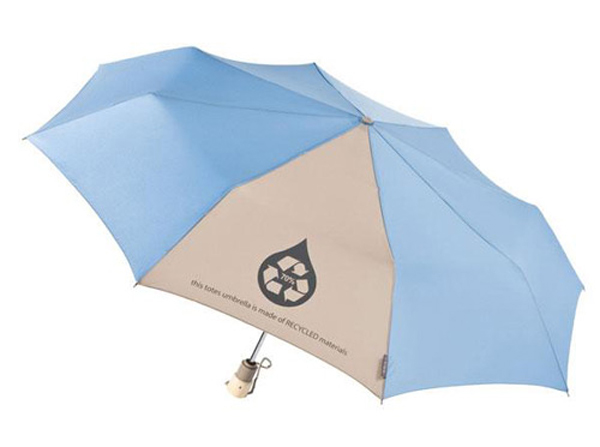 This is a highly rich eco friendly umbrella. A huge part of the Eco 'bella auto open and close umbrella is built of recycled stuff. The Eco 'brella umbrella is made of 70 percent recycled materials.Recycled PET (PolyEthylene Terephthalate) bottles are used to form its canopy. It has a recycled aluminum frame, a bamboo handle and a waxed hemp strap. It is priced at $30.
Recyclable PET umbrella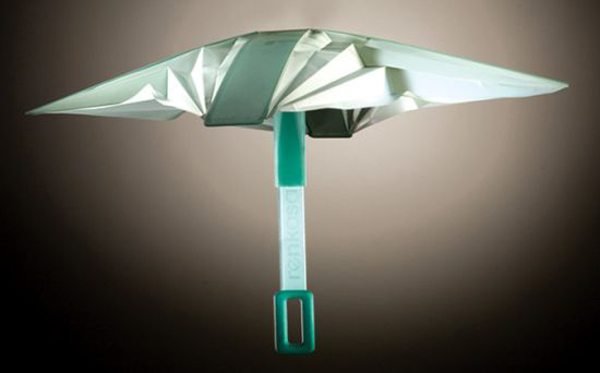 Recyclable PET is an inventive and sustainable umbrella from the Japanese designer Kam Leang. The best part with it is that it is a waterproof the umbrella. Leang used PET (PolyEthylene Terephthalate) instead of PFBS or PFOS that are harmful for the nature. Moreover, the umbrella is developed using only seven components. Remember, a traditional umbrella is built with 65 separate components. Therefore, it is quite easy both to reassemble and recycle this umbrella.
The Brelli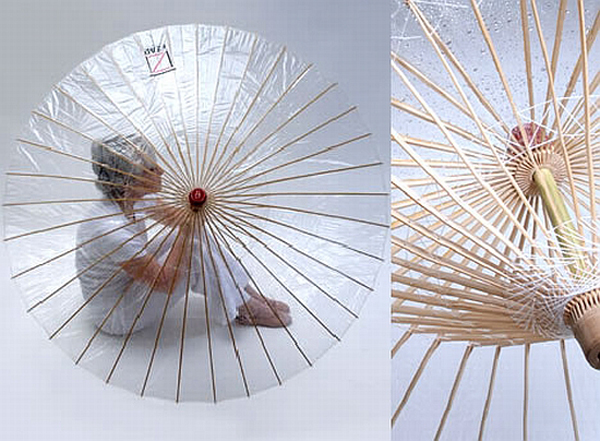 Brelli is a 100 percent biodegradable umbrella from the NYC designer Pamela Zonsius. Designed for the environment conscious people, the whole parts of Brelli including its canopy will biodegrade in landfills in couple of years. For this, Zonsius has created the umbrella with bamboo frame and handle and its canopy is developed from inventive bio plastic, which is made from renewable sources. The Brelli looks quite amazing and comes in two diameters; 37-inch and 52-inch with prices respectively at $28 and $38.
Filterbrella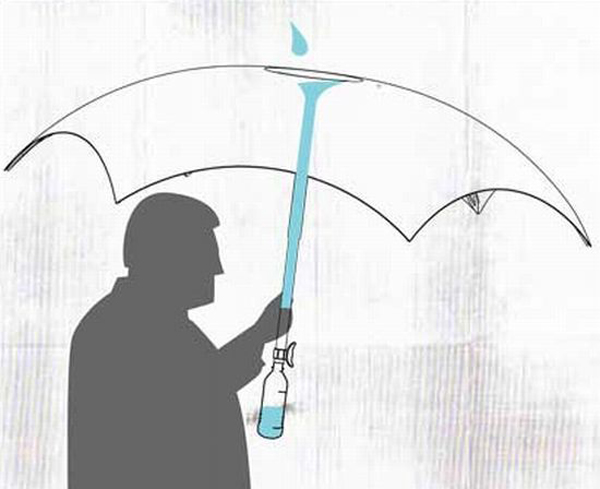 Storing rainwater is one of common ideas for water preservation. What about storing some amount of rainwater that drops on your umbrella? Well, Filterbrella has brought it into reality. The umbrella comes with a ground breaking feature to harvest, purify and store rainwater. Thanks to an activated carbon filter and storage compartment, Filterbrella stores and cleans water. Yes, you won't feel any shortage of pure drinking water with the Filterbrella.
Solar umbrella

An umbrella is a highly apt product for solar panels to perch and produce power. However, it was too late that we got a solar power generating umbrella. The one in discussion here is Parasolar, which is from an Israeli designer namely Oded Shorer. It is a solar mounted umbrella with an integrated storage facility. The umbrella's synthetic cloth is outfitted with thin, flexible and laminated solar cells. The handle is turned into a charger unit, where a 12 volts output and a set of USB ports rest, which can be used to extract the solar power to recharge gadgets.
LED Umbrella by Sang-Kyun Park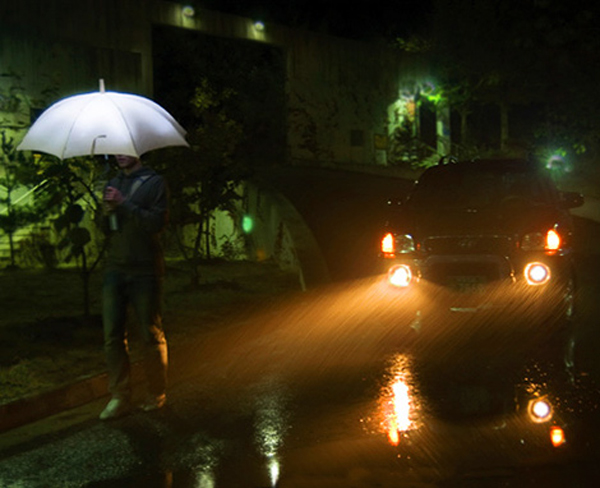 LightDrops is an LED umbrella that lights up as you walk along in rain. The LEDs on the canopy get illuminated on the power that is generated due the slamming of raindrops onto the conductive membrane, dubbed the PDVF. The conductive membrane converts the pressure of rainfalls to electricity and thus lights up the LEDs. So, the heaver the rain, the brighter the LEDs will glow.
Solar powered Patio Umbrella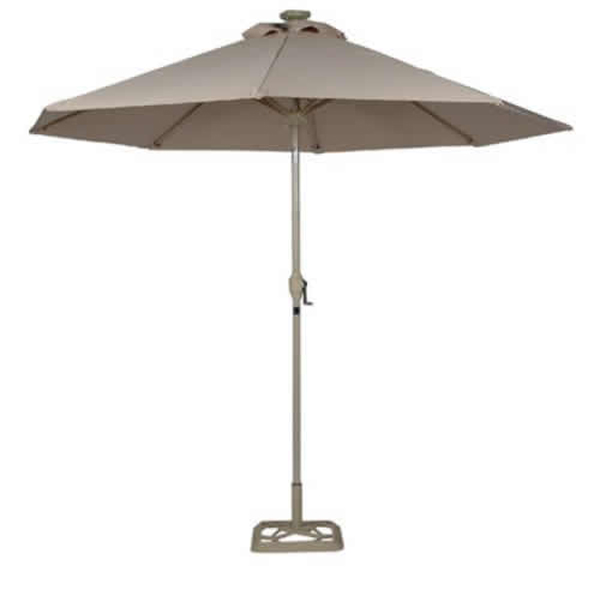 The Patio Umbrella is a solar powered LED illuminated umbrella. The gadget comes with a solar panel screwed into the top and it has 18 white LEDs on the ribs and a center hub lamp with eight LEDs. The replaceable battery of the Patio Umbrella can light up all these LEDs. The umbrella carries buttons to let you regulate both the rib and hub LED lamps. The fully recharged battery of the umbrella can light the LEDs for 6 to eight hours.
Pocket umbrella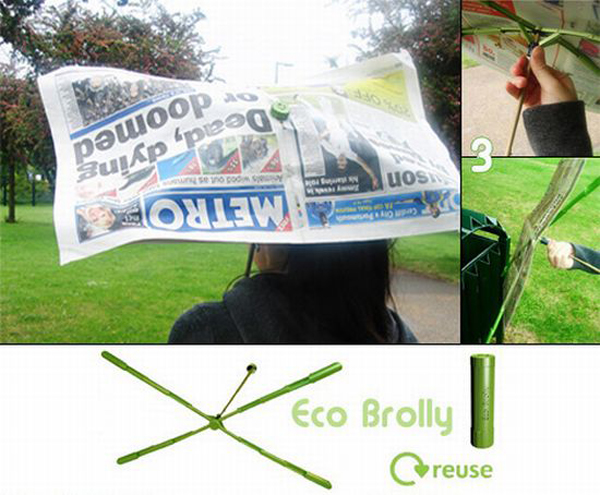 Eco Brolly is a bizarre umbrella concept from designer Shiu Yuk Yuen. The pocketable umbrella becomes environmentally friendly because it reuses newspapers, plastic bags or card boards for its canopy. Well, it is a wonderful option to shun sunlight. Eco Brolly is simply an umbrella skeleton, on which the user is expected to mount newspaper or anything like that as its canopy.
Electronic paper umbrella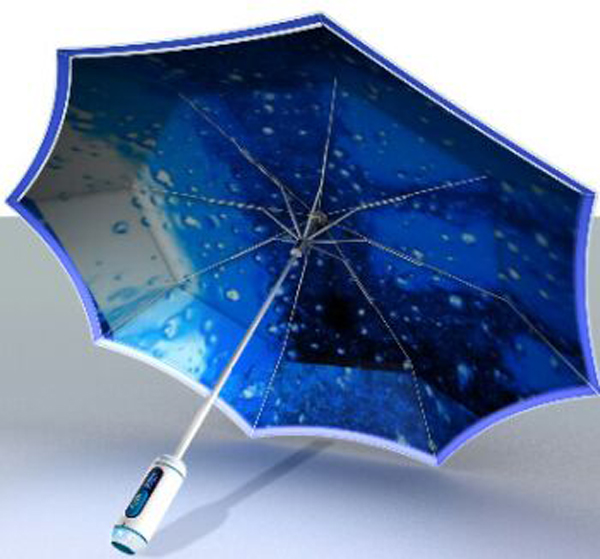 My Day is an umbrella that has made of use electronic paper instead of canvas for its canopy. The way it stands different from conventional umbrellas is pretty wonderful. My Day can provide you an ambiance you would seek for. If you walk on a gloomy rainy day, the umbrella can bring you a feeling of a sunny day over your head. It works in virtue of images shown on the electronic paper canopy. The concept umbrella comes with six varied ambiances, including active sky and audio.
Monsoon Vermont Recycled Trashion Umbrella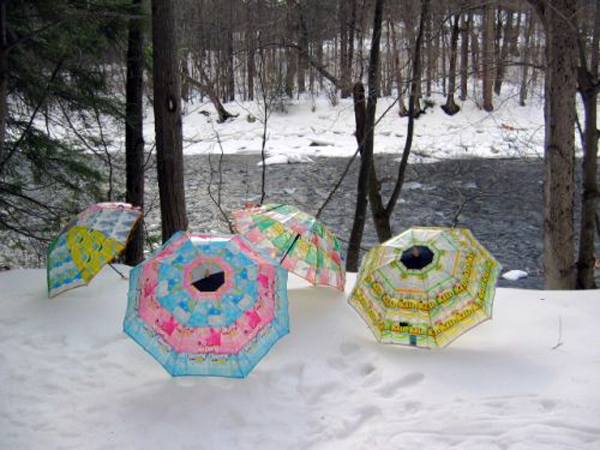 Monsoon Vermont Recycled Trashion Umbrella is an incredible hand made and recycled umbrella. Most part of the umbrella is made of recycled materials. Its handle is designed of wood collected from Indonesia. The umbrella's edges are woven with silk linings. The other parts are manufactured from discarded trash, which is gathered by scavengers.