We are used to hearing a lot about sustainable or "green building" design and construction in this modern world. But are we trying to implement some of these eco-friendly practices in our home to create a healthy and comfortable environment for our family and ourselves? There are some easy and efficient ways to realize earth–friendly ideas in your home. Embracing eco-friendly closet designs is a beautiful way to begin with if you want to buy products that does not compromise the future in order to sustain the present. The article intends to discuss some of the best eco-friendly closet designs to inspire your imagination.
1. Eco-Nize closet systems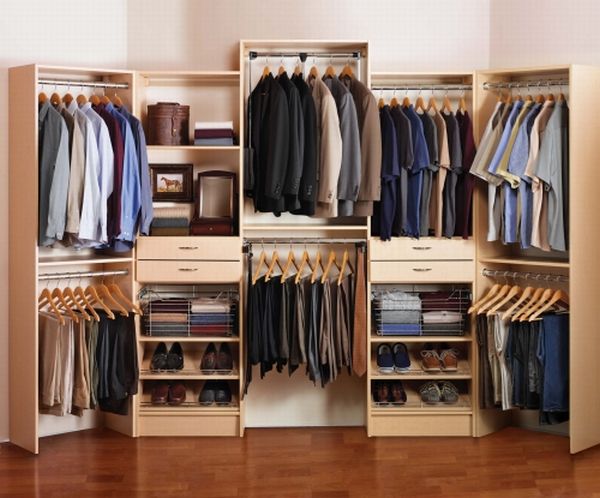 ECO-NIZE is an American closet systems manufacturer who designs, builds, and installs customized eco-friendly green closet systems. This eco-friendly closet design company has introduced a wide range of green closet systems for home, office, garages, etc. Forterra is a new closet system from the company that offers cute cabinets in arctic white and stone gray shades. All their closet products are made of "Ecopanels" – a type of 100 percent recycled or recovered wood or wood fiber. They are said to be one of the greenest materials available since they are made from pre- and post-consumer recycled wood and wood residuals. Eco-Nize closet systems are premium, eco-friendly, durable, and competitive. The choice of fantastic eco-materials and solid wood options is another positive aspect about Eco-Nize closet systems.
2. Neil Kelly cabinets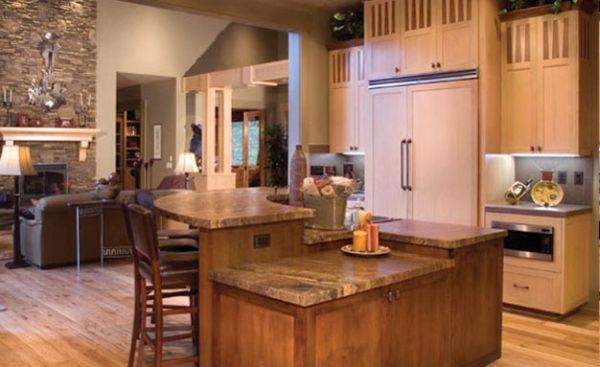 Neil Cabinet Cabinets, the closet systems manufacturer based in Oregon, has introduced earth-friendly and healthy cabinets that are inspired by the nature itself. The company claims that all their cabinet systems are naturally non-toxic since they adopt natural approach from start to finish. All their closets for kitchen and bedroom are made from sustainable materials and FSC-certified wood and veneers. This will ensure that you can have the best indoor air quality and a toxin free environment. Signature, Craftsman, Transitions, Mid-Century Modern, and Simply Naturals are their five distinguishing cabinet collections designed to suit both home and commercial projects. Signature closet designs are ideal for both traditional cottage and modern setting. Signature collection is available in a range of colors and shades and is versatile and adaptable to any décor. Transitions collection flaunts organic style with sparkling lines, classic simplicity, and wonderful craftsmanship. Mid-Century Modern is notable for strict use of materials with delicate embellishments. The designs of Simply Naturals cabinets are inspired by original Naturals collection. Plenty of style choices that suit different décors are the main advantage of choosing Neil Kelly Cabinets for your closet needs.
3. Eco-friendly closet solutions from Built In Style
Built In Style, a US-based maker of closet solutions, has introduced a range of eco-friendly home organizing systems. The firm uses eco-friendly products functionally and aesthetically to create elegant and earth-friendly closet systems. They specialize in walk-in closets, reach-in closets, kids' room closets, wardrobes, closet accessories, and cedar closets. The firm will custom build and install closets for home, home offices, entertainment centers, garages, pantries, wine storage, etc. Built In Style claims that they use many eco-friendly products and pursue environmentally friendly practices wherever possible. Built In Style provides custom made closet solutions for different spaces to suit your requirements.
4. Green Line closets from Classy Closets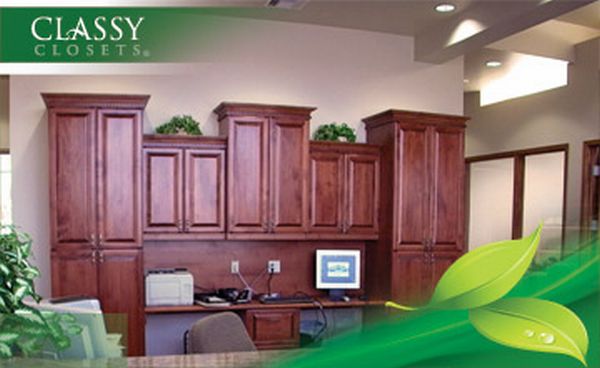 Arizona-based Classy Closets believes in creating healthy and comfortable environment by making and installing zero emitting urea formaldehyde-free closets. The closet solutions provided by them are not only green but also are aesthetically pleasing and functional. Closets that can efficiently stock up all your belongings are custom made. Maximum utilization of the available space in smart ways is very important while creating closets. The Green Line of closet systems from the Classy Closets features exclusive eco-friendly closet solutions. The firm uses 100 percent recycled wood fiber. They currently have white and almond colors in stock, and they are planning to add more wood grains and extra shades in future. Healthy closets at reasonable price make Classy Closets a favorable choice. Limited choice of colors is a disadvantage, but the company is planning to add more wood grains and extra shades to its collection.
5. Closet City closets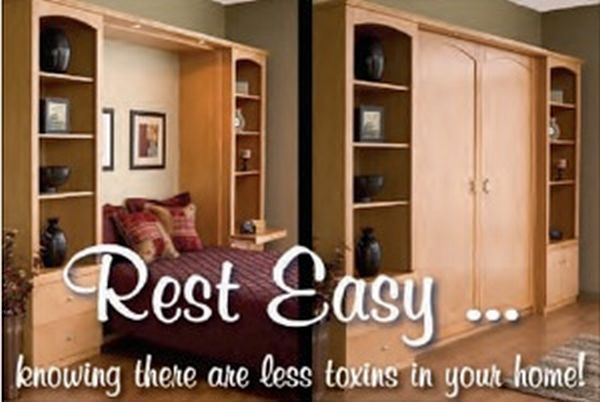 Serving the tri-state from 1984, Closet City is s firm believer in green practices while making closet solutions. Their custom-engineered home organizational products flaunt not only green features but latest trends and innovations also. Closets from Closet City are preferred by LEED certified Green Builders, homeowners who want to embrace green practices, and people who suffer from allergies to some types of woods, stains and finishes. Closet City's closet systems are free from Volatile Organic Compounds (VOCs) and are made from materials of sustainable woods. They use water based ultra low VOC finishes. More renewable wood products will be available from Closet City including bamboo wood. Closet City closets provide high quality closets at low price without compromising on the quality.
6. Bamboo closets from the Green Closet Company
The first bamboo closet company in Massachusetts, the Green Closet Company, is specialized in eco-friendly closets. The sustainable storage solution company will make custom closet solutions according to the space available in your home. Closet will be made in bamboo or a recyclable melamine product containing low and no VOC materials. The company harvests bamboo from 4-6 years old organically grown moso bamboo. Bamboo is the fastest growing plant on earth, which besides being eco-friendly is known for its strength and sturdiness. Their products are available at Terrene green building supply stores. Bamboo closets are highly favored among nature lovers since the sturdy material offers numerous benefits along with a visual appeal that is inimitably diverse from other traditional materials.