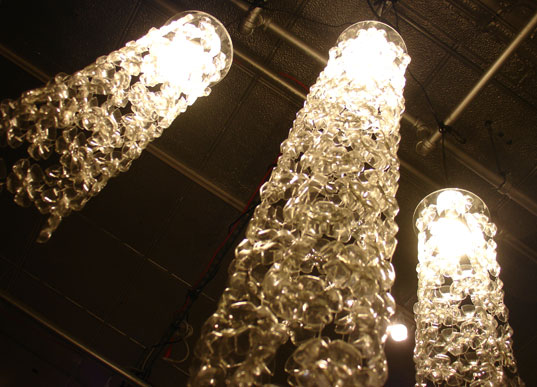 It wouldn't be wrong to say that creativity is our only bet against the sustainability issues which the entire world has started to feel now. In other words, the road to a sustainable tomorrow must pass through millions of creative exhibitions of the re-use of materials that are considered cheap, useless, and end up often in landfills. A few creative designers have picked up this idea and they are creating unique beautiful pieces by recycling many everyday materials. Here is a list of some of the best chandeliers created from such materials found around us. They not only provide an alternative to the conventional crystal pendant chandeliers but also create a new ambiance wherever they are placed.
Recycled bottle cascade chandelier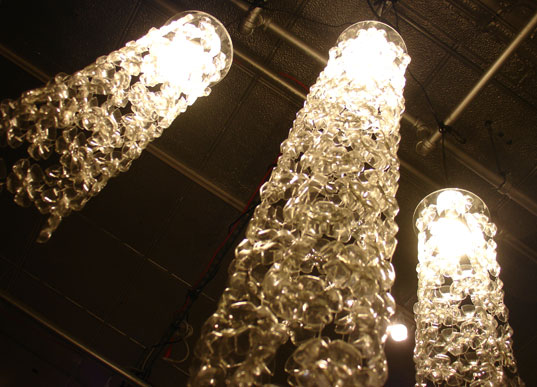 Generally, plastic drink bottles end up in landfills and sometimes at recycling centers. Manchester-based designer Michelle brand challenges this practice with her eco-innovations. She has created beautiful eco friendly cascade chandeliers from old plastic drink bottles. Her work is inspired from the unperceived beauty of daily objects found around us and her desire to respond to the present day environmental problems. While bottom of these bottles have been used for making the chandelier, the rest of the bottle, she says, is sent of recycling.
Eco friendly Chandeliers by Stuart Haygarth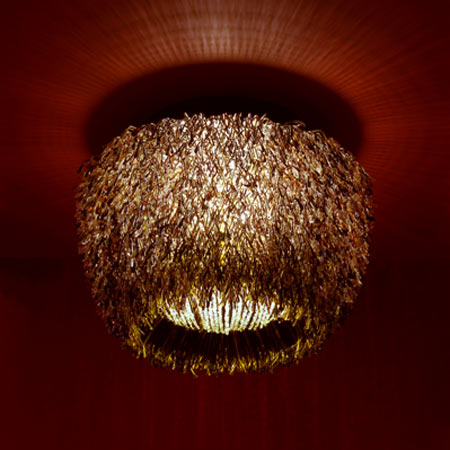 Designed by Stuart Haygarth, this eco friendly chandelier has been made from spectacle frames. His work attempts to challenge the conventionally held notions of precious and beautiful. It shows that beauty could also be realized from discarded and other everyday items. Haygarth has spent years for collecting abandoned spectacle frames which are then methodically given the shape of a design object.
Wine Bottle Upcycling Chandeliers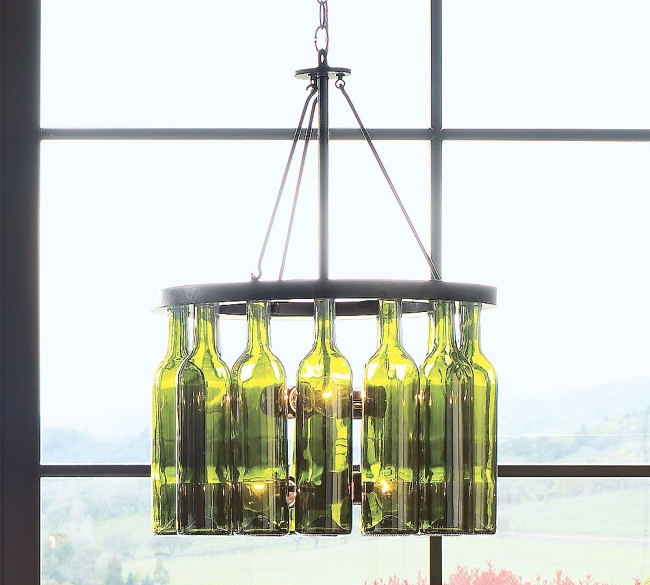 Here is an eco friendly work that might take away some of the guilt feeling from wine drinkers. Pottery Barn has recycled wine bottles and assembled them in the form of beautiful chandeliers that add a lot of spark to the living space. The wine bottle chandeliers can also be created at home if you are interested in some creative fun.
Bicycle chandelier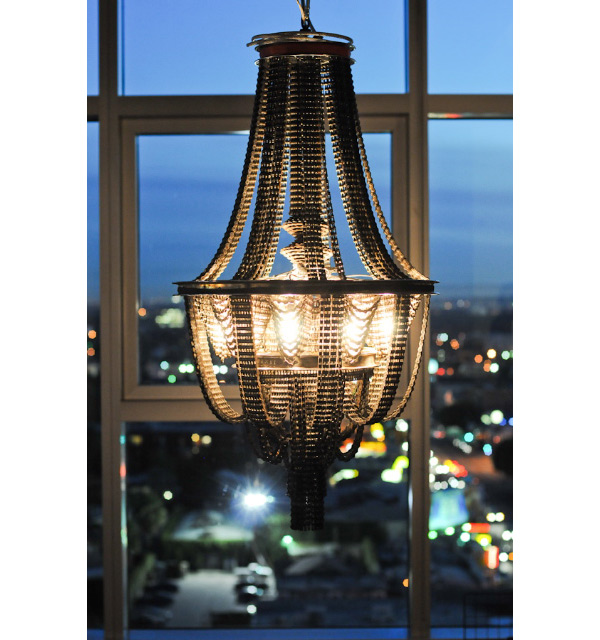 Designed by Carolina Fontoura Alzaga, the Bicycle Chandeliers are beautiful art piece made from old bicycle parts. It not only recreates buyers' association with bicycles, but also provides a unique creative way to deal with old and used machine parts. Over the years Carolina has created 24 different forms of chandeliers from bike rims, chains, cassettes and free wheels.
Tonic chandelier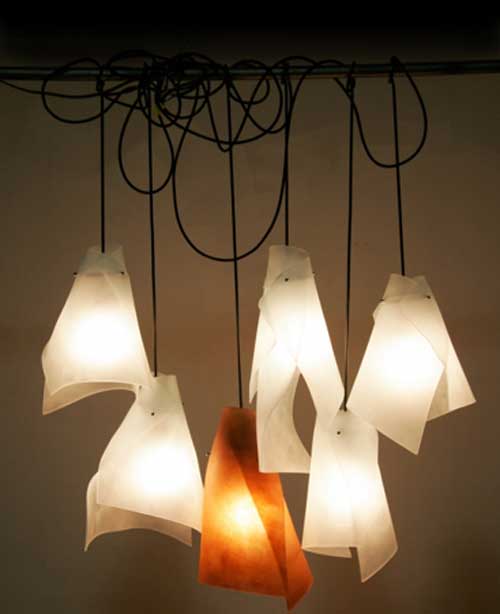 The Tonic Pendant is an environmentally friendly chandelier made from Acrylic lamp. When hung with the ceiling of room, it makes the ambiance attractive with bright lights spread to every corner of the room. Produced by CP Arts,Tonic chandelier is available in a wide variety of colors and style to fit into different interior spaces. You can have a bright color, clear, opaque or combination of paint.
Eco friendly chandelier made from recycle nail lacquer bottles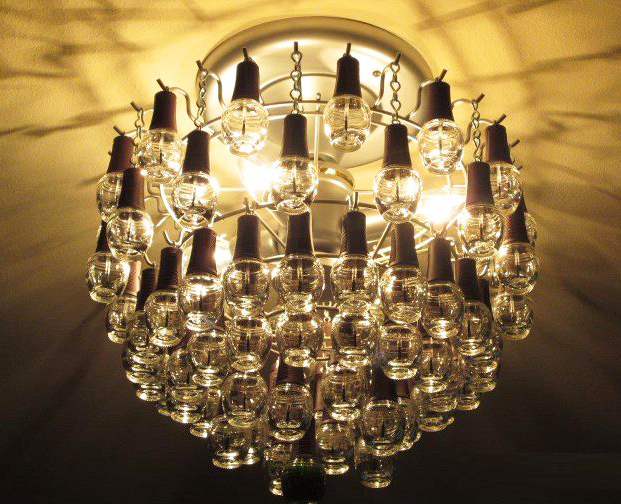 Do we really need to throw away nail polish bottles after it is empty? Here is a design created by Houston TX-based Well Polished nail salon which makes everyone to rethink their act. The design is actually an attractive chandelier from recycled nail lacquer bottles. The unique chandelier not only adds to the beautiful interiors of the salon but also proves to be a significant contribution for a better environment.
Bic Pen to produce creative chandelier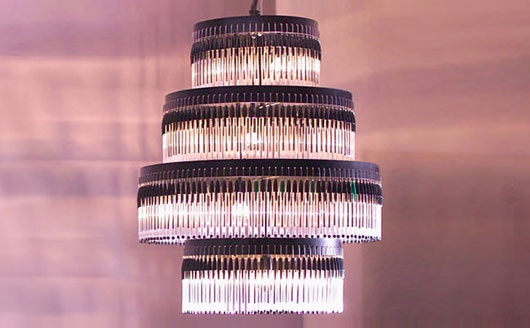 Designer En Pieza has produced unique chandeliers from recycled bic pen. It not only looks classy like a conventional old crystal pendant chandelier but also refracts light in the living room very efficiently. Moreover, it proves to be more eco friendly and creative than the regular chandeliers. En Pieza has also prepared another eco friendly and hand made chandelier from the little plastic icon of 20th Century design.
Beer bottle chadelier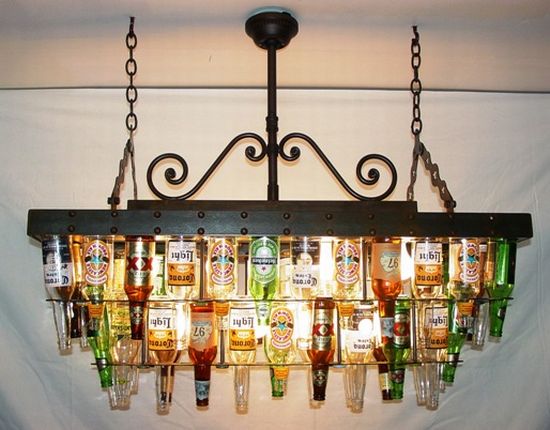 The beer bottle chandelier is not something that will suit everyone's aesthetics. But, if you have an affection for the booze and environment together, you would like to have this two-tier chandelier in your living room. Prepared from 52 beer bottles, it reflects a rugged elegance.There is steel rivet at the top and two scrolls on the light bar which holds eight bulbs at two levels. You can also customize the chandelier. Moreover, it gives an opportunity to get the maximum good from empty bottles which are often thrown away.
Recycled PET bottle chandeliers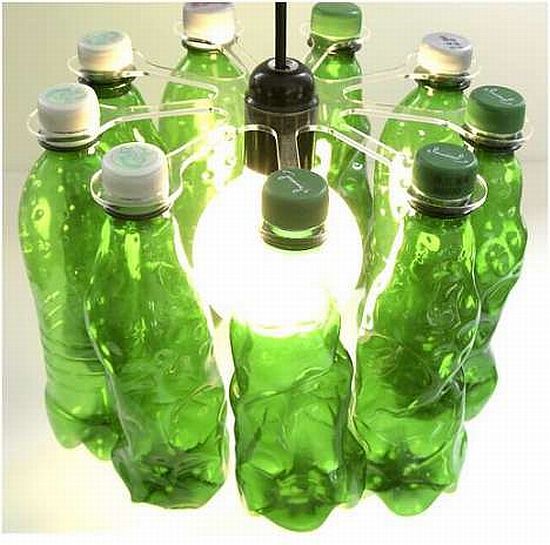 Designed by Vienna-based firm Walking Things, the recycled PET bottle chandeliers provide a creative and eco friendly solution for disposing used PET bottles. The design firm provides a special kit with which you can prepare attractive chandeliers at home. It includes laser cut transparent acrylic holders for 9 bottles, lamp holder, electric cable and a canopy. You can also customize the PET chandelier with help of a plastic mesh and by putting colored materials inside the bottles.
Trippy hanger chandeliers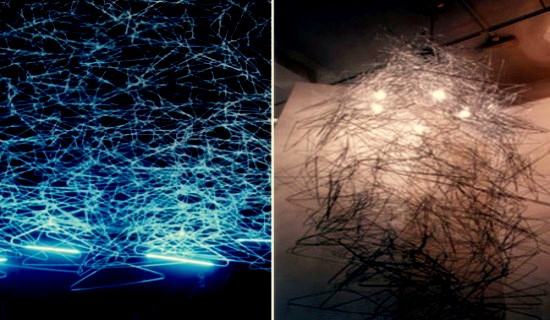 Designer Ali Siavoshi has created the Trippy hanger chandeliers from recycled old hangers. It brings a psychedelic feel in the room. Not many people fancy the idea of creepy lights, but it can be one of the best thing in your room if you like to be scared sometimes for the thrill.