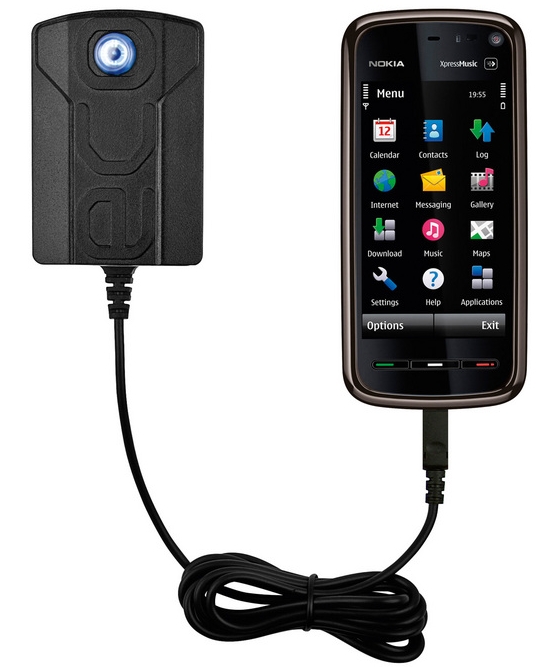 The buzz of eco friendliness is everywhere. Ranging from eco friendly cars to eco friendly electronic items, manufactures have also started manufacturing eco friendly cellphone chargers. By the term 'eco-friendly', they mean that these phenomenal chargers won't use electricity to charge the mobiles. Rather, these chargers will make use of some sort of unconventional sources of energy to charge up the cell phones. Now that is what is called being energy efficient. So, let's take a look at some of these concept cellphone chargers to know more about them
Eco friendly cellular phone charger by Carphone Warehouse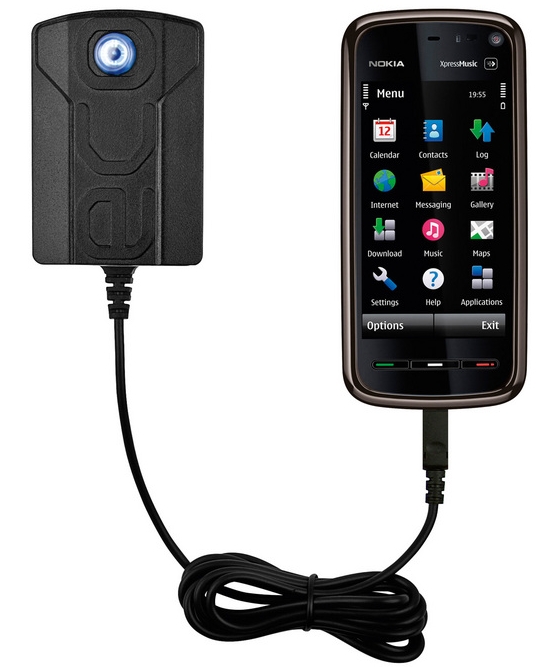 The first in the line is an eco friendly cellphone charger by Carphone Warehouse. This energy efficient mobile phone charger will not consume electricity to charge cell phones. An estimate about this says that the eco friendly charger will save upto 300,000,000KWh. Quite impressive isn't it? Sources reveal that the eco-friendly mobile charger is compatible with cell phones of the three of the leading cell phone manufacturing companies: Nokia, Sony Ericsson and Samsung. Apart from this, the most attractive part of the charger is its feature of 'auto off'. The charger is enabled to switch off automatically once the mobile is completely charged.
Nokia Debuts eco friendly cell phone charger powered by bicycle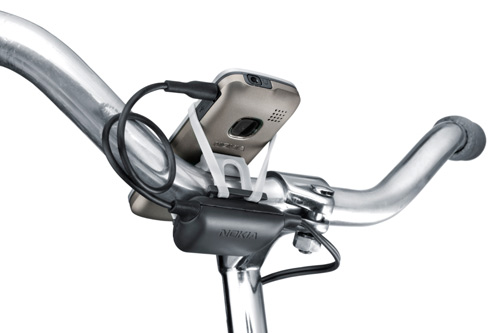 Can you even think of charging your mobile handset with the energy of a bicycle ride? New technologies and latest innovations are even making these things possible. Aimed at saving electricity, the mobile phone giant company Nokia has rolled a new gadget to charge cellphones with the energy of bikes. The gadget is a kit that comprises of three things: a charger, a holder and a dynamo. With this kit, you will be able to fix the charger and the phone to the handle of your bicycle. The charger will harness the energy produced as a result of riding the bike. It is estimated that the rider will have to ride the bike at least at a speed of 6 kilometers per hour to effectively charge the cellphone battery. With all these amazing features, the eco-friendly charger will be tagged at just $18.
iCharge Eco, a solar powered cell phone charger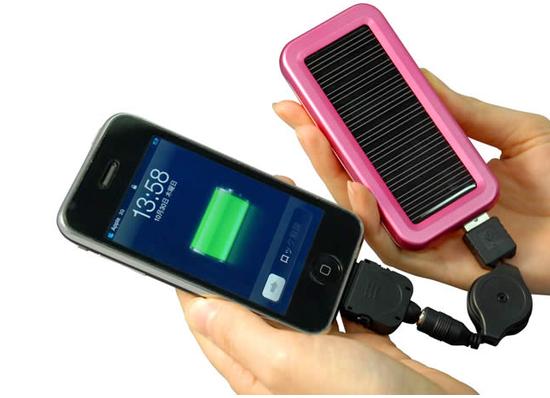 Solar panel is probably one of the most popular and user friendly ways for harnessing alternative sources of energy. Solar panel is one such thing, which can be used for multiple purposes. And manufacturers of this simple and easy to use charger have utilized the advantages of a solar panel to make a cellphone charger. The charger is based on a very simple perception. Its design is also quite simple and looks like a bar phone itself. The charger has thick colorful borders on the sides and a solar panel at the center. At the base of the charger there is a slot to connect the connector. The connector can then be connected to any electronic devices, provided the charging pin is compatible with the device.
Hand powered Windup mobile phone charger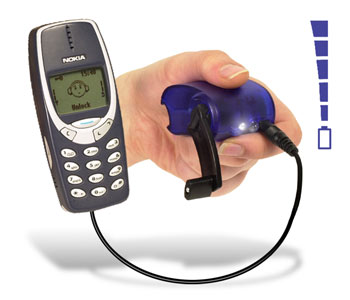 Hand powered chargers are not very uncommon. This eco friendly technology makes use of hand's power to charge up the cellphone battery. The charger is a small round and compact charger, provided with a handle to harness the energy. The charger is based on a simple concept: the faster and the more number of turns you do, the faster you will be able to charge the cellphone battery. But, to get a significant amount of charge, you will need to turn the handle for 20 minutes at a speed of two and an half turns per second.The charger is tagged at an amazing price of $10 and is compatible with quite a few old models of Nokia, Motorola, Siemens and Sony Ericsson.
IDAPT I1 Eco, phone charger doubles environmentally friendly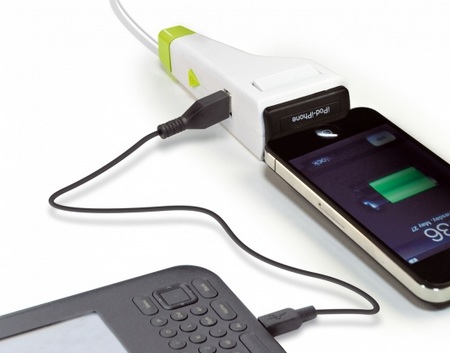 The eco friendly charger from iDAPT i1 is a multiple slot charger that is capable of charging two devices at a time. The charger can use the charge of your car battery to refill your electronic device. So, you can now charge your electronic devices on the go. The eco friendly charger is compatible with over 4000 tested devices and also contains an iPhone or iPod 30 pin. Another interesting feature of this charger is that it turns off immediately as soon as your cellphone is fully charged.
iGo Eco chargers for global travelers on the go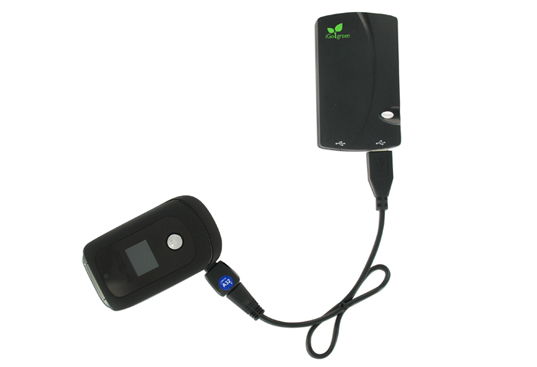 The eco friendly charger from iGo Eco is a truly phenomenal charger. The charger gets connected to a wall and harnesses the energy from there. This charger is perfect for travellers and globe trotters who don't get electric energy everywhere to charge their phones. The charger is compatible with most electronic devices, rather than just with cell phones. The portable USB cables and charging tips compatible with the charger are nice eco friendly solutions to charge multiple devices.
DIY Eco friendly phone charger dock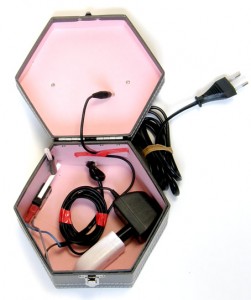 The eco friendly DIY phone charger dock is definitely a good way of saving energy, but it cannot be termed as anything extraordinary. The charger is attached to a box. To charge the phone, you will simply have to set it to the charger provided inside the box, and that's it, you phone is charged. The plus point of the dock charger is that the power can be switched off if you simply close the lid of the box. On opening the lid a light turns on while on closing the lid the light shuts down.
A 12 Volt Wind Up Cell Phone, iPod & Device Charger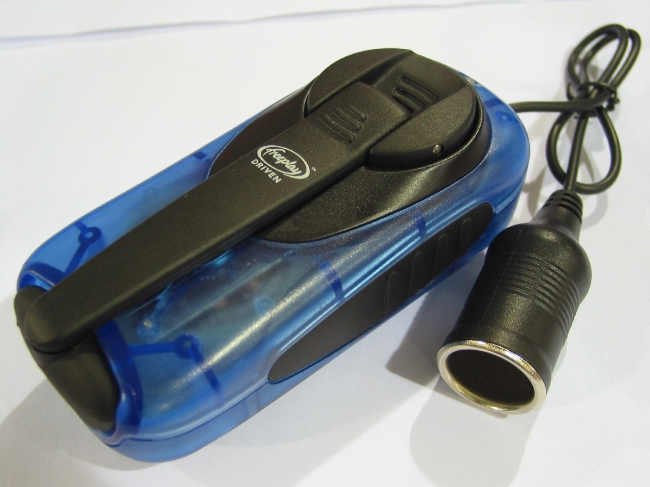 This eco friendly hand cranked charger developed by Freeplay is another unique device. The gadget makes use of energy produced by hand cranking and is compatible to charge any cellphone or iPod. The device consists of a base unit, a hand crank and a cigarette light socket. Just attach a cigarette lighter adapter to the cigarette socket and hand crank the charger to boost up the charge of your electronic device. The charger is also provided with a LED indicator, which indicates with a blinking light on winding the crank at an optimum speed. Although the time to charge different devices may vary, but the FreeCharge 12 V can supply with a power of up to 12 volts.
The Solio solar charger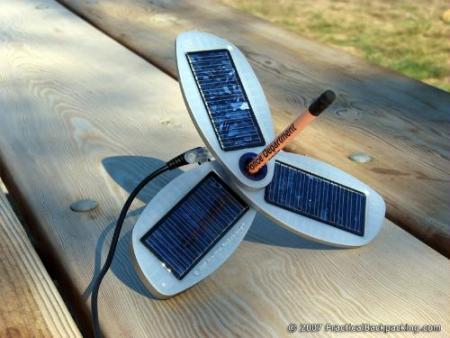 The Solio solar charger is one of the very few eco friendly chargers that keep their promises. The charger is designed in a futuristic style and comprises of three solar panels in the form of three leaves. A large hole is provided at the center to attach the charger to rucksack.The charger is equipped to charge cell phones and iPods. But the main problem that this charger faces is its inability to face the sun directly due to its smooth back surface. The charger should be charged at direct sunlight for 5 to7 hours to completely boost up the charge of an iPod. The portable eco friendly charger comes with a chord and 3 to 4 charger pins to make the device compatible with an array of cell phones and iPods.
Eco friendly hand crank USB power charger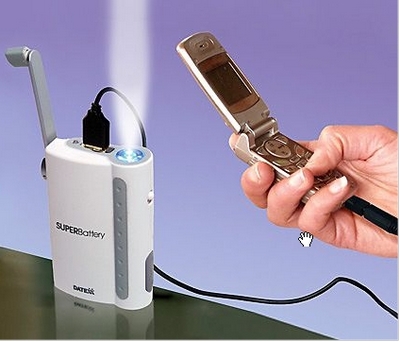 This stylish and lightweight eco friendly charger is just the perfect thing to charge your cell phone without wasting electricity. The charger appears like a stylish box, fitted with a torch and a winding hand crank. Winding the hand crank generates energy, which can then be transferred to a cell phone, camera or any other device that has a USB slot. The charger comes with adapters that are compatible with the cell phones of almost every leading cell phone brands: Nokia, Motorola, Samsung and LG. Priced at an affordable price of $39, this 6 ounces charger is perfect for those who want to effectively convert their devices eco friendly and show some respect to the nature.
Viber Burst Kinetic phone charger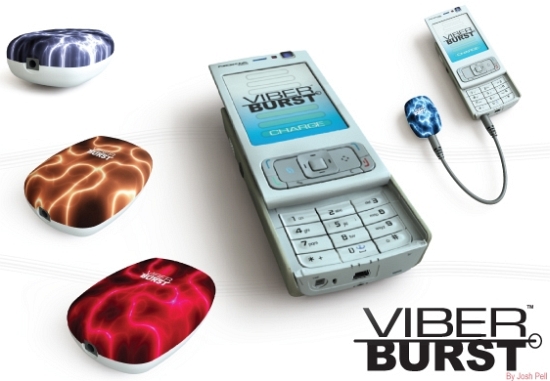 Do you want a stylish yet eco friendly solution to charge your cell phones? Then Viber Burst is the solution to your needs. Viber Burst is a stylish and compact eco friendly charger that revs up the charge of cell phones using kinetic energy generated by motion. The charger can be powered up by the motion of your hands, legs and even your bag. Once the charger is fully charged, it can transfer the whole charge to your cell phone using a cable provided with the charger. This futuristic and easy to use charger is designed by Josh Pell.
Wrist Grip charger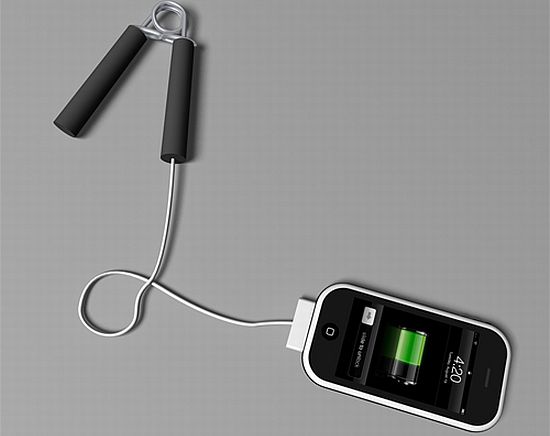 New technologies are even making it possible to charge up your cellphone battery using a wrist grip. One end of the wrist grip is attached to a charger dock to charge iPhones and other cell phones. This eco friendly gadget from Mac Funamizu is quite friendly for those who would like to tone up their muscles while charging their phone, but would not be that suitable for those who are not fitness freaks.
Yo Yo phone charger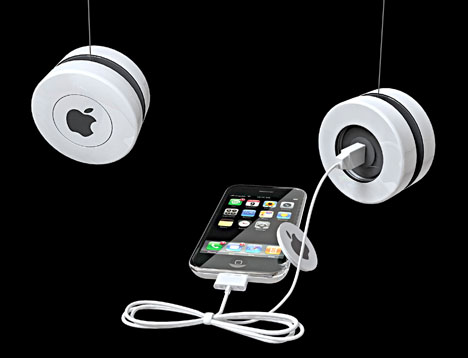 You can now charge your cell phone while playing with an electronic Yo Yo. Doesn't that sound quite interesting? The designer of this cell phone charger, Peter Thuvander has devised this super cool eco friendly charger to charge cell phone. But, the sad thing is that the charger will not be compatible with any other mobile phones except for the iPhones. The Yo Yo charger will be charged while playing with it, and once fully charged it will be able to dump the entire energy into your cell phone.
Dance Charge phone charger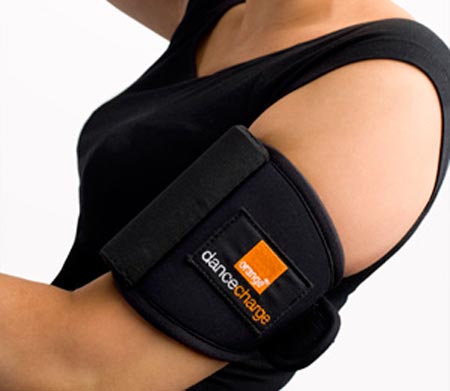 You can now boost up your cell phone's charge while dancing. I must say that the eco friendly charger is quite healthy for both you and your cellphone. The charger is attached to a strap that can be attached to your hands. The strap contains a pocket for holding the charger, which will be charged automatically with the kinetic energy produced by the motion of your hands while dancing or even exercising. The charge can then be transferred to your phone. Manufactured by Orange UK and 'Got Wind', this eco friendly charger is definitely a cool option for charging cellphones.
Orange Power Pump Charger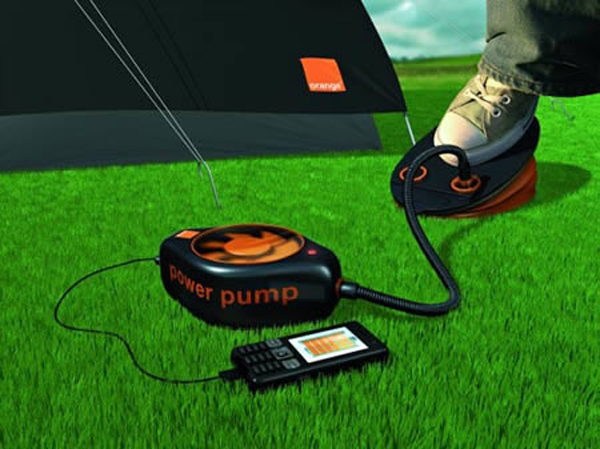 Another innovative eco friendly charger from Orange is the pump charger. The charger consists of a wheel, which is attached to a pump. As you push the pump with your legs, the wheel will rotate and will generate wind energy to charge your phone. This simple yet easy to use eco friendly charger is quite light weight and a fun device to charge your cellphone.
Solar Tree charger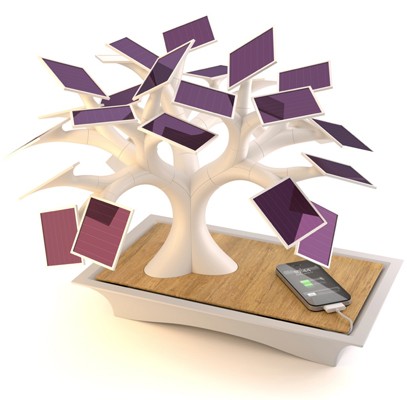 No other eco friendly cell phone charger can be more attractive than the Electree. Designed by the French designer Vivien Muller, this beautiful eco friendly charger is designed like a bonsai tree and is provided with 27 attractive solar panels. With the Electree's 13,500 mAH battery, the device takes about 36 hours of sunshine to get completely charged. The charge can then be transferred to your cellphone via a USB cable. This attractive eco friendly charger can be yours just for $370. Although the price is a bit too high, but you must definitely consider the 27 high quality solar panels before complaining about the price.
Solar bra as phone charger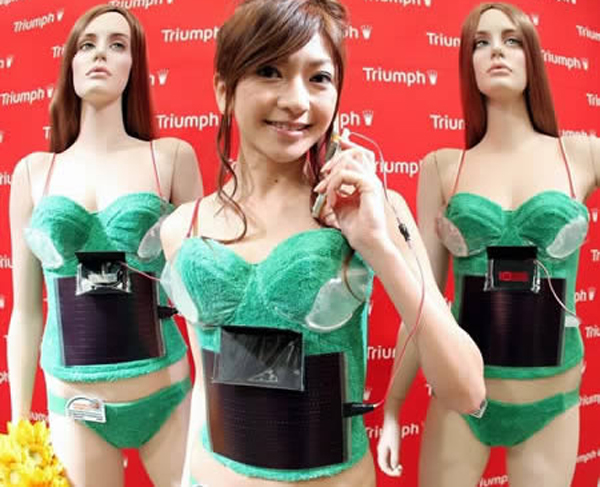 A solar bra cellphone charger? That must be something really attractive and sexy for charging mobile phones. This solar bra designed by Japanese Lingerie maker Triumph International is provided with a solar panel at the belly region. Once fully charged, this concept charger can transfer the charge to a cellphone or iPod through a USB cable.
Orange Sound Charge t-shirt will juice up your phone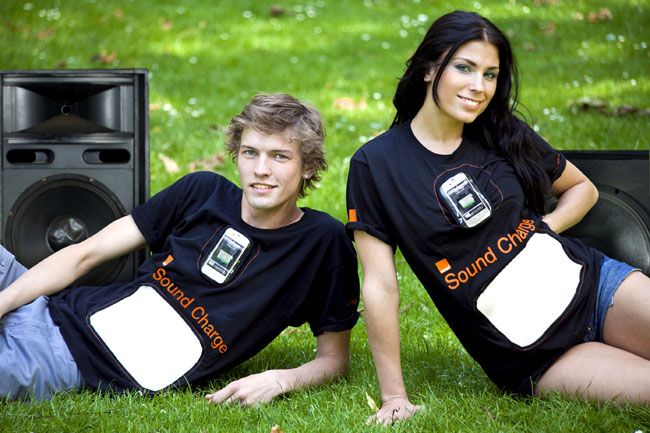 Orange UK has come up with a latest eco friendly cellphone charger that can harness energy from the sound waves produced by speakers. Although the efficiency of the charger is quite debatable, but it can definitely let you groove to loud music with an excuse to charge your cellphone.
JuiceBar portable solar charger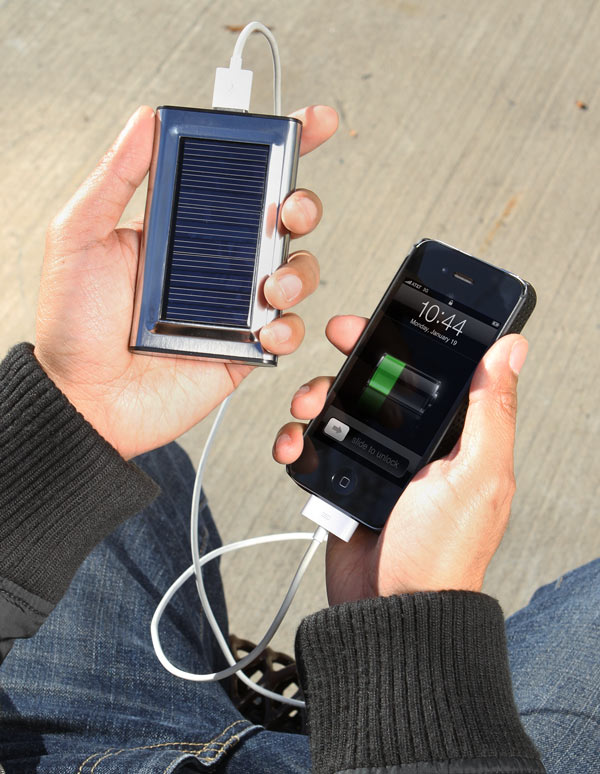 The JuiceBar is just the right name for this bar phone shaped eco friendly charger. Fitted with a solar panel and a USB port, this handy charger can be charged either with a USB cable or with the help of the inbuilt solar panel. An indicator allows you to know when the charger is fully charged. Apart from that, the charger is provided with a LED flashlight, the motive behind which is still unclear. The JuiceBar comes in handy with a USB cable and some adapters to make itself compatible with almost any cellphone, PSP or Nintendo 3DS.
ECO CHARGER BY VOLT-STAR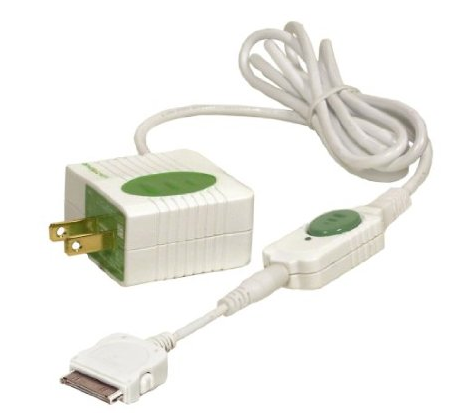 This eco-friendly charger is definitely the last on the list, but not the least. Whenever you charge your cellphone, you continue to charge it even after it needs no more charge. The Eco Charge by Volt-Star is a very useful gadget, as it automatically cuts off power once the cellphone is fully charged. Apart from this, the charger is provided with different adapters to make it compatible with almost every cellphone and even iPhones and iPads.