Brick veneer tiles are cosmetically great tiles that can be greatly useful for exteriors. Though brick veneer tiles are not structural tiles, they can be of excellent use to ward off termites and yet remain Eco-friendly.
Brick veneers tiles are generally preferred over solid bonded bricks for the sole reason that they can achieve proper insulation. Moreover, their light structure with the thickness of a single brick gives an added advantage of a sleek design. Apart from this, brick veneer tiles are easy to repair too.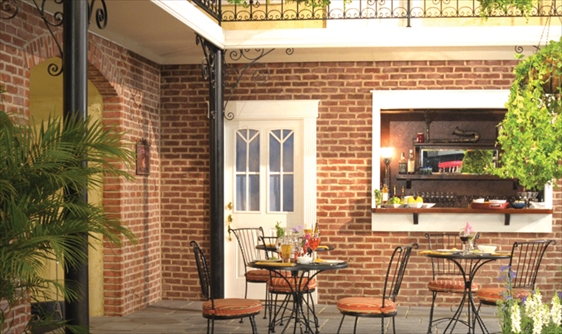 What are brick veneer tiles?
Brick veneer tiles are nothing but a veneer tile that comes with a thin covering of brick on the exterior surface, giving it a brick like look and feel. There are different types of Eco-friendly brick veneer tiles that can be used for both indoors as well as outdoors. Nowadays, you can choose from a wide range of brick veneer tiles from the traditional red brick to a more rustic appearance in the veneer.
Below described are some of the top Eco-friendly brick veneer tiles, which can be used according to your need.
1. Indoor brick veneer tiles. Indoor brick veneer tiles are specifically crafted to match the décor and ambiance of the inside of a home. They have a classy touch and are very easy to maintain, giving the interior of your home an ethnic and rustic look.
2. Outdoor brick veneer tiles. Outdoor brick veneer tiles are Eco-friendly tiles that are fired at a high temperature with a solid brick veneering to combat the onslaught of rain and wind. These tiles come in a wide range of colors and designs and are very pleasing to the beholder's eyes.
3. Brick stone veneer tiles. Brick stone veneer tiles make use of a thin veneer of stone veneer on the outside of bricks to give a stony wall appearance to your exteriors. It requires a lot of artistic masonry to prepare brick stone veneers and therefore, are a tad expensive. However, they are very Eco-friendly.
4. Thin brick veneer tiles. These tiles are easy to install and cost-effective tiles that give a stunning look to any interior wall. These tiles are light weight and do not require strong support to install them. They come in an assortment of designs that give an amazing look to the interior walls.
5. Clay brick pavers. Clay brick pavers are brick veneer tiles that are used to adorn pavements and porticos or the pathway leading to your homes. They are very solidly built and are interlocked to withstand heavy weight and rough handling. Clay brick veneers are used on paths a midst gardens and on garage ways. Most of the cities are making use of clay brick pavers to decorate the footpaths and give them a classy touch.
6. Brick veneer panels. If you want a traditional look to your homes at the outsides or insides, brick veneer panels are the right choice. They come in a wide range of colors and patterns. They are light weight, environment friendly and very easy to install too. Brick veneer panels are ready to install panels that simply need minimal masonry or construction work involved. They can be made to order while choosing your color and design to match the rest of your home decor.
In a nutshell
Brick veneer tiles are used mainly to beautify your interiors as well as exteriors with a point of view of environment sustainability. They are actually placed above a steel or wooden frame and then covered with wood sheathing. Brick veneer tiles do not bear any of the actual load of the house and are a great replacement to paints. It has now become quite a style statement to use Eco-friendly brick tiles to decorate your exterior walls or the interiors, since it gives a touch of class along with being Eco-friendly.
Brick veneering is generally cost-effective and easy to install. It also requires less masonry as it has only a single layer to install. The main advantage of brick veneers is the air cavity between the brick and the home, which acts as an effective insulation against moisture and termites. Thus brick veneer tiles are rapidly becoming the first choice of home décor for the environment conscious individual.