Bathroom is a place that should look trendy yet elegant. With global warming being the talk of every town, opting for eco friendly countertops can be your way to contribute toward saving our planet. Many companies today are offering bathroom countertops made of renewable or recyclable material, which is durable and long lasting. You should choose environmentally responsible surfaces as compared to conventional countertops as part of your bathroom fittings. For the nature lovers, option for nature friendly countertops varies from recycled plastic countertop to cork countertop or bamboo countertop. They are cost effective and sustainable as compared to their synthetic counterparts. Here are some examples for eco friendly bathroom countertops.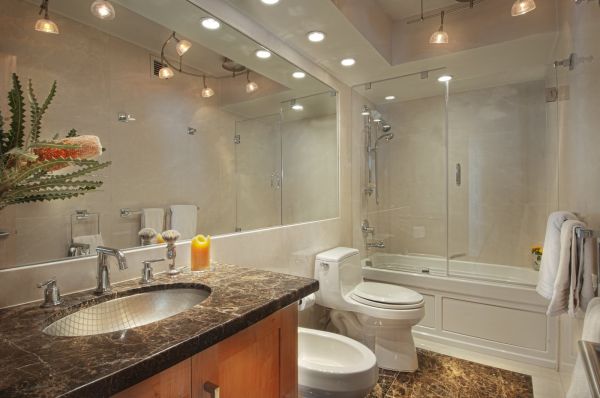 Recycled plastic countertop
Recycled plastic countertop is made from recycled material like recycled plastic, resins and glues with nil formaldehyde. This form of countertop is becoming the choice of many nature friendly consumers. Some manufacturers provide a product that is similar to terrazzo, which is durable and moisture resistant. It is a great alternative to traditional bathroom countertops. Recycled is environment friendly as it keeps plastics and other non biodegradable resources out of the waste stream and landfills. With minimum maintenance requirements, recycled plastic countertops are hard and durable, lasting for about at least 10 years.
Recycled cast concrete countertop
Recycled cast concrete countertop is produced from post consumer and post industrial wastes. It is an excellent option for those eco lovers, who want to avoid usage of glues in their home décor. They are available in wide variety of colors. This low maintenance product can be easily cleaned with a non toxic cleaner. Recycled cast concrete countertops are durable and less porous if compared with marble. They are heat resistant and are comparable in price to marble or granite. These concrete countertops can last for years with a little basic care. They do not crack or warp as the concrete mix needs only a meager amount of water to finish well. The excellent advantage of these eco friendly countertops is that they do not stain. They are strong, easy to use, and are available in attractive varieties.
Glass countertop
Glass countertops require no sealing, which eliminates the usage of chemicals. These countertops are environment friendly as they release no emissions and are hundred percent recyclable. They are heat, chemical and mold resistant. Since glass countertops are non-porous, they make for the most hygienic material available for bathroom. Strong and durable, glass countertops are various varieties giving a trendy look to your bathroom. They are produced in a socially responsible manner, making them highly eco friendly. Glass countertops are scratch resistant making them the right choice for your restroom. These countertops can be cleaned easily and are made of thick glass which cannot break easily.
Bamboo countertops
Bamboo countertops can be an excellent alternative to traditional bathroom countertops, which are completely renewable and sustainable. Bamboo countertops are also highly durable and are available in various styles and designs to give your bathroom that sophisticated yet chic look. They are cost effective and an ideal way to add some zing to your conventional looking bathroom.
Cork countertops
Cork Countertops are high density and anti bacterial countertops. These durable cork countertops are treated from 100 percent post industrial recycled cork grain. Its sound dampening properties make it suitable for bathroom usage. Cork countertops are lightweight and are available at the same price as other conventional countertop varieties. They are completely recyclable and renewable. These countertops contain no added formaldehyde, and emit no toxic substances. Its anti microbial properties make it ideal for work surfaces like bathroom. Cork is easy to handle, and heat and moisture resistant. Cork countertops can be easily cleaned with a damp cloth and is water resistant.
Paper stone countertops
Paper stone countertop is made from hundred percent postconsumer paper waste materials. It is a process where paper is compressed into a solid block, then covered in natural resin. Paper stone countertops are strong and durable. They offer an attractive appeal to the bathroom and are a good choice over traditional countertops. This type of eco friendly countertop is made from recyclable material and is available in various colors and sizes.
These countertops are extremely durable, solid and log lasting yet weigh and cost lesser than conventional countertops. Paper stone countertops are authentically environment responsive and highly affordable.