While deciding on the type of flooring to use, most people do not consider its effect on the environment. However, the environment conscious people prefer to use the flooring materials, which not just enhance the beauty of their house but are environment friendly as well. One such material most often used these days is the bamboo flooring. Bamboo flooring is one of the eco-friendly and durable flooring materials that you can install at your home.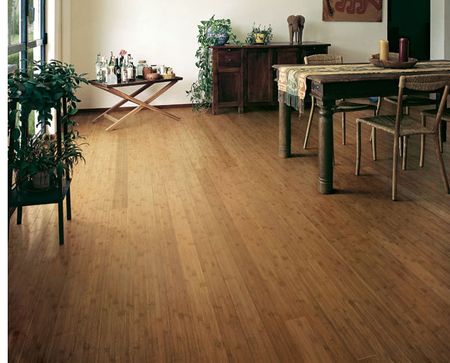 Popularity
Traditionally thought of as an Asian but specifically Chinese, bamboo has created its niche in the market. As bamboo started to gain popularity, more and more people are trying to preserve bamboo forests and a lot more are showing concern for their conservation. The growth of bamboo for making furniture and other home décor products has paved way to create great economic incentives instead of clear-cutting to create more land for its cultivation.
A renewable resource
Bamboo is actually a grass that grows very fast. This property makes it a very sustainable natural resource unlike other woods. Bamboo grows at the rate of almost one foot per day. It reaches maturity quickly and it can be harvested within five to seven years. This is a far better option as compared to the hardwood trees that take more than 50 to 150 years to reach full maturity. Therefore, there is no doubt that when it comes to environment, bamboo flooring is the most preferred choice.
Releases high quantities of oxygen
Another important environment friendly role that bamboo plays is that it is responsible for the release of high quantities of oxygen into the atmosphere. It devours harmful carbon dioxide from the environment, thus making your life greener and cleaner.
Features
Bamboo flooring is not only eco friendly but affordable as well. It comes in a variety of grain types. Some people might question the durability of bamboo flooring, but it is equally hard as any other hardwood flooring. Installing bamboo flooring is also very easy as compared to other hardwood floorings. Bamboo flooring is available in a wide variety of designs making it convenient for you to choose one according to the theme of your interior design. This flooring is matchless when it comes to durability, moisture resistance, and strength as compared to other hardwood flooring materials. Bamboo's moisture resistance action makes it an ideal option to be used in kitchens where normal wooden floorings are not recommended. It is also more resistant to wear and tear as compared to other wooden flooring.
Types
Bamboo flooring can be obtained in two colors – natural and carbonized coffee. The natural colored bamboo is produced from its native color. On the other hand, the carbonized coffee bamboo is produced by treating bamboo with steam and pressure where the sugar in bamboo turns into a dark color. After that, the bamboo boards are applied with seven-layer coating of aluminum oxide and then they are UV cured. By doing this, the resistance of the board to abrasion is increased.
Cost effective
Another great advantage of bamboo flooring is its cost. With the increasing popularity of the bamboo flooring and its increased production, the cost of bamboo flooring is quite reasonable. Normally, the cost of material for bamboo flooring lies between $2 and $4 per square foot. Moreover, bamboo floor planks are easy to find as one can find them along side traditional hardwood floorings at every hardware store.
Ease of installation
Bamboo flooring is easy to install and can be installed by any of the two methods available. One is the free-floating type in which the planks are joined together to form a single piece and glued to the sub-floor. Another is the traditional nailing method in which each plank is nailed to the sub-floor.
Conclusion
Bamboo flooring is becoming a versatile and an attractive option due to its uniqueness in looks, and available patterns. Besides, it is reasonably priced. Therefore, if you are looking for a unique flooring material that last for years and gives a pleasant ambience to your home, then bamboo flooring is by far the best and environmentally friendly option available.