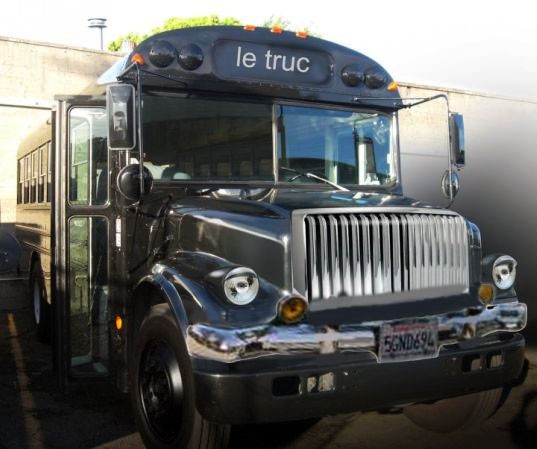 The buses we see around us are not exactly objects of art. They are designed primarily to serve as a transportation vehicle and functionality is the primary design consideration. Innovative designers and hobbyists have, however, converted discarded buses meant for the scrapheap into functionally pleasing and aesthetic alternative uses. These "creative reuse" ideas are sure to spark new thinking in the way we look at the everyday objects around us.
A repurposed bus-restaurant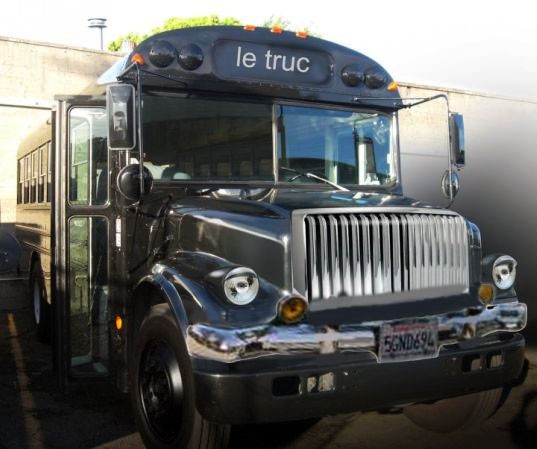 A 1989 vintage Ford Ward school bus has been converted into a restaurant and given the French sounding name, La Truc. This bus-restaurant is located in San Francisco's upscale Brannan Street and has quickly gained popularity as a must-try eatery.
The rear of the bus has been converted into a commercial grade kitchen, equipped with high quality appliances. Two long benches along the sides of the bus provide comfortable seating and the bus roof has been provided with skylights. The menu served is basically of the fast food category but the unusual ambiance adds to the fun of eating in this "bustaurant".
Bus Bar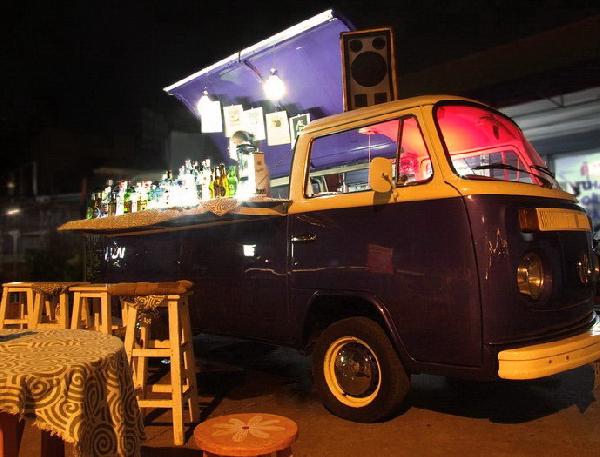 This 1977 Volkswagen Bus has been restored and converted into a bar on wheels in Bangkok, Thailand. The bus-bar can be driven up close to an outdoor picnic or party spot and the side panels of the bus can be lowered and the roof raised on hydraulic cylinders to become a fully functional wet bar. A large ice chest stores the drinks that need cooling. A high speed Vitex blender helps whip up cocktails. A 600 watt stereo player and mixing board with 5000 watt speakers plays live music to enliven the party.
The power source is from a 200 ampere-hour deep discharge battery on the bus that gets recharged when the bus is running. Where a power outlet is available, the battery can also be charged through the on-board battery charger.
The bar-bus is priced at around $10,000 and is being offered for export!
Bus Shelter made from salvaged school buses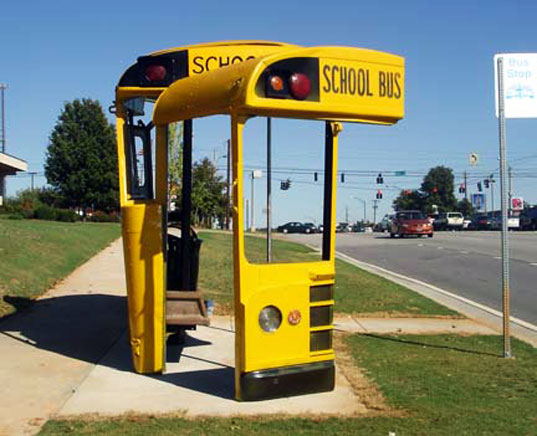 Sculptor Christopher Fennel has made this eye catching bus shelter in Athens, Georgia from body sections of three popular school buses made in 1962, 1972 and 1977. The bright yellow colors, the simple functional design and the use of discarded bus bodies results in a structure that truly qualifies as urban art.
Junk 1965 VW bus recycled into a wonderful pool table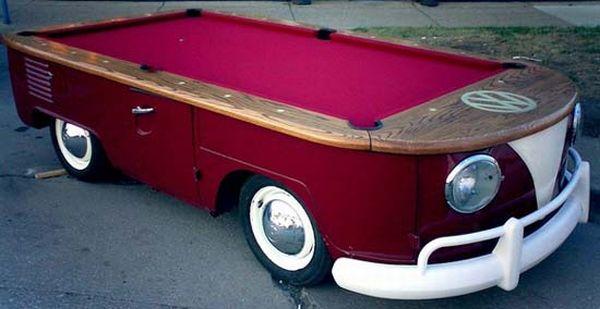 A junk 1965 Volkswagen bus has been converted into a billiards and pool table by a unknown artist. The engine, transmission and steering gear of the vehicle have been removed and the upper body structure has been carefully cut away. The flat wheel bed has been fitted with a felt covered wooden table complete with side boards and pockets. The empty engine space of the bus, accessed though a hinged door, has been imaginatively used as the storage space for balls, billiards racks and cues and other supplies.
The present owner is said to have paid $8200 for this pool-wagon but would surely expect a much higher price if he were to part with it.
Bicycle Library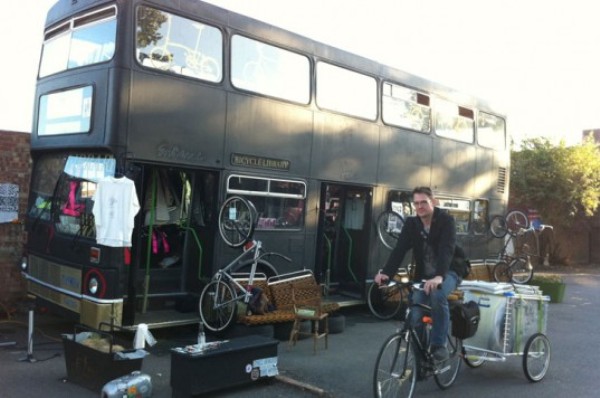 This London double decker bus has been converted into a bicycle library where you can borrow or rent bicycles for periods of time for running errands or simply to check them out in a trial ride. The library has seven models of bicycles to choose from, including men's and women's versions, geared cycles, electric drive bicycles and even one with a cargo trailer. The upper deck of the bus has a library of books on bicycles and cycling and a librarian who can advise on the right type of bicycle for your specific needs. In addition, there is a counter selling bike related clothing and accessories. The bicycle library also offers its patrons a hire-purchase plan for the bicycles they rent out.
The bicycle library has been conceived to promote awareness of non-polluting transport in the city of London.
Bus Home converted double decker community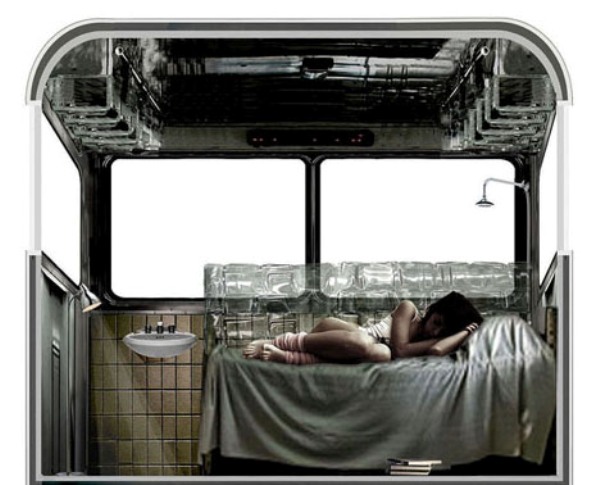 The Greek professor of architecture, Aristide Antonas has converted a double decker bus into mobile home that has seven beds, a living room and even a bath room. He argues that most people over complicate the design process by starting with a clean slate and add function and form to build the object of their imagination. In this example, Professor Antonas has started with a bus and stripped away the interiors to put in what he needs. Such a vehicle could soon start to be seen in mobile parks or at construction sites as a portable living and work space.
Prologue made house from bus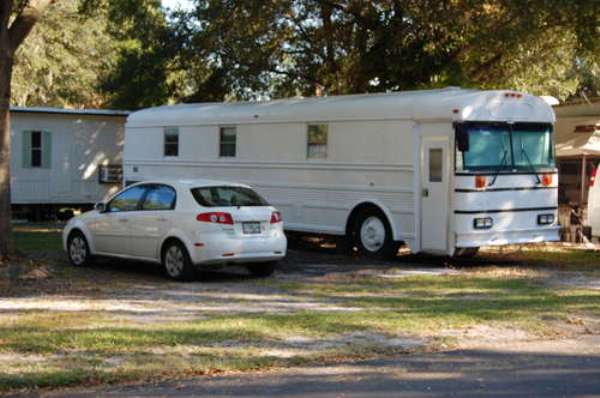 This project by someone who identifies himself only by the pseudonym "zim" to convert a discarded bus into a mobile home started, as he says, when his attempt to live the American dream soured. He got tired of keeping up with home mortgage payments and credit card debts and decided to start afresh. He and a friend bought a pair of discarded school buses for $1400 each and reworked the interiors to create a mobile home. He says that for a total cost of $12,000, he now has affordable housing and his utility bills run to only about $400 a month. The fact that he is single helps.
Zim acknowledges the help from a user group on the net named skoolie.net which is a school bus conversion network that provides people with information and advise on conversion of discarded school buses. The existence of such a community shows that several people are enthused with the idea of reusing discarded bus bodies for alternative purposes.