Necessity is the mother of invention and this fact has been proved by the crate houses around the world. We always trusted brick, wood and cement structures for calling them home but people have gone out of their ways for making the crates into sustainable building material. A few examples of stunning houses around the globe made of different sort of crates can stun you. This way anyone can not only save a lot of money but also reduce their carbon foot print. Recycling is something that can be taken to several new levels of innovation and creativity. The houses this article will describe are some of the most unique buildings that have changed the human perception of houses and the concept of constructive materials.
The Shipping Container House in Chile
The very gorgeous and well-planned shipping container house in Chile is probably the best among all the eco-friendly crate houses among the world. It is the brainchild of architects Jamie and Mau. They followed an architectural plan that enabled them to use less resource yet make the building very comfortable for regular residence. Wooden pallets and shipping crates have been recycled for use. The pallets are energy efficient and help in manipulating the temperature inside the house. The pallets can be opened and closed according to the outside weather.
Slumtube in Johannesburg
Johannesburg is a place of extreme climatic conditions. The summers are very hot and the winters can get really cold. The architect duo, Andreas Claus Schnetzer and George Pils have made the Slumtube at this place. They have used the shipping crates in most innovative way and used other nature friendly construction materials like clay and straw. It is hard to believe that these materials can be used into making a cost effective yet very comfy house but it is just what the architects have accomplished. The half round structure has been praised for its sheer brilliance.
The Living Pavilion
This is a building cum garden of sorts designed by architects Ann Ha and Behrang Behin. They have used milk crates for making this 10 ft tall structure. They have won the City of Dreams Pavilion contest in 2010 with this building. They have grown vegetation inside the milk crates. The plants grown in this way get appropriate amounts of light and shade.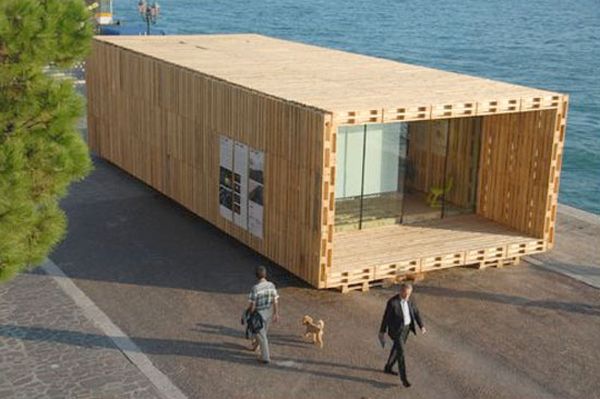 Pallet House, Venice, Vienna, Linz, Grenoble
The architects Gregor Pils and Andreas Claus Schnetzer have created this very quirky and stable Pallet House. Their focus was on constructing a livable building that can be easily recreated in different places.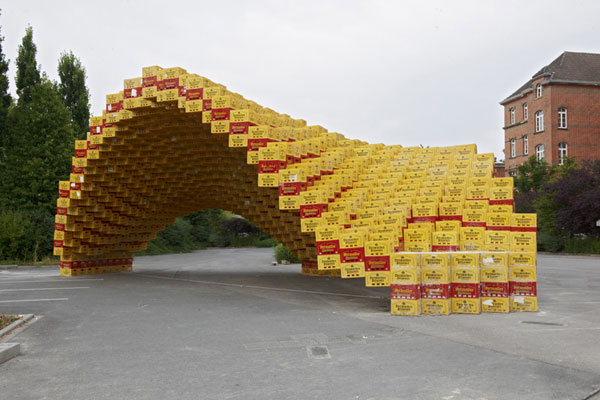 Boxel Pavilion, Germany
A bunch of students created the Boxel Pavilion at Detmold in Germany. It has been made using useless beer crates and has opened up new avenues in structure and building construction.