Birds have always been a center of human attraction because of their sparkling colors and magical voices. Not only this, birds have also been known for their various uses in nature such as the way they maintain natural balance and help in pollination, which is a very important natural process. How about inviting our friends to visit our home this season? You can make the birds feel welcome using bird feeders. Bird feeders are easily available at stores, but it is not that difficult to make a useful bird feeder yourself. It's time to strap on the tools and go the DIY route.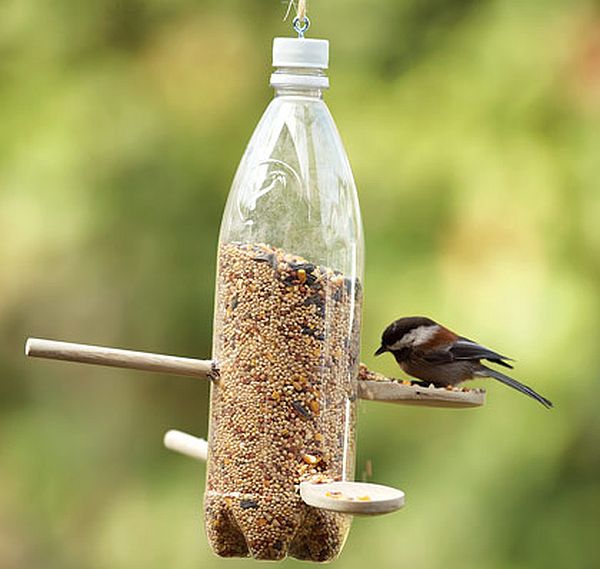 Soda Bottle Bird Feeder
The soda bottle feeder is the most easy one to make and can be made by people of any age by using simple materials. All this needs is a one liter soda bottle and two wooden spoons or dowels. Cut two tiny holes inside the bottle to insert the spoons and make large cuts for the birds to eat and finally fill the bottle with seeds and hang the bottle from a tree with a string. Here is your bird feeder all ready for the birds to feast on and relax while eating.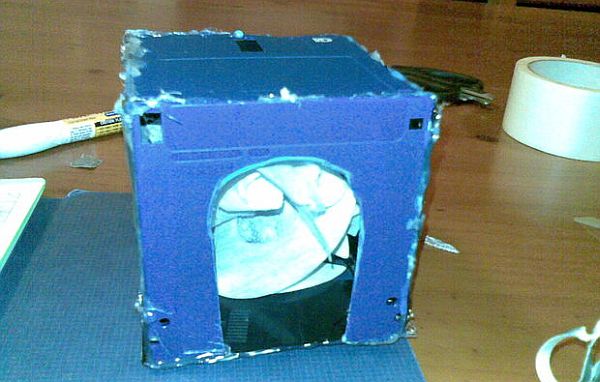 Floppy Disk Bird Feeder
Remember floppy disks? I am sure you would still have one or two buried somewhere inside your house. The best way to reuse them is to transform them into a trendy bird feeder. Tape together three floppy disks from their lower edges and dismantle them, beginning with the metal shutter, magnetic disk and finally the paper ring using a scissor or knife. Put together all the components to from a house like structure and assemble them with the help of tape and glue.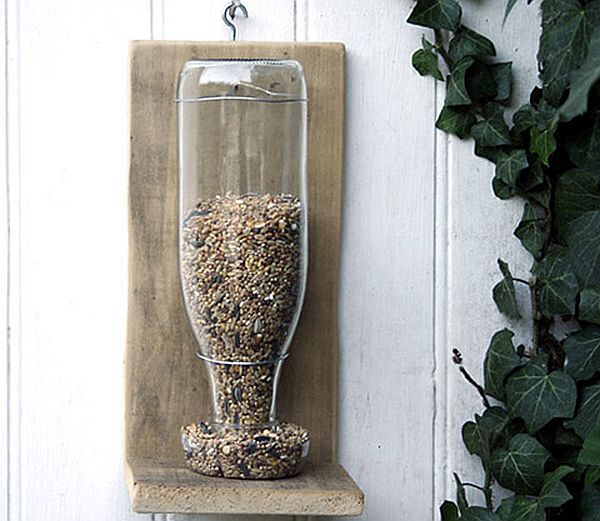 Auto Refill Glass Bottle Bird Feeder
The automatic refilling glass bird feeder is made out of wood scraps, wire and reused glass and plastic bottles. Construct a wooden shelf as the main part of the feeder and with the help of a wire assemble the glass bottle in an inverted position so that the seeds come out automatically. You can even place a plastic bottle with its base cut to serve as a seed dish.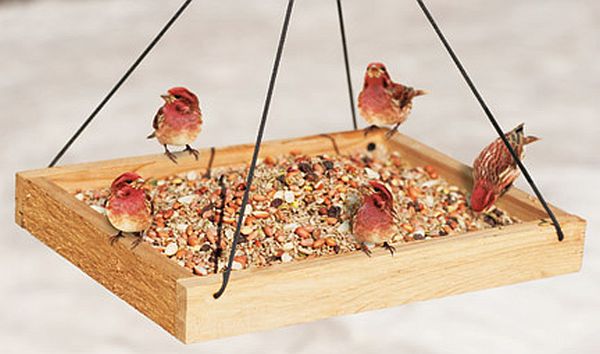 Tray Bird Feeder
If you have some waste wooden pieces here is a good way to put them to a good use. The tray bird feeder can be created out of window frames, picture frames and other leftover wooden materials. These trays will help you invite large number of birds to your garden area and some squirrels too!
Summary
Jane Alexander said "Birds remind us that there are angels" and she was absolutely correct. These beautiful little creatures form a close link between human beings and their natural environment and its time that we too do something for these tiny friends of ours.