Artistic inspirations depend on the artists themselves. What serves as one's muse may not work for another. This is probably why we see so many forms of art. Paintings and sculptures are the two that are the most common but they don't complete the list by any means. Today, installations are the new paintings. They're large, exotic and strange and serve to give audiences a peek into the minds of the artists themselves. One that has recently stood out is part of a series called Biograffias or Biographies by Spain-based artist, Alicia Martin.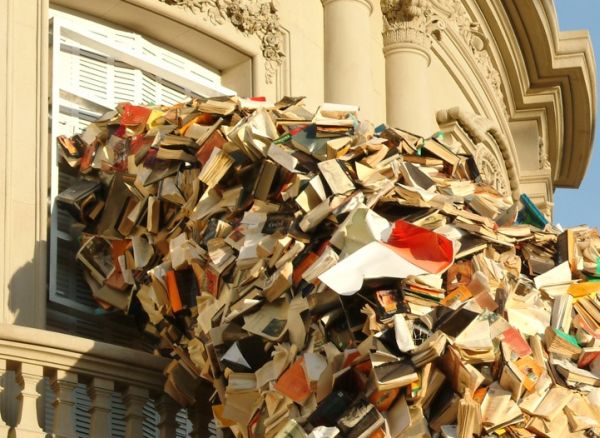 The gigantic installation is hard to miss. It demands to be noticed and so far, has managed to capture the attention of all that pass by. The work features a torrent of books streaming out a window like water pouring out of a hose. It's remarkably detailed and makes you wonder how Martin managed to get it all together.
The installation can be seen at Casa de America in Madrid. Incidentally, the place is a hub of cultural activity. Set up in 1990, it was built to serve as a platform for ideas, debates and the culture of South America. It's no wonder then that Martin chose it as one of the spots for Biograffias as it perfectly complements Casa de America's reputation as a cultural hub.
The stunning installation features a massive volume of books numbering 5,000 in total. Forming a curved tower, the pages are left to fly freely and turn according to the wind. This animates the installation and drives one to think of the way knowledge tends to move about the mind when left unrestricted. In this day and age where knowledge is gleaned off the internet, it would be interesting to see if Martin's initiative serves to put the love of books back into the hearts of people.
Via: Chinadaily