The concept of mobile homes is not new in the US. Compared to other countries, people of the US love the freedom of living anywhere. No wonder you see many innovative trailer homes there. However, this trend isn't just limited to the masses. In fact, these homes are gaining popularity even with celebrities and others who are willing to dig deep into their pockets for expensive mobile homes. Don't be surprised if you see a luxury designer version of such homes on the road. Nevertheless, if you are willing to buy one for yourself, maybe you should take a look at the normal ones which, on the contrary, are popular for their affordability.
These prefabricated homes are built in factories and then placed on the site. These homes are built on chassis which are permanently attached. Big, strong wheels are attached to these homes for mobility.
Here is the list of seven most expensive mobile homes
1. One of Britain's most expensive mobile homes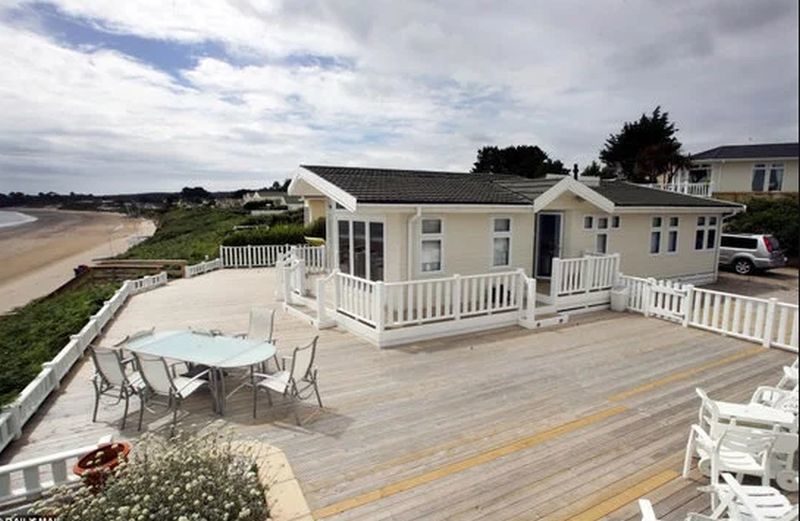 Image Source : luxurylaunches.com
The costliest mobile home is in the UK, located in Abersoch, North Wales. This home has three spacious and luxurious bedroom equipped with modern facilities. This caravan was taken on lease by an anonymous millionaire couple for £550,000. The couple took this home on lease for 20 years. The home has a modern kitchen worth £15,000 kitchen. This home features Italian furnitures which are sleek and stylish. This home offers superb view of the sea and you can reach using the home's own staircase. The home is also known as the Anniversary Lodge. This home was built to celebrate the 75th anniversary of Haulfryn Holiday Homes. The home features complete entertainment facilities including integrated sound and television system. You can also enjoy underfloor heating in this home. This heating is controlled by an iPhone.
2. San Clemente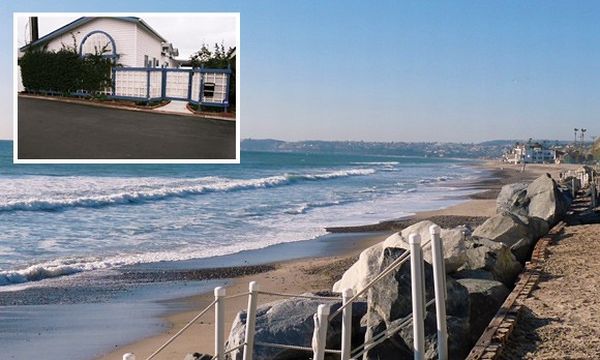 Located in San Clemente, California, this beach is pretty expensive at $2.2 million. This home was built in 2005 and is one of the most expensive mobile homes in this region. It features two large bedrooms and 2 well furnished bathrooms. This 1,450 square feet beachfront home is located in the Capistrano Shores community of California. This home offers different facilities including surfing, dolphin watching and swimming. This home is built on an owned land. The land was bought by the homeowners association of the Capistrano Shores. The home is well furnished with superb interiors. This home is equipped with modern facilities including television, fridge, phones etc. It is one of the costliest mobile homes in the US.
3. Malibu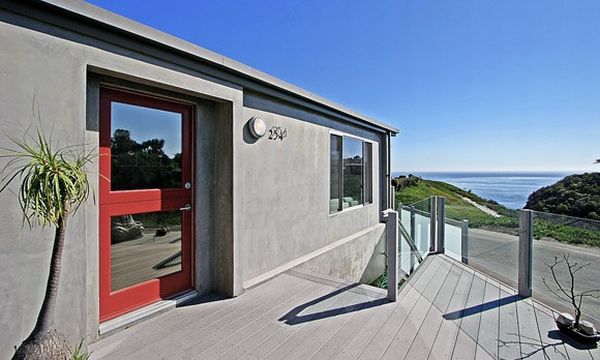 Built in 1973, this mobile home in Malibu, California is one of the most expensive mobile home in the US at $1.69 million. This luxurious home has 3 spacious bedrooms, which are well decorated and equipped with modern facilities. This home features 3 modern bathrooms as well. The total area of this mobile home is 1,695 square foot and it is located in the high end community of Paradise Cove. With a customized interior, this home looks amazing from inside. The home features include radiant floor heating and the surround sound facilities. Viking and Miele appliances are also present in this home. Each bedroom of this mobile home offers stunning view of the sea. The home offers different facilities like surfing, fishing, swimming etc.
4. Sausalito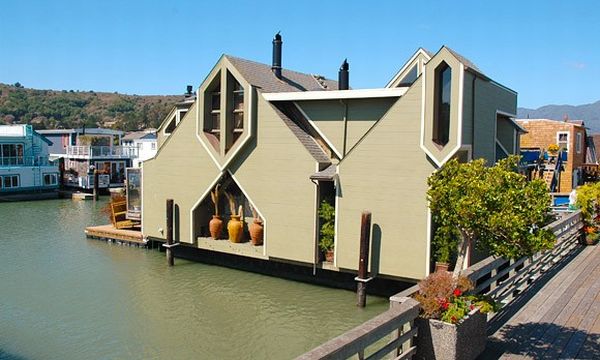 Located in Sausalito, California, this mobile home with 4 bedrooms and 4 bathrooms is worth $1.2 million. The bedrooms and bathrooms of this luxurious and expensive mobile home are spacious and equipped with modern facilities. This 3,380 square foot mobile home was built in 2008. This home is floating on the pier. It has three levels offering stunning views of the mountain and sea. An entertaining area is on the main level, which also houses a kitchen with tiles. The main level also has a kitchen office and dining area. A wood burning fireplace is located in the center of the main level. A spa is located outside the home.
5. Modular Solar caravan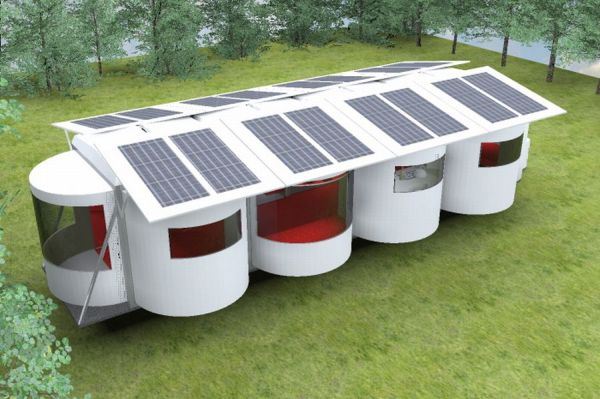 This is an eco friendly mobile home perfect for those who are both rich and eco conscious. The be coc mobile home has two shells and each module has two swivel rocking panels. This home is customizable allowing the owners to choose the amenities as per their requirements. This solar caravan features a large room, well furnished kitchen, modern bathroom and well decorated lounge. The price of the basic model with all solar options is $145,771.
6. Ashton Kutcher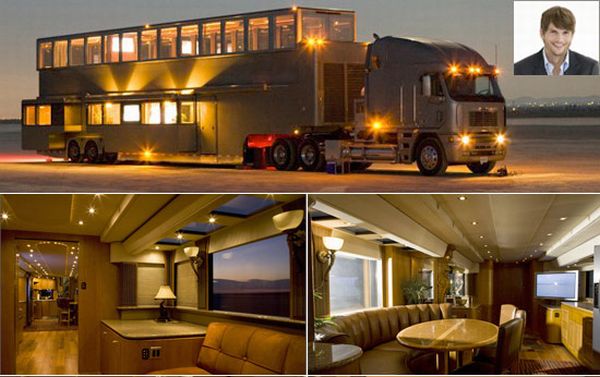 Owned by Hollywood star Ashton Kutcher, The Heat is an expensive mobile home designed by Anderson Mobile Estate. Priced at a whopping $2 million, this home features a double storey mechanism which is automatic. The total length of this mobile home is 53 ft and it is 13 ft 6 inches. This mobile home has a total area of 603 sq ft. The home is equipped with modern facilities including 2 bathrooms, bedrooms, conference space and living room.
7. Cricket Trailer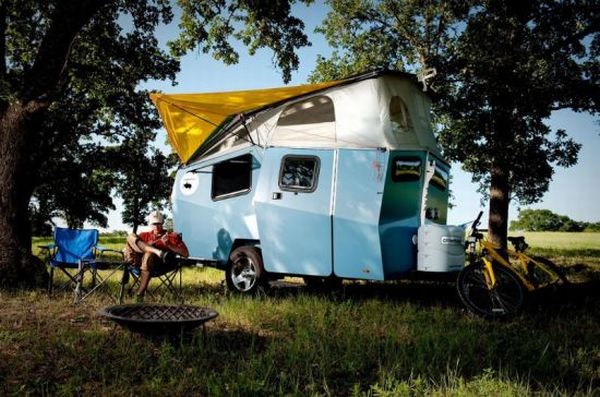 The Cricket Trailer is a mobile home designed by NASA Architect Garrett Finney for the outdoor adventurers. This home is eco friendly because the substances used to build this mobile home are recyclable. The cost of the base model is around $9,950 while the advanced model is worth $13,950. The cost of the high end model is $16,990. The high-end model features a folding bed, refrigerator, kitchen sink, bathroom, heater etc.
How mobile homes are building sustainable communities
Mobile homes are usually transported by being towed behind a road vehicle or a tractor-trailer. They are usually placed permanently in one location but they can be moved as required to many areas. Mobile homes are designed to provide means for people to have their own home permanently, or on a journey or a vacation. Semi-permanent or permanent areas for mobile homes and travel trailers are trailer parks. With the increasing number of mobile homes today, it is believe to have helped build sustainable communities because it provides accessibility, privacy, and easy renovation.
Accessibility:
One of the main reasons for living in such mobile homes or trailer parks is the lower cost of living compared to other housing. Another reason is the accessibility and fast construction. Being quickly and easily able to move to a new area is advantageous to the resident. During vacations, for example, taking the mobile home/ trailer with them is much easier and accessible. Also, there is no need for motel and hotel rooms for the resident to checked in. Without relying on a motel or hotel, it provides the means for people to have their own home on a journey or vacation and be able to save more money. It also enables travelers to stay in places where no hotel or motel are available.
Privacy:
The other key is the quality of life that a mobile home can offer to the resident. Compared to other inexpensive housing options like an apartment, the customer own all of the area alone. There's no nobody banging on their walls or ceiling like in apartments. Mobile homes have yards or garden. The resident can have a pet. Mobile homes allow residents to have a nice neighborhood, self-respect and most importantly, privacy. Thus, as a result, the demand for mobile homes has increased.
Easy renovation:
A mobile home is structurally similar to a shoe box. Mobile homes have no permanent foundation. There is nothing more than a steel chassis wherein the wooden floor is attached. The only components needed to make it stand up are the walls and roof. There is nothing expensive to crack because there are no piers or slabs. It is easy to locate and repair the water, sewer and electric pipes and line because all utilities run in a common trough. Unlike other houses, there is a myriad of wires and pipes. Virtually, all internal walls are simply cosmetic thus gives the owner much more freedom in renovations and improvements.
Affordable as well as expensive mobile homes are going to be one of the key investment sectors in real estate in the coming years. Nevertheless, it is also believed to have helped us in building sustainable communities. A mobile home can be an affordable and decent place to live in because a home, wherever it is, will always be called a home sweet home.