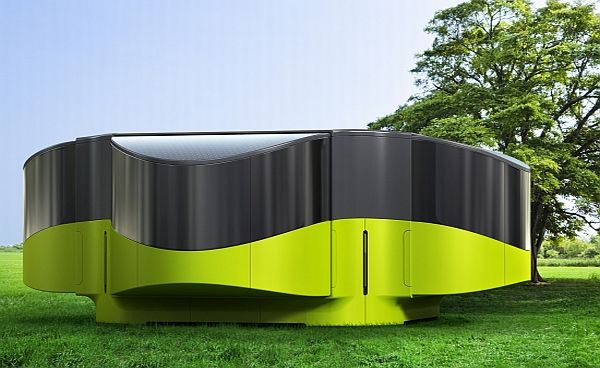 Bored of your regular, energy-inefficient dwellings? Here are a few sustainable housing ideas that you may like to know about. Green homes of tomorrow seem to be mobile, portable, comfy and much more. Read on to know more about such sustainable abodes…
Be-coc 'Mobile Home': Modular solar caravan for the eco-conscious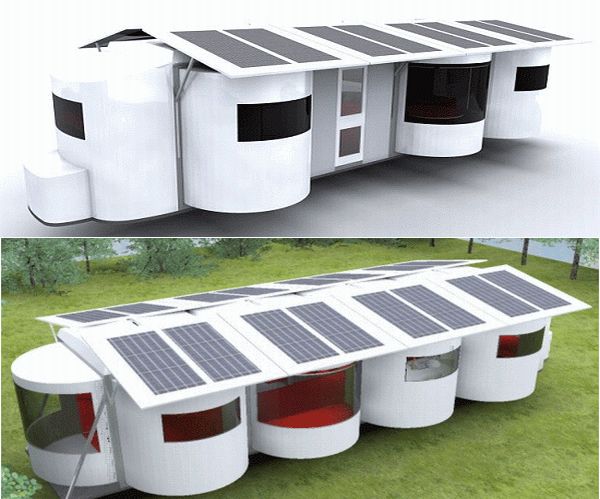 Here is a modular caravan that's a complete pad for those who don't wish to compromise on the luxury element, though do care for nature. The usp of this mobile home is a lounge along with other essential portions like a room, kitchen and a bathroom. This eco friendly caravan has two shells and two swivel rocking panels. It is fully customizable. Moreover, extra facilities can be added to it as per the wish and need.
Artist transforms shopping cart into mobile home for post-apocalyptic living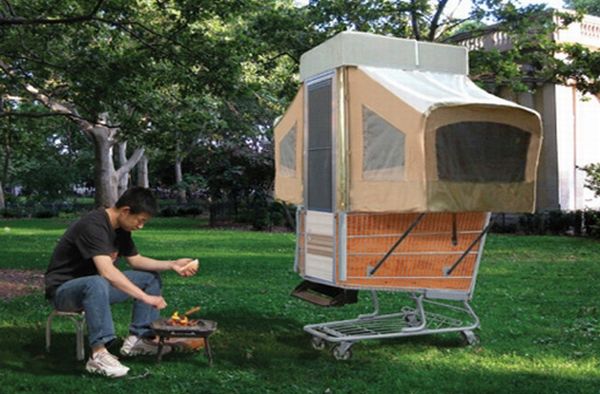 This fully-functional home has been designed by artist Kevin Cyr from Brooklyn. Cyr drew inspiration from McCarthy's post-apocalyptic novel "The Road" and came up with this design, which has enough space for even 5-foot-8 frame. Those, who have doomsday predictions hammering their minds, can resort to this home that has been built using a shopping cart.
BLOOM living module offers nature's best in the lap of solitude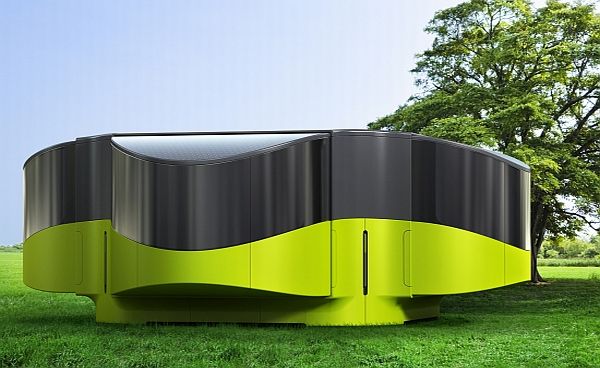 Now you can live a life pampered by hi-end resources even when you are away from the civilization. This BLOOM living module has been designed by designer Olga Kalugina. It uses solar energy for heat and power and is easy to transport too. The concept abode can easily be folded into smaller units, thus facilitating transport. Unfolding too is a very easy task, which can be done to increase the internal space.
A portable vacation capsule to attach to any rooftop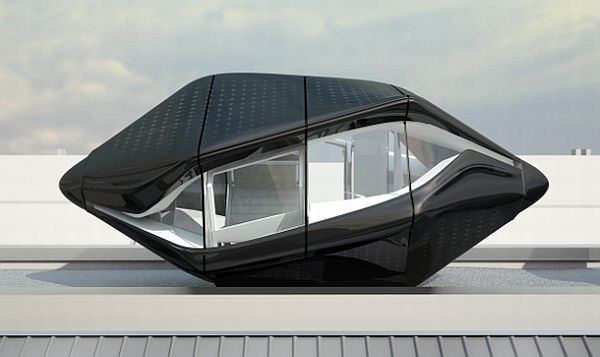 It doesn't cost to imagine the concept of John Lennon materializing. John has imagined aportable vacation capsule that can be attached to the rooftop of any building that you like. And in case you don't really like the view, choose another spot and go on. The concept designer wants us to believe that this capsule could be transported into wild as well. And yes, it is powered by green energy. We just hope that this idea comes alive someday.
Don Vardo portable green home is packed on a trailer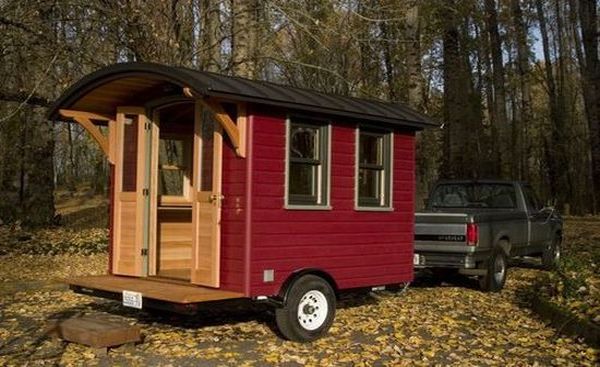 Here is a portable space that can be used as an office or a home. This is build by Oregon-based Portland Alternative Dwellings and is christened The Don Vardo. This dwelling includes a desk, kitchen nook, pull-out double bed and radiant heat floors, packed on a 7X10-foot trailer. To top these facilities, it is fully insulated. Douglas fir doors, rain screen cedar siding, an LED rope-light to save energy and efficient double-hung windows, add an element of luxury and prove their worth in terms of energy efficient too. All this at $22,000.
Quno – The future of mobility and living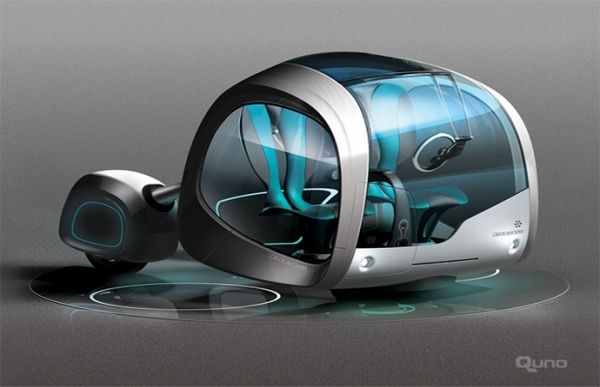 Industrial designer Jeongche YOON is the person behind this mobility concept. Yoon believes that future homes would move a notch ahead than just homes. They could be driven, like cars, by using more eco friendly fuels such as electricity. To the owner's benefit, the concept might reduce the labor cost as well. To the nature's benefit, the construction waste and garbage may be reduced as well. These sleek, smartly designed, compact vehicles would be easy to handle and are customizable too. This concept may fit well in the future world which might face a huge space crunch and meet the challenges of comfort and mobility as well.
Self-sufficient Eco-Capsule, a Flintstone home of the future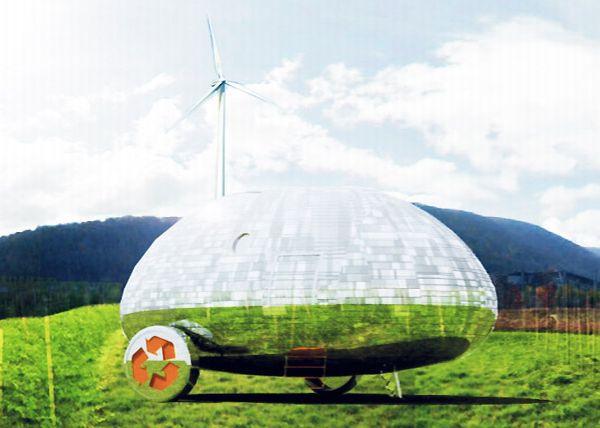 Here is the idea of a dwelling that may take you back to the peace and calm of the stone age, in terms of style too. Conceptualized by Slovakia-based Nice Architects, this all-aerodynamic capsule is a combo of a wagon, RV trailer and all aerodynamic eco-capsule; not to forget the modern amenities. It will use sustainable materials that may help it in adapting to all sort of requirements from living and mobile quarters and even towing behind a vehicle. Its usp are solar aluminum tiles that reduce the energy requirements. Interestingly, this could be expanded in an open studio space.
The Expandable Mobile Mini House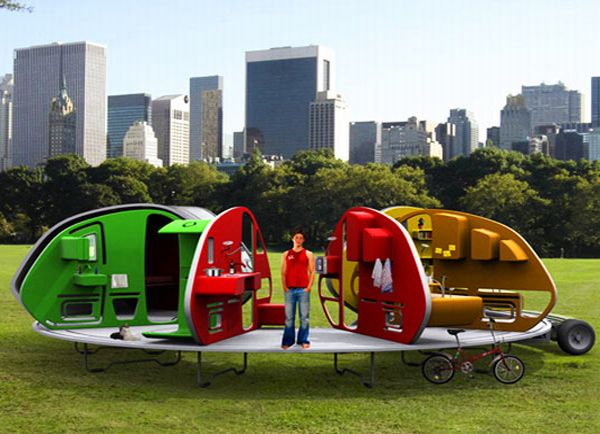 For those of you, who don't find the idea of a tent very fascinating, you'd definitely want to consider a lavish exaggeration of this accommodation in the form of Stéphanie Bellanger'sMobile Mini House. Inspired by John Lautner's Chemosphere house, this space includes a bathroom, living room, bedroom, kitchen, and guess what..an office! This design has sufficient storage space. So you don't have to leave your favorite books and clothing behind when you plan to move into this mini house.
Japanese Pals Recycle Old Truck into Transforming Two-Story Mobile Home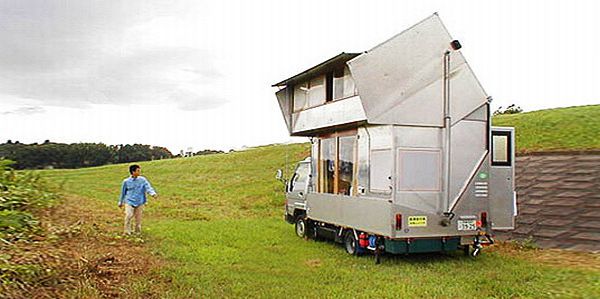 This hydraulic, double-decker, transforming, fully-equipped camper has a deep Japanese connection that's visible at the first sight itself. The Japanese-style zen loft space, rice paper windows, tatami mats, and of course the manufacturers themselves add a certain grace to the abode. It is made by a group of friends who transformed nothing less than an 'old truck' into this mobile home. Way to go guys.
Martin caravan house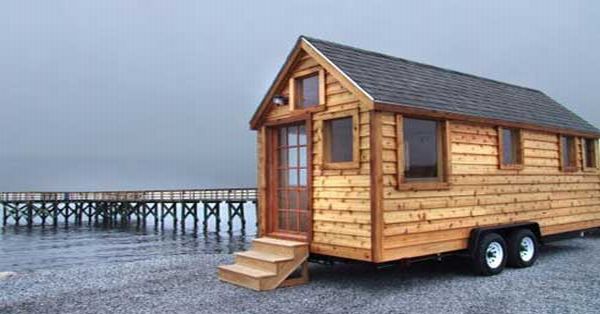 Julie Martin lost her house to the hurricane Katrina, but he exploited this experience in creating something inspirational. Julie Martin has crafted a new model called Fresh Start. It is build using 3/4 ton truck with trailer hitch ball 5/16th second, and has the introductory price of $29,900.