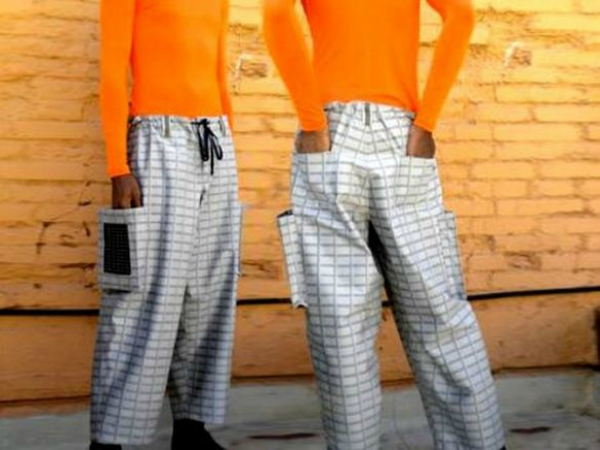 The solar energy powered green products are a rage all over the world and people prefer these products over other non-green products as they offer better durability and are eco friendly. These days a variety of such green products are available in market at very affordable prices. These products vary from simple daily use products to business related products. People have shifted their interest more towards green products and have helped our environment in some or other way.
So here is a list of top five solar powered gadgets for your UV ray-absorbing pleasure:
1. Go Urban cargo pants by Silver Lining
You might not have seen anything like this before. This is a unique concept that is made out of your cargo pants. These specially designed cargo pants are provided with 5 volt solar panels that allows you to charge your gadget on the move without any hassles. You don't have to worry next time your battery goes off, as this cool cargo pant will charge it instantly. Stylish design with silver linings makes it even more attractive. Priced at $920, this gadget is worth a deal.
2. Logitech K750 solar-powered keyboard
Logitech launched their latest technology in electronic industry. They have developed a solar powered keyboard which is going to solve out all your power related problems. It's hard to ignore the fact that the wireless gadgets like keyboards become so annoying at times when they run out of battery. So here is a perfect gadget for all those people who want to get rid of their battery operated keyboard. This wireless solar powered keyboard can be carried anywhere and never runs out of power. It can be operated using solar energy and is available at an affordable price of $80.
3. Eton NSP500b Solar XL sound system for iPod and iPhone
This cool sound system from Eton is what defines a perfect solar energy powered gadget. This boom box supports all your latest devices including iPhone and iPod. The wireless stereos are considered to be one of the most power consuming devices and, thus, are referred as costly devices to handle. But this ultra freaky gadget will never let you down when you are enjoying on a picnic trip with family or having a party at beach with friends. Enjoy the sun with high sound music for unlimited time as this device will get charged using solar energy. Priced at $249.95, this awesome gadget is really hard to miss.
4. ReVIVE Series Solar Restore external battery pack
Next up is the Solar restore external battery pack from Revive which is another cool portable device to charge up your mobile phone on the move. This handy gadget with awesome looks is equipped with solar panel for any device that takes micro-USB. The only limitation about the gadget is that it will charge only 50 percent of your gadget's battery. But with its compact structure and high durability, it's hard to miss this gadget. In addition, the battery of your gadget can be charged using an AC adapter. The product is available for $28.99 in market.
5. KC Solar and Wind Charger
The KC solar and wind charger gadget is specially made for people who have been looking for a gadget to beat the heat. So why not going for this cool solar handheld fan? This fan is actually not a fan; instead, it is a 3-in-1 portable charging device. It can charge up the 4,000 mAh battery via AC adapter. This green gadget also uses solar and wind power to charge up the device. So next time, if you run out of battery, you have got an option to charge it without much hassles. The gadget is fairly priced at $79.85.