Eco-friendly homes are the new trend to show your environmental awareness. Going green isn't just a fad now. In fact, those who opt to build eco-friendly homes, usually tend to get a higher return on investment. Furthermore, since this trend isn't going to die anytime soon, you might expect much bigger returns if you hold it for the future. Nevertheless, having an eco-friendly house isn't much about money. It is about making your home natural and self-sustainable like nature. Here are some reasons why you should opt for such houses.
Why eco-friendly homes?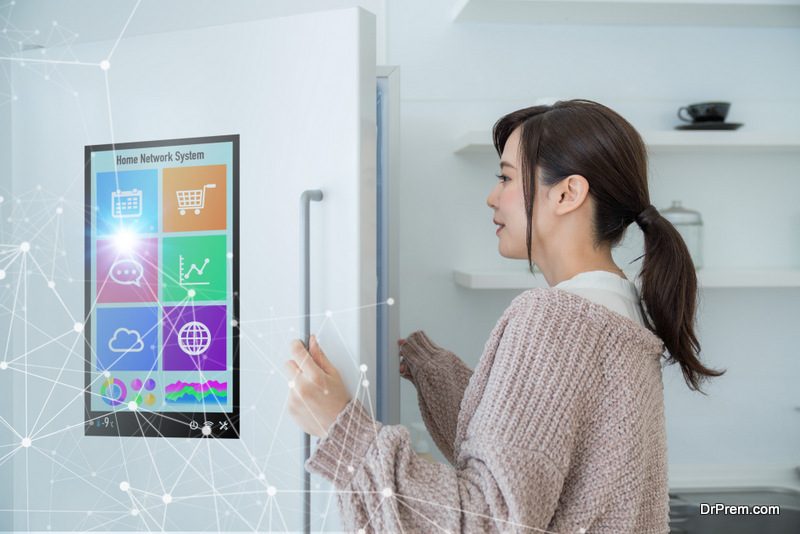 An eco-friendly house is the one that concentrates on efficient use of energy, building materials, and water. Energy-efficient appliances can be installed for building an eco-friendly home. In addition, these houses not only look pretty but they also have some real-life benefits. The green color has a soothing effect on eyes, so having a greenhouse will definitely improve your mental well being. These houses save money too by reducing your electricity and water intake. They also provide fresh air and light. They even become a great pastime for families cultivating green habits such as gardening and botanical studies. If you are thinking of having such houses then you either design a new one or transform your existing house. You can follow these 12 simple tips to design house into an eco-friendly home.
1. Plant a lot of trees: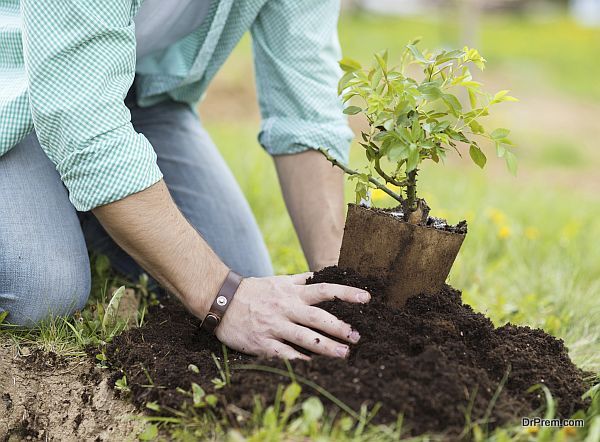 The easiest step to transform your house is to plant lots of trees. These trees will add the green element of 'eco-friendliness' in your home. These trees will let fresh air flow in your house and provide a cooling environment in summer. These trees will let birds make a nest that will surely accentuate your home beauty to another level. If you are worried about lack of space, then you can always have indoor plants or even have Bonsai in your pot.
2. Eco-friendly windows and doors: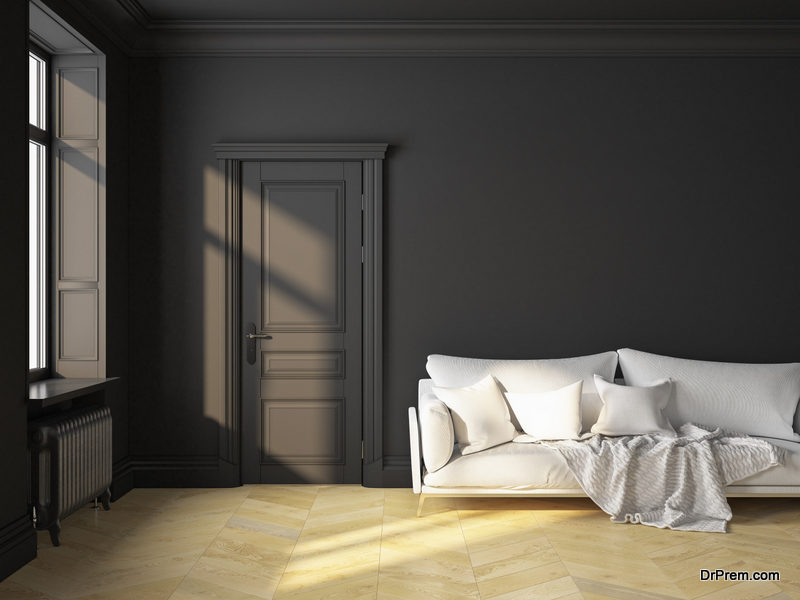 You can install eco-friendly windows and doors in your house. These windows and doors should be LEED-certified for green efficiency. These are made of recycled materials such as woods, cardboard, metal, plastic, and aluminum. Therefore, having them will ensure your environmental friendliness. Moreover, these attachments come with several modifications such as high glazing, low air infiltration and solar heat gain to improve the warmth of the house. They even can even be electronically operated under automation system of your building.
3. Eco-friendly construction, eco-friendly material and paints: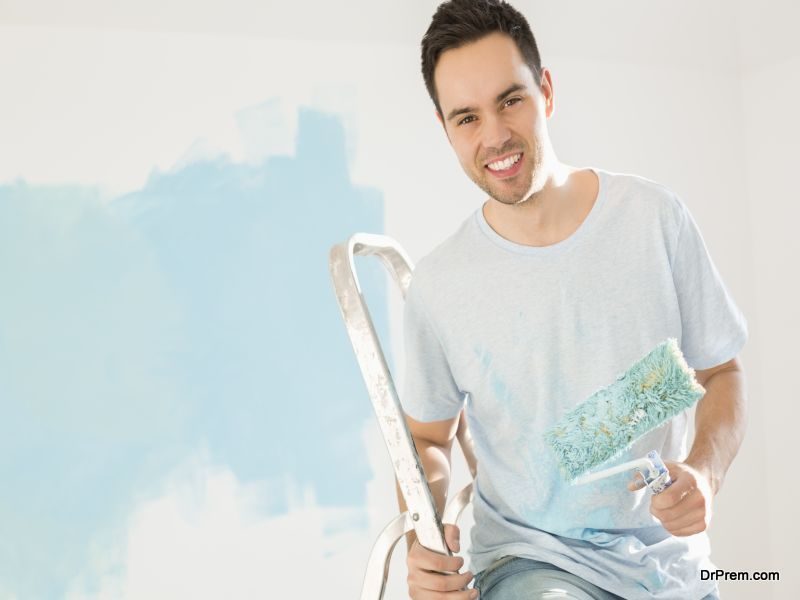 If you are building a new home then you can use eco-friendly construction materials or if you have one then use eco-friendly materials for any future reconstruction. Siding can be an excellent alternative. You can paint your home with low VOC paints. These low VOC paints come in vibrant color and lack polymeric compounds. Many companies make special paints with organic compounds such as plant extracts. The eco-friendly construction process involves foundation modification of using smaller holes and designing low-level bedrooms to ensure the cooler environment.
4. Recycling unit for water: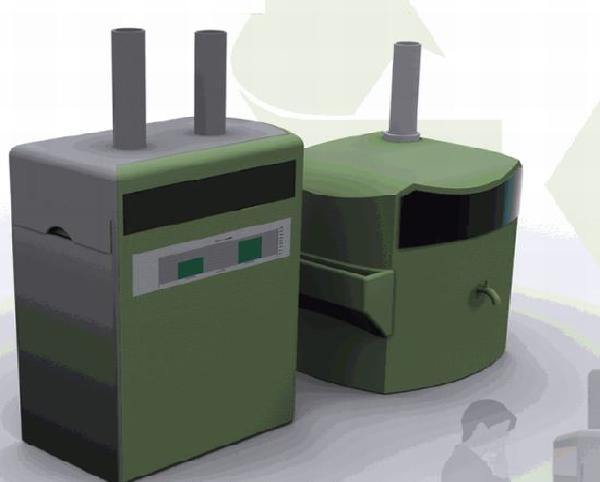 Water wasting is extremely prohibited criterion of environment friendly home. You can install water-recycling units to recycle your spent water for non-potable use. You can use this water for car washing, gardening or as coolant for your air cooler. Recycling the water saves the precious water for ecosystem. You can also couple a reverse osmosis system to use the same water for potable use. You should not buy mineral waters as the manufacturers use plastic bottles that do not have much recyclable use. If you are having a RO or distillation system installed, then you can use mineral tablets for meeting the mineral needs.
5. Use solar electricity: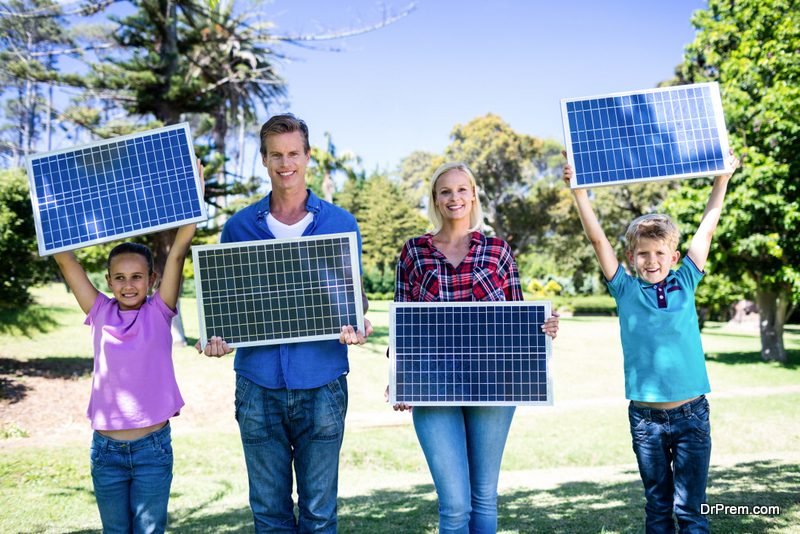 You should start working on saving electricity. The first task is to replace the all power appliances with '5 stars rated' electric saving appliances. You should replace your normal lights with LED lights. You should install a solar power unit to power your appliances. You can also install a windmill if you have a big open space. You can use solar power to power your water recycling and reverse osmosis units. This will not only ensure your eco-friendly approach but also save a lot of money for electricity.
6. Insulate doors and windows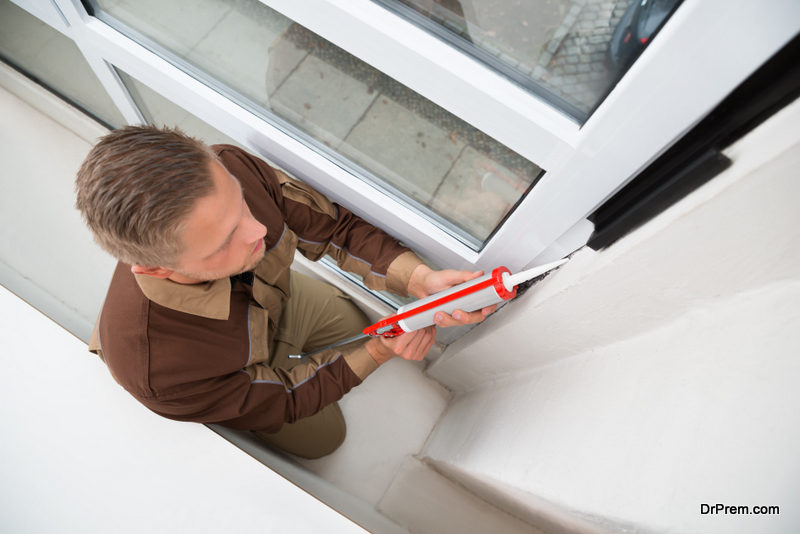 Your doors and windows are also a way of wintertime heat loss. The best but less expensive thing is to replace your old garage doors with an insulated version. Garage doors are great energy sucks, rarely built with efficiency in mind. You can put weather stripping on your doors and windows to avoid the cold air from entering through the crack. You can hang blackout curtains on the windows. Triple pane windows can also be used for replacing your old windows. You can even opt to purchase thick and insulated doors, which will cost you only a few hundred dollars.
7. Create compost pile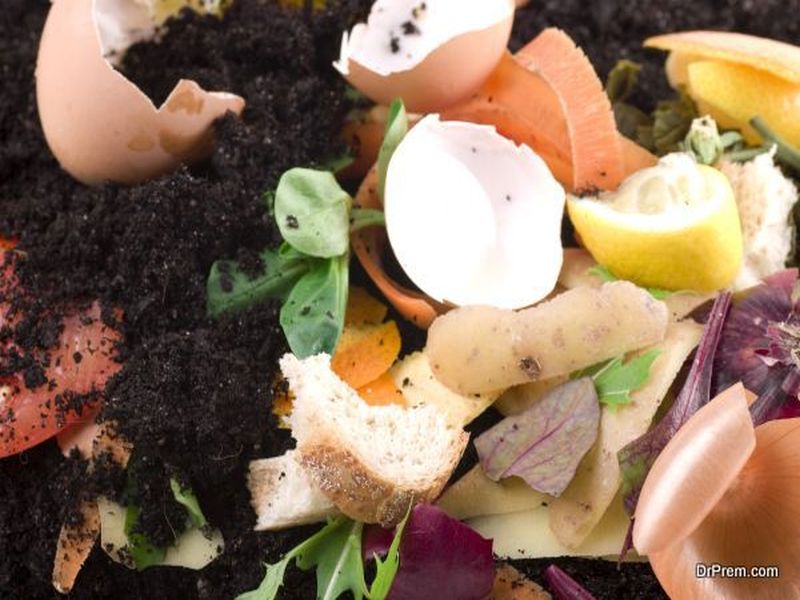 Mix all the left-over in the kitchen with rubbish and make compost pile in your backyard. Use a shovel to turn the pile every week. Instead of throwing away eggshells, coffee grounds and spoiled vegetables to the garbage, turn them into something useful and make the composite pile. The plants grown in such soil will definitely yield better fruits and vegetables.
8. Install fluorescent bulbs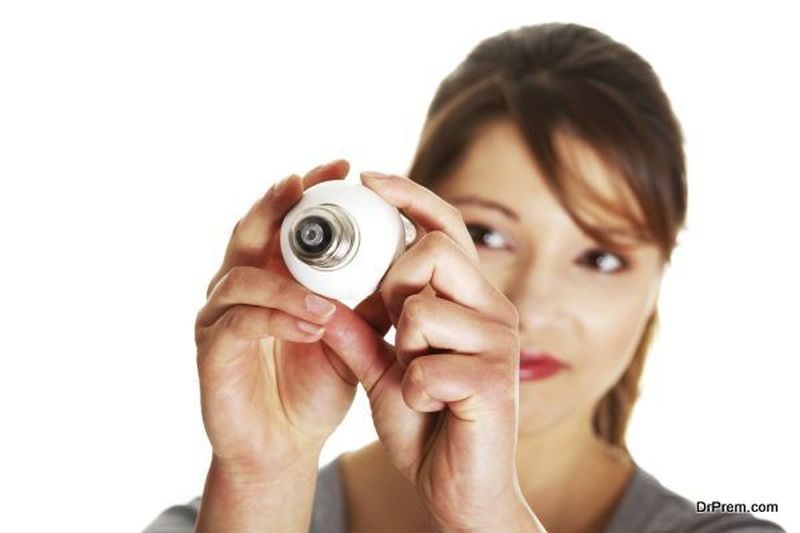 If you are planning to save on energy costs, then replace all the incandescent bulbs in your home with fluorescent ones. These energy saving bulbs consume 70-75 percent less energy than the standard light bulbs and does last up to ten times longer. For instance, if you are using a 26-watt fluorescent bulb, then you are saving up to $59 dollars on energy expenses over the life of the bulb.
9. Improve your roofs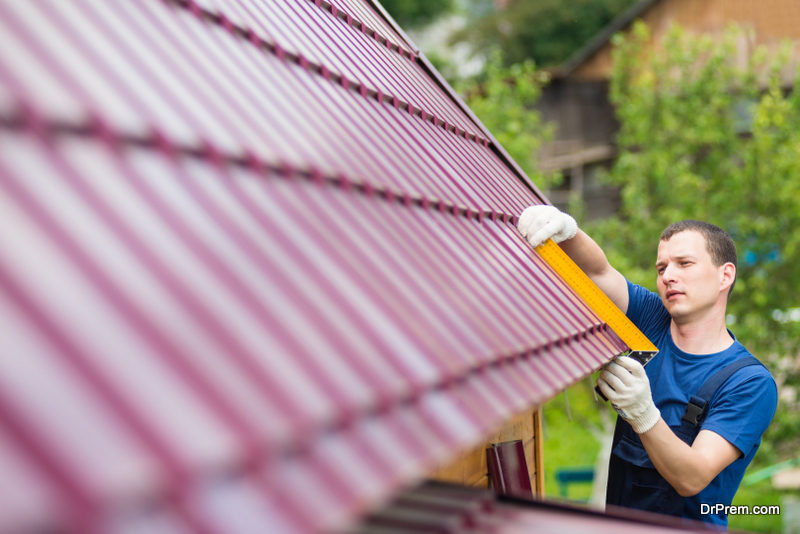 In summers, you waste a lot of electricity in bringing down the room temperature by using air coolers. To overcome this rising room temperature and keep the rooms cool, you need to have cool roofs. To achieve this, you can paint the roofs white or with light colors, which will reflect back the infrared rays thereby lowering the temperature of the room. You can also choose white flooring color, as white color keeps the room cool.
10. Conserve water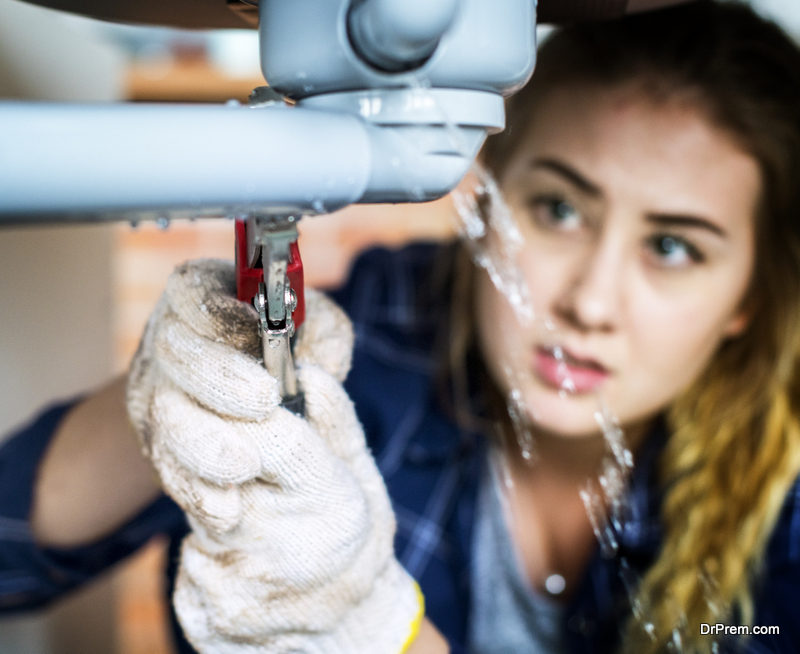 Check your home regularly for leaky faucets and if you find any, get them repaired immediately. Try using cold water for washing clothes. Some garments like jeans can be worn for a few more times before throwing it in the hamper. Educate your children about saving water. Installing a low flush toilet reduces a home's water supply requirements. When compared to standard toilets, low flush toilets consume less water. A standard size family can save up to 35,000 gallons of water by switching over to low flush toilets.
11. Use low VOC paints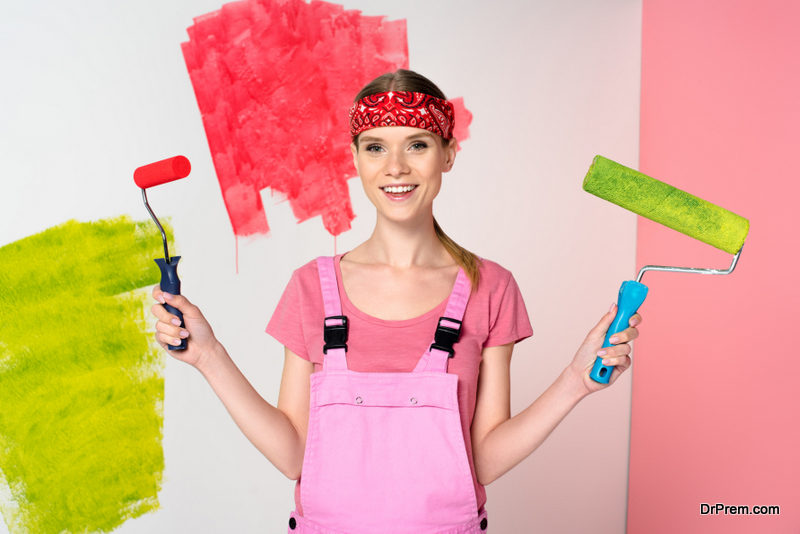 Make your home look beautiful by giving it a new coat of paint. You can paint the walls and roofs of the house with light and low VOC (volatile organic compounds) paint, which not only maintains the required room temperature but also does make your home look beautiful and lively. The standard VOC paint may pollute the air and cause respiratory problems, but low VOC paint always gives the homes fresh fragrance.
12. Install fans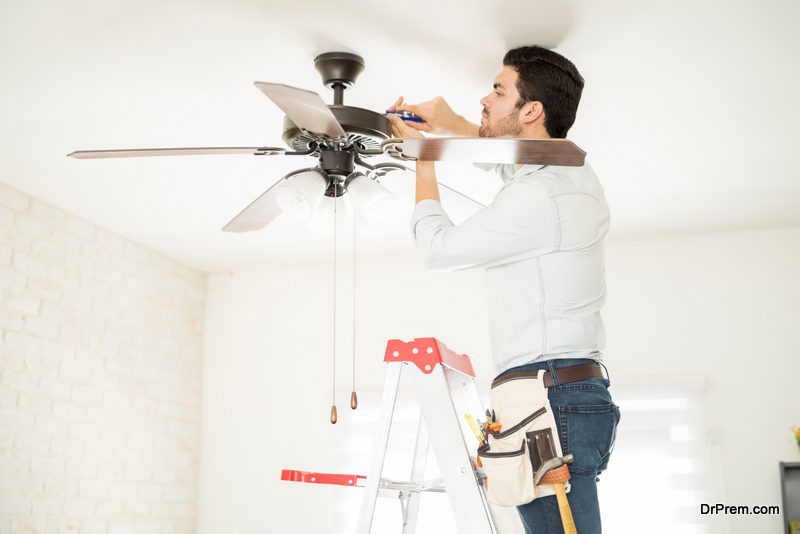 Installing exhaust fans helps your home in lowering down the heat and dampness from kitchen and bathrooms during summer. Ceiling fans help you in reducing your family's dependence on ACs in the summer season.