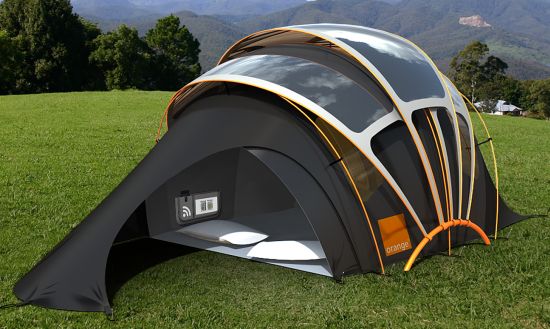 Camping is a refreshing change from the grind of our daily lives. It gets us closer to nature and shows us facets and aspects that we were previously unaware of. It is ironical that while camping takes us closer to nature, it also takes nature closer to the pollution and dumping that exists in human settlements! It is vital that we enjoy and learn from nature without disturbing and spoiling the pristine glory. That is where the idea of using 'green' tents and 'green' camping methods become important. We can get more environment friendly by replacing the synthetic tents with eco friendly tents. Here are 5 eco friendly tents for your camping needs.
2 pass Camping tent by Big Agnes Lynx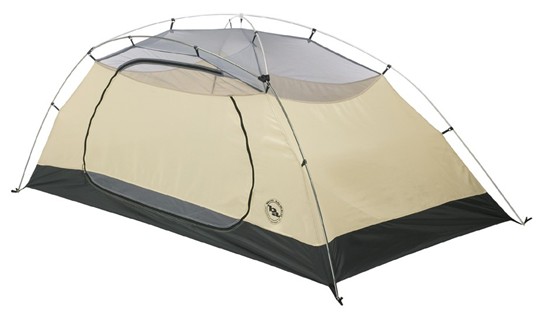 If you are planning to go camping, it would definitely be a good idea to pack all your supplies. A better idea would be to pack your home itself and carry it on your back! That is exactly the kind of freedom and comfort that the Big Agnes Lynx tent provides for the frequent traveler. A backpacking tent that is freestanding has been made from durable nylon along with polyester rip stop to ensure a warm, dry and bug free living outdoors. With its DAC lightweight pole system with lightweight hubs and press fit connectors the tent is extremely portable. It features eco friendly anodizing which ups its green value. The other features like an extra large oval door, storm flaps on the vestibule style door zippers, interior mesh pockets, gear loft loops and a reflective guyline along with stakeouts make the tent a real attractive buy for $199.95.
Orange solar concept tent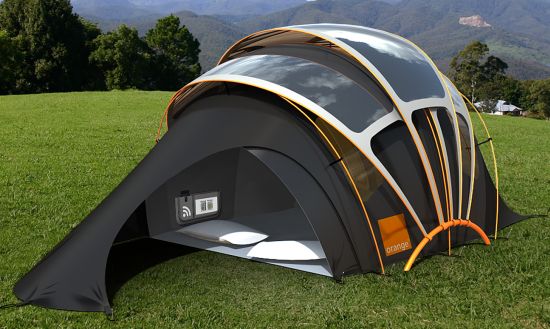 Tents are definitely the best way to have a minimal carbon footprint when you go camping. But perfection is something that lies in small things though it is not a small thing itself. That is the motto by which Orange seems to have manufactured its wonderful tents. Anyone will be floored by the looks of the tent at first glance itself. What really makes it wonderful is the thought that the whole tent has been made from a special photo voltaic fabric! This will ensure that all the power needs of your gadgets can be manufactured in the 'green' way. And the charging happens via a Wi Fi enabled panel which incorporates magnetic induction to transmit power to the charging points! The modern tent has also been fitted with what has been touted as 'Glocation'. Using RFID or a simple sms, the tent lights up when the camper gets close to it. Now, that is something to ensure that you are not lost in the woods!
Since the tent is still in the concept stage, we are not yet sure of the price.
'Cool' desert tent from deserted plastics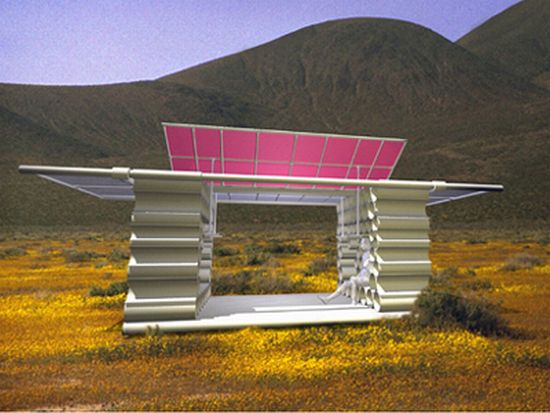 There are times when durability becomes a problem too! That is what has happened in the case of PVC which is commonly used in making pipes, joints, covers and literally anything and everything. PVC has an average life cycle of 34 years after which it is not needed. Since recycling it is very difficult, more than 98 percent of the world's PVC ends up in landfills. An elegant solution for that is the Green Tent.
It was designed to meet the need for a sustainable mobile shelter in the Mojave Desert. Thus, the tent had to be light, cool and durable. PVC pipes of various sizes were stacked to construct the walls of the tent. These pipes don multiple functions of windows, ventilators and racks for storage. Big pipes can also serve as sitting spots within the tent. And here, PVC's durability becomes a boon against the harsh desert conditions.
Woods solar powered EZ Tent with LED lighting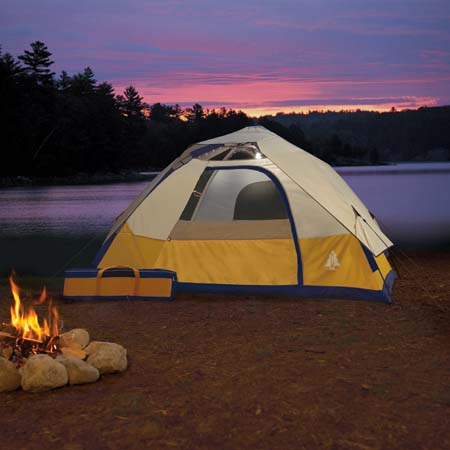 Perfect for a family expedition, the Solar Tent can easily accommodate 4 adults or 6 adults within it, depending on the size you order. The tent has been designed with solar panels on top that power the LED lights within. A complete charge, which needs 4-6 hours in direct light or 8-10 hours in indirect light, can power the lights for up to 4 hours. And these lights can be set to come on automatically once the natural light goes down. Definitely a 'bright spot' in any camp! In addition, the tent can be easily assembled in very little time.
There is a LED rope that runs along the tent with a central light which can also be separated and used as a flashlight. The solar panel can be easily separated and stored in a special case that comes along. It can also be used to independently charge batteries and other appliances also. The tent is available for purchase at $229.99 (4 Persons) or $279.99 (6 Persons).
Cool sun tents that power bicycles too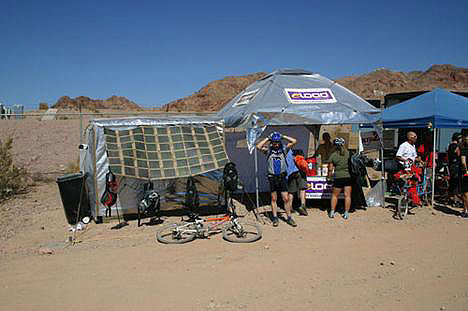 The air conditioners occupy the top position in the energy consumption pyramid. Just imagine running them on solar energy? That is exactly what the Sun Tent has achieved in the blazing hot deserts. The dry desert air is utilized to evaporate water and this humid and cool air is then blown into the tent via fans. The fans run completely on solar energy. That is a 'cool' tent that will be a 'hot' seller!
New Sun productions have creatively marketed their tent as oases during grueling cycle races in the deserts. As the wheels are re fitted and serviced, the rider can enjoy a few minutes of the much needed rest. The tent provides 54 square meters of living space and measures 9 x 6 feet. The tent, panels and the cooling unit can be neatly bundled into two packages with a combined weight of about 140 pounds.
Plans are afoot to develop a package that can act as a trailer for the bicycle. The panels will provide energy to power the fan via a DC motor in order to provide thrust to the bicycle too! Such a Generation Next Sun tent will be available for $5000.