An abode with strong lines and simple framework, this house constructed by Global Objective Technical Office, has a very homey built. The enterprising firm employing architects, designers and civil engineers is known its bioclimatic constructions which have layouts that promote social cohesion. The boxed living spaces of the structure are well ventilated by its long and sizable windows. Moreover, the home greatly facilitates social interaction and does not misuse the land area it is erected on.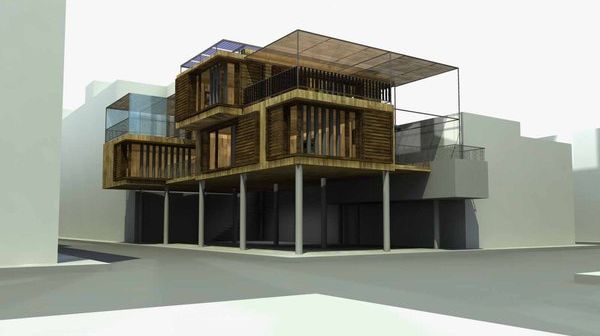 Like all other projects taken by this team of architects, this particular structure also boasts of a green design which makes use of renewable energy and endeavors to conserve resources. However, the conveniences offered by this multi residential complex are not limited to its green design. The structure packs in a lot more for its residents.
The firm aspires for a sustainable future, which is possible only by building eco centric complexes throughout the town area. Homes with a passive built are a top priority as the energy efficiency they afford secures the future of its inhabitants. Residences with an endurable construction that reduce carbon footprint considerably also help to safeguard the future. In addition, homes should be designed such that they enrich the quality of life of its residents.
Although technicalities are important for every home, one should not forget that dwellings are a place where people lodge daily, mingle with family members and take rest. So, the layout of any home should be welcoming allowing you to do your own thing. The thoughtful design of the structure takes this into account. The multi density home has an easy arrangement that allows its residents to move about comfortably. Plenty of open terraces, patios and porches have been included in the structure for residents to lounge about.
Via: GlobalObjective