A few years back and the very mention of a floating city would have made you conjure up thoughts of a sci-fi city possibly set in the next hundred years or so which would be an autonomous ocean settlement for the last inhabitants of earth. Now don't go too far ahead with your thoughts.
Rising sea levels have already placed several countries like the Maldives at threat of submerging completely in the next few years. With such an imminent threat looming over us, it won't be long before we start seeing these floating cities take shape all over the world. For now though, let us focus on four futuristic floating city concepts that may soon become a reality.
Prefab Self-Sustaining Floating City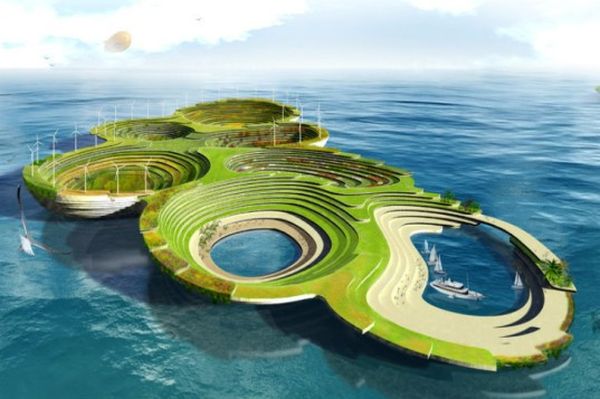 Image Source : Assets.Inhabitat.Com
The Prefab Self-Sustaining Floating City was designed by the AT Design Office for a Chinese construction firm called CCCC. The concept aims to handle China's concerns of population saturation by making sure of a floating city. The city would constitute prefabricated hexagonal modules taking the shape of a sprawling buoyant landmass which would be energy efficient and enjoy zero emissions. The floating city would also include fish hatcheries and vertical farms to produce food for its inhabitants.
X-SEA TY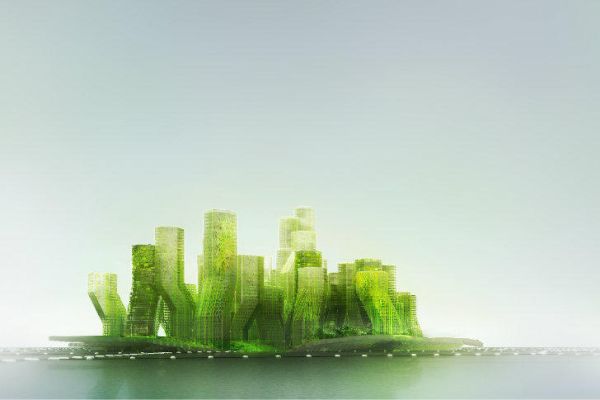 Image Source : Giga-Prod-3.Qiniudn.Com/
Designed by X-TU, X-SEA TY is a futuristic floating city that would use carbon absorbing technologies to clean the air around you. The city would feature hive inspired buildings whose walls would contain a combination of porous concrete and photosynthetic algae. The algae on these building walls would produce enough bio-fuel energy which would in turn be used to power the floating city.
Lilypad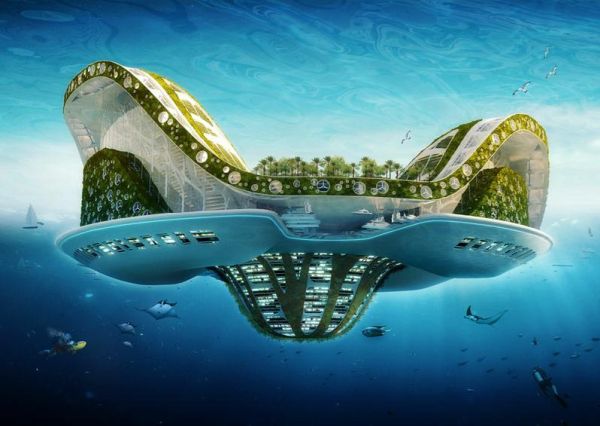 Image Source : Vincent.Callebaut.Org
Designed by Vincent Callebaut, the Lilypad is an attractive floating city concept that takes the shape of a water lily. Each of these lily shaped islands would feature a mixed terrain landscape and would house at least 50000 inhabitants. The individual lily pads would also be connected to each other, and get their power from renewable energy sources, thus enjoying zero emissions as they operate in tandem with each other.
Silt Lake City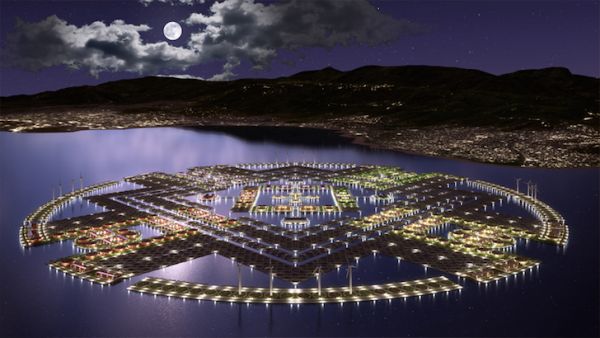 Image Source : Cagoodclothing.Com
Designed by Margaux Leycuras, Anne-Hina Mallette and Marion Ottomann, the Silt Lake City functions as a floating hydropolis, and is designed for the purpose of flood control in and around the Nile Valley. The design involves dividing an existing water body into individual floating modular cities. These cities would easily be able to ride over the tides during floods, and would incorporate residences, companies, businesses, agricultural farms and energy generation zones.
The concept of a floating city may soon become a reality. These futuristic floating city concepts highlight the possibility of a future featuring these self-sustainable floating islands.