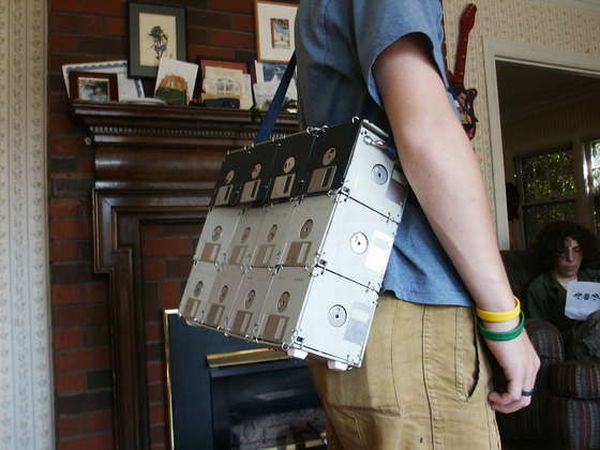 Recycling of old, discarded products is fast gaining popularity. In today's world, which is full of freaks, recycling is essential. Many items, especially electronics items, which we throw in the garbage bins, are a health and environment hazard. Therefore, it is a best option to send those useless gadgets for recycling, where many people use these discarded items to design and create beautiful pieces of art and craft. Well, we have compiled a list of 10 innovative ways to recycle computer consumables. Have a look:
Floppy disk bag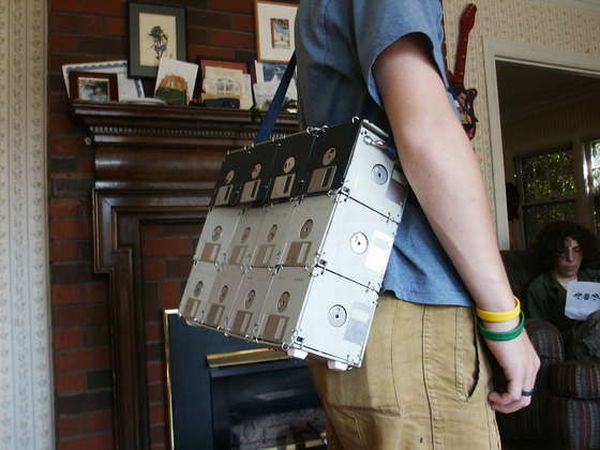 Floppy disk was once an important gadget used for the storage and transfer of data but the introduction of CD and later DVD rendered floppy useless, leaving us with no option other than throwing it in the bin. But there is a creative person, who has used the floppy disks to create a bag. This bag can be created by anyone using simple, readily available articles.
Recycled CD iPhone dock

The idea of creating iPhone dock using recycled CD is a novel one because it utilizes discarded CDs to create something useful. This dock can be used for iPod and the 2G and 3G iPhones. It is also compatible with iPhone 3GS. It is easy to create this dock at home using a Dremel and a dozen CDs or DVDs. The price of this iPhone dock is very less than the standard iPhone dock.
Floppy disk notepad

Do you want to recycle your unused floppy disk to create something useful and beautiful? You can actually create a floppy disk notepad at home. This one-of-a-kind notebook can be made easily using some basic items which are readily available in market. All you need is a soldering iron, 6-8 sheets of paper, scissors, marking tool, clamps, drill wire and floppy disks.
CD Jewel case chandelier

The credit for designing and creating CD jewel case chandelier goes to American artist Josh Owen. You can also create this unique chandelier at home. Besides chandelier, you can also use jewel cases to make beautiful photo frames.
Floppy disk pen holder

Jim Buda has used his creative skills to create pen holder using old floppies. The size of this pen holder is enough to hold a bunch of pens, small office items and a pair of scissors. Buda has used old 3.5″ floppies to create this holder with a solid wooden base. It has got black sides and keys to make it attractive. This pen holder is available for sale online for $9.
Recycled CDs turned into furniture

The idea of creating a funky chair using old, discarded CDs is the brainchild of designer Belen Hermosa. The chair is named "Panda Chair". This chair is built using only CDs and a metal frame. Though it is not as comfortable as conventional chairs, it is surely a unique piece of art.
Retro floppy disk shaped CD recordables

Designed after the 3-1/2″ disks that were used before the arrival of CDROMs, these square-shaped recordable CDs look similar to a floppy disk and work like ordinary CDRs. The storage capacity of this recordable CD is 200MB and its dimensions are 8.8 cm / 3.43 inches (Wide) x 8.8 cm / 3.43 inches (High). This item is available for sale online for $8.51.
Recycled ink cartridge chandelier

The credit for designing a chandelier using recycled ink cartridge goes to Lowell and Louise. They have used all ink colors including black, yellow, cyan, light cyan magenta, light magenta and both Grays. Each recycled light fixture has got a beautiful appeal due to the aluminum bar.
Hard disk desk clock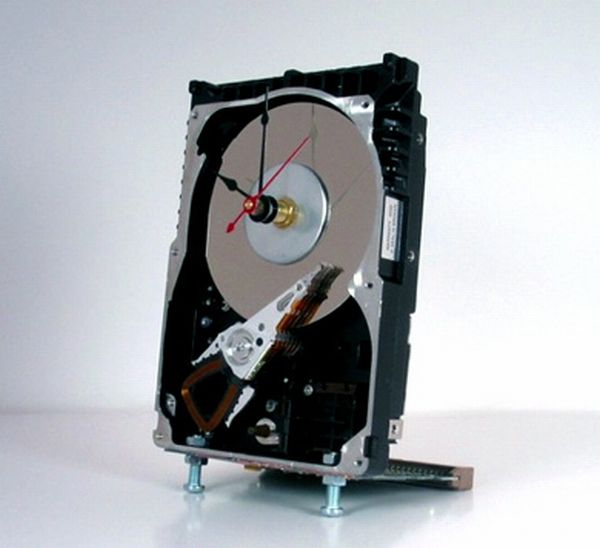 Priced at $29.99, this desk clock made using hard disk is a perfect gift item for PC maniacs. The designer has integrated hard drive and a quartz clock motor to come up with useful item. The clock is wall mountable too.
Old hard drives

The credit for using old hard drives to create different items goes to Rivera. According to Rivera, his most complex creation is a robot. Rivera says he spent around two weeks to create this masterpiece using 14 laptop hard drives and 18 additional discs.