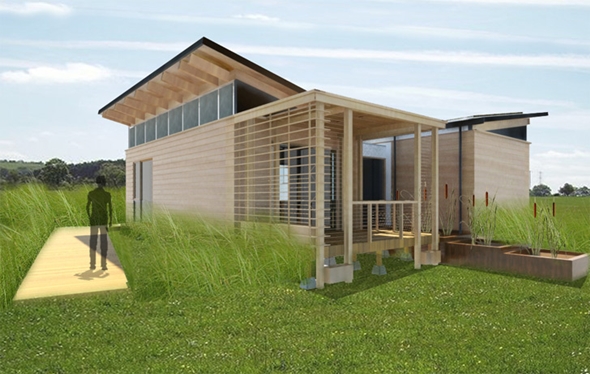 Solar energy is one of the clean energy and renewable source, so the world is ready to grab more solar energy to keep our environment clean and to tackle the energy shortage. The 2011 Solar Decathlon held at National Mall's West Potomac Park in Washington DC on September 23. Totally 20 student teams participated in the competition and constructed green and energy-efficient homes. All the homes are solar powered and had a unique design. Out of the 20 entries, let us see the top 10 solar powered homes.
1. Appalachan State University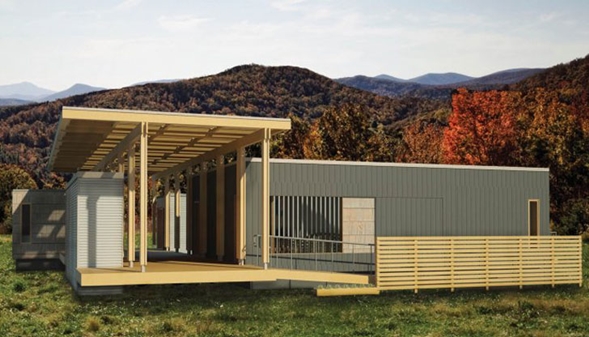 Appalachan State University in North Carolina was one of the the top competitors in the competition. They entered the competition with a traditional Appalachian home design with solar panels. This design is one of the simple, durable and stylish design. This Solar Homestead consists of a comfortable living spaces, good outdoor space, well furnished and reliable structure. This home is constructed by keeping residents of Ashevilla in mind. This design won People's choice award and 3rd place in architecture contest.
2. Team Canada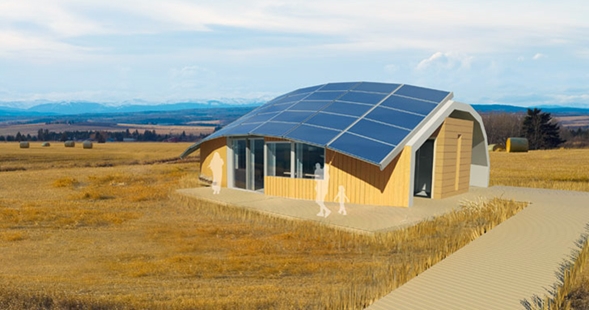 Team Canada's entry is Technological Residence, Traditional Living homes. Team Canada was from University of Calgary, Calgary. This turtle shaped sustainable design is mainly for native communities in Southern Alberta. It consists of 2 bedrooms, a bathroom, living room and a kitchen. It consists of two big solar panels which can produce a electricity of 8.3 kW and made from eco friendly building materials.
3. Florida International University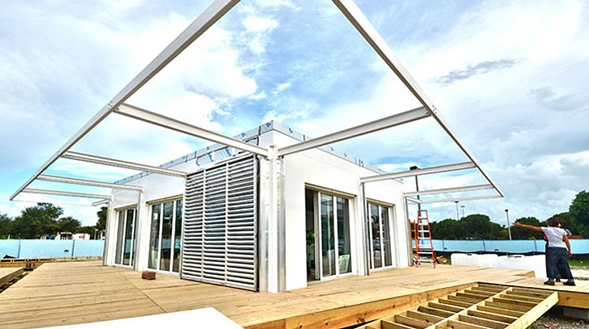 This perFORM[D]ance house from Florida International University was designed as an open pavilion.The louver system of this house is the main component of its design, because this system provides shade, exterior protection and also hurricane protection. Photovoltaic panels placed on the top of the roof will provide the power to the home. This home offers more inner and outer space and comfort living.
4. University of Maryland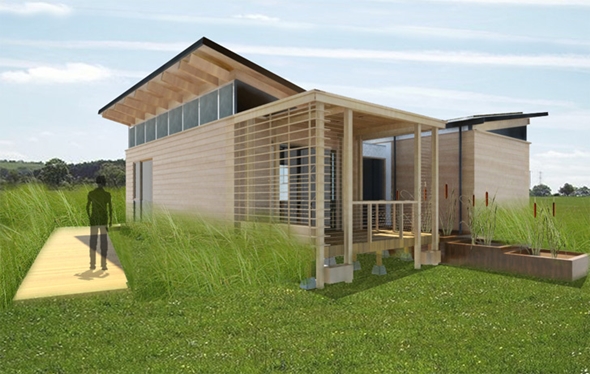 University of Maryland's Watershed House is the winner of 2011 Solar Decathlon. This design was based on the Chesapeake Bay ecosystem. It gives solution to both energy and water shortage. Home has constructed wetland and green rooftop to collect the grey-water and filters it. This filtered water is used for the garden around the home. Photo-voltaic and solar panels are used for generating electricity. This home offers all facilities and comes with a unique design.
5. Ohio State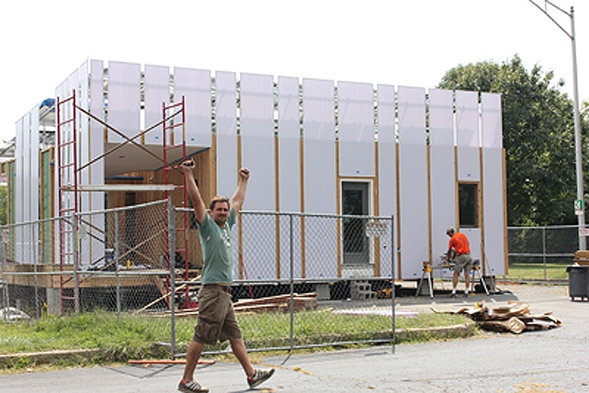 Ohio state's enCORE is placed at 5Th in 2011 Solar Decathlon. This 930 sq ft design offers enough living space space for 4 people, comfort, and protection. It utilizes solar power and rain water through filtration. It consists of 8-kW photo-voltaic panels for electricity. The solar powered hot air system will offer more comfort to residents and also it reduces the energy consumption. It is a family friendly design to reduce the energy consumption.
6. Team New Zealand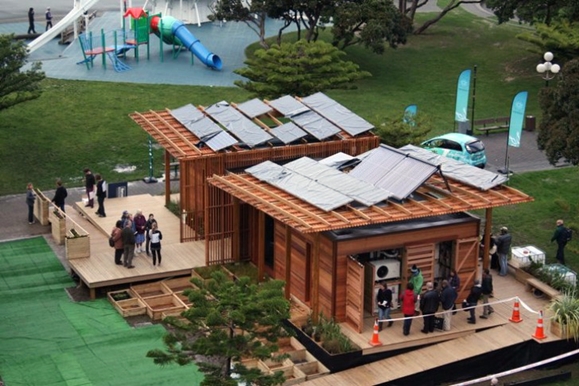 Victoria University of Wellington represented kiwis in 2011 decathlon in USA. Their Kiwi vacation home 'First Light' has secured the third place in the competition. It is a complete traditional wooden design. Unique feature of this design is energy monitoring system, which shows the data of maximum energy use, maximum production, water use and weather. Sheep's wool is used for insulation and drying cupboard to dry the clothes faster. This pleasing design offers more comfort and space.
7. University of Tennessee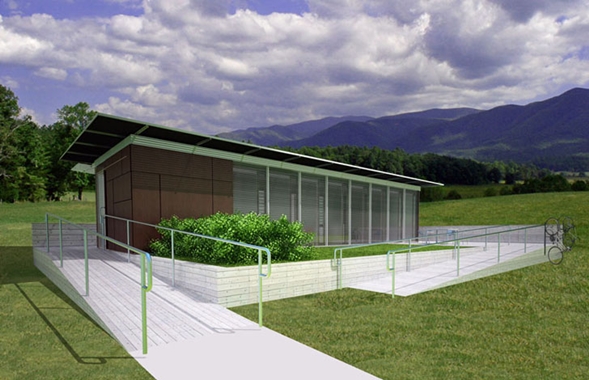 Living Light is the name of University of Tennessee's deign. This design blends the Tennesseans past and present homes. This is glass covered home with high-tech controllable lighting and blinds system. 10.9-kW capacity cylindrical photovoltaic panels are placed to get sunlight across a 360 degree. It consists of energy recovery ventilator, sensors, home automation system and double facade system to control the energy consumption and structure of the home.
8. Purdue University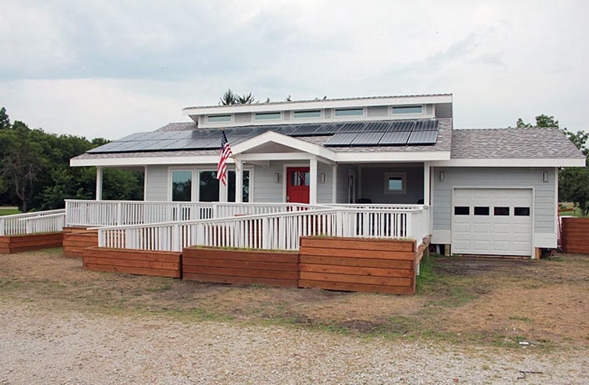 INhome from Purdue University is the runner up in 2011 decathlon. This Midwesterner style home offers sustainable living with comfort. It consists of a self-watering green wall with vertically arranged plants, air purification system, solar panels, air-to-air heat pump system to reduce energy consumption and for comfort living. This is well suited for a family.
9. Middlebury College
Self-reliance from Middlebury College is a home for a family of four. It consists of 2 bedrooms, bio walls, gable roof, kitchen, stack effect ventilation, air-to-air heat exchanger and much more. This home is powered by 7.2-kW photovoltaic panels. This simple and reliable home design is based on the old farm house designs. The home is built from recycled and environmentally friendly materials.
10. SCI-Arc/Caltech
CHIP is a real life design from SCI-Arc/Caltech. This design is entirely different from other homes, as it doesn't have a traditional home look. Main reason for this home's design is energy conservation and increasing land value in California. This home offers less land space but provides good inner space and comfort. It comes with a space for car park, 3-D cameras, app for displaying energy usage and production and to control the shade. This is one of the most durable and reliable design.