The exterior door is the first thing someone notices about your home. Therefore, it is important to put a considerable thought before choosing the material of the door. Ask any engineer, architect or an interior decorator, he will definitely reply that wood is always good for your home as it is timeless and renewable. Wood is organic and an isotropic material. Its thermal, electric, and mechanical properties are very suitable to build a nice comfortable interior of a home. Wooden doors are an all time favorite with homeowners due to the organically inspired aesthetic they imbue. There are many advantages of using wooden doors for your home as compared to other competing materials such as steel or fiber doors. Here is a description of how wooden doors help to keep the interiors of the house organic.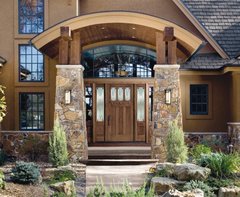 Best natural insulator
Wood is perhaps one of the best natural insulators on earth. You can renew it very easily. It gives a warm, beautiful, and stylish environment when you install wooden doors in your home or office. That is why wooden doors are the preferred choice of architects and designers.
Best protector from climatic variations
The reasons for choosing wooden doors go beyond its beauty and style. Weather the climate is hot or cold, wooden doors prevent the interiors from subsiding to heat or cold. This is because wood is one of the best insulators on earth. Despite the exposure to a very high temperature, wooden doors never get much warm. Similarly, they do not become too cold even when it is extremely cold outside. It is a proven fact that wood insulators are 400 times effective in comparison to steel and 1700 times effective in comparison to aluminum.
Savior from noise
If you do not like excessive noise, wooden doors are your best friend. Since wood is a good sound absorbent, it helps in preventing outside noise and other disturbances from entering your home. Similarly, it does not allow ordinary sounds to go out of the room.
High-energy efficiency
Wood is the most energy efficient material you can use for your home. Low e-glazing, warm-edge technology, and use of inert gas make wooden doors the most energy efficient doors around the world. Wood is a renewable source of energy unlike aluminum, steel, and cement.
Easy to maintain
Wooden doors do not need constant attention and care for maintenance. Wooden doors can easily be re-painted with a fresh coat of paint or a layer of varnish. Solid wooden doors do not crack or chip easily. They do not dent even when you carelessly move furniture around the house. They do not rust or corrode over a period of time. They can easily be replaced in case of wear and tear. Wooden doors stand up better to the ravages of pollution than any other material.
Security aspects
The first and foremost concern of a homeowner is the safety. You are surely going to benefit by investing in a good quality wooden door. Locks and latches can be easily attached to the wooden doors. You can easily fit spy holes, slide bolts, chain and letter boxes in wooden doors. You can also choose to install more than one lock in a wooden door.
Other advantages
Wooden doors are available in so many designs and styles. They are made from a large variety of lumbers such as oak, mahogany, pine, timber, etc. These are easier to cut and adjust to a specific size as compared to other materials such as steel and fiberglass. Wooden doors have a very long life if a good quality wood is used. Wooden doors are very easy to install as they adjust easily with the help of simple carpentry. Even the best quality steel and fiberglass doors cannot match the richness of a wooden door. Wooden doors give an elegant and natural feel to your home.
Conclusion
You can count on wooden doors to provide the unique look you are striving for to make a great impression for your home. Good quality wooden doors not only add to the looks, but also bring a feeling of warmth, hospitality and a feeling of pride for its owner. To ensure long lasting beauty of the wooden door, the finish of your wood should be maintained properly. Inspect the door at least once in a year for its longer life.