We all know that global warming is real and the day is not far away when it will cause the polar icecaps to meltdown and will result in many low lying coastal areas to get submerged in seawater. The latest studies revealed that the meltdown of a small portion of glaciers around the world has already caused the sea level to go up a little bit and if this meltdown continues at the present rate, then inundated cities will longer remain a distant future. Besides submerging the coastal areas, global warming will also result in other natural calamities like hurricanes, tsunamis and flood due to lashing rainfalls. With the possibility of cities and coastal areas going under water in the future, it has become necessary to devise plans beforehand in order to deal with such situations successfully and therefore, it has been found that floating architecture can be the ultimate solution for the future generation.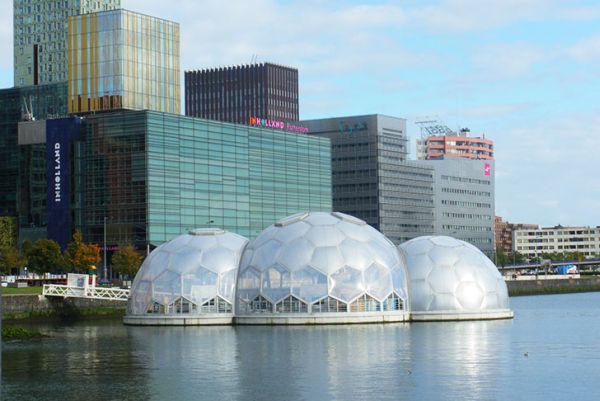 As the houses and buildings built on land makes them vulnerable to different kinds of natural calamities like earthquake, flood etc. so, it has become increasing necessary to invent new technologies which will no longer make our houses vulnerable to the natural disasters. So, floating architecture can bring a revolutionary change in the technology we use today to build houses and buildings. With the help of the floating technology, we will be able to build efficient and sustainable houses on the water bodies itself. This practice will prevent the expected mass exodus from the coastal areas to the dry lands in the event of sea water submerging the low lying areas due to rising sea level. This technology will even allow in building a fully functional city in the water bodies and will help in sustaining life normally over water.
Floating architecture will not only help in solving the future problem of large areas going underwater, but it can also solve the current problem of inland housing shortage. With the increasing population, it has become difficult to find living spaces on land and so, with floating architecture this problem will be solved to a great extent. For example, the Rotterdam's Floating Pavilion is designed and constructed by using the floating architecture technology. This unique structure is made up of a special type of foil called ETFE, which is also lighter than glass. It will keep the structure floating on water and will allow it to withstand the rising sea level easily.
On the other hand, BOA is another grand project based on floating architecture that will provide sustainable and safe living space for almost 15,000 people. So, it is evident that the floating architecture will bring a huge impact on the existing technology of building houses and will help the population of the coastal areas to continue living in the same place even after it gets flooded with sea water.