Green car concepts are ruling the roost these days with many individuals presenting their own visions of what an ideal eco friendly vehicle should look like. There's a lot to be taken into consideration when dreaming up a truly green vehicle. You would have to factor in green energy, zero emissions and cost of production in terms of resources used. The result should be a car that's reliable, cost-effective and low maintenance.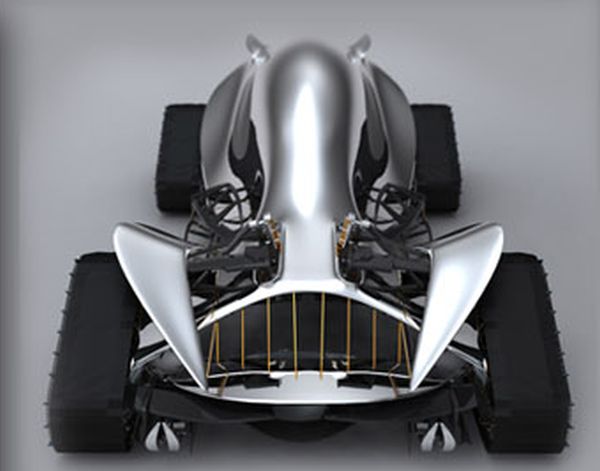 A certain Romanian designer named lulian Vornicu has caught our interest with his unique car concept that can survive even in Arctic temperatures. Called Morphex, the concept vehicle was entered into the Alaska Motors Competition and though it didn't bag any honors, it's well worth mentioning.
Morphex is a beast of a car. Powerful looking, its body is made from shape memory alloy, an alloy that recalls its shape. In the event of scratches or grazes to the vehicle, the alloy will get back to its original shape when heated. This saves customers a lot of money on trips to workshop as they don't need to go for paint jobs unless the damage is extensive.
Shedding the need for a windshield, Morphex instead relies on a Sonar Pulsar that can scan the environment and project what it sees into a holographic image. Since conventional windshields can be fragile in Arctic temperatures, the Sonar Pulsar takes over. Also it has a large cargo hold of 500 liters and can seat three people.
Morphex will run on two engines and hydrogen fuel cells manufactured by Ballard Power Systems. Incidentally, hydrogen fuel cells are increasingly being seen as an alternative to lithium ion batteries as hydrogen is found in abundance unlike lithium. However, Vornicu has also incorporated 10 lithium ion batteries to boost the capability of Morphex. What's unique is that the batteries won't need to be recharged from a conventional power source as they get their energy from friction produced by the air and the NiTi skin. Wheels with caterpillar like tracks, filled with ferrofluid controlled by a magnetic skeleton, reduces friction which saves energy and enables the vehicle to run faster.
If you're wondering just how powerful the Morphex is, then you must know that it can hit an impressive top speed of 300 mph. This is made possible by the 1,400 hp it produces and a max rpm of 8,000. Pretty cool for something that needs to cross over vast stretches of snowy and icy terrain.
lulian Vornicu's skill isn't limited to automobiles and he's also come up with cool ideas for interior home designing plans for development projects like Palas Iasi for Romania's mixed use development market.
Via: Forge