As promised by Volkswagen, they will soon start with the production of the most fuel efficient car. The prototype of the XL1 concept car was first showcased at the Qatar Motor Show last year, and who knows next year, around the same time, you might be riding your own XL1. Statistics show that the car will get 0.9L/100km or 260mpg, which apparently makes it the world's most fuel efficient car.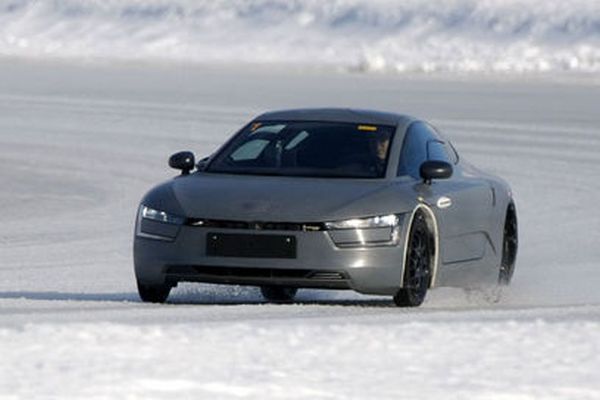 As far as the looks of the car are concerned, hardly any changes have been introduced. The gullwing doors of the car have been retained as such. Even the slot like headlights and the full width tail lights in the rear have been left untouched. One thing where change is prominent is the rear wheels. These have now been exposed, unlike before, when they were covered up for aerodynamics in the concept version. Also a set of conventional mirrors have been added to the car.
The length and the width of the car are similar to VW Polo, but the XL1 is much lower so that it helps reduce the drag. The construction has been facilitated with lightweight material. The body shell has been made from carbon fiber reinforced plastic and it has magnesium wheels and carbon ceramic brakes. In a broader perspective, just about 23 percent of the total weight of 795kg consists of steel or iron.
The car is powered by a hybrid powertrain that combines together a 47bhp 800cc diesel engine with two cylinders and a 27bhp electric motor. The electric motor will have the capacity of working on its own for about 22 miles or it can do so in tandem with the diesel engine too, when maximizing the range and performance.
Speculations reveal that production will start late this year and you will be able to purchase it in 2013 for $47,658.
Via: Autoexpress