When it comes to those futuristic considerations of low emission technologies, there is absolutely no dearth of urban vehicular concepts. And, as the trend and the cramped conditions of our metropolises dictate, most of these conceptualizations tread the structural scope of diminutive styling. The bearing of the so named 'Urban.Pod' vehicle is no different from this modernistic inclination towards compactness. However, beyond the design aspect, a few other innovative attributes rather improves upon the overall 'green' factor as well as user experience related to the conception.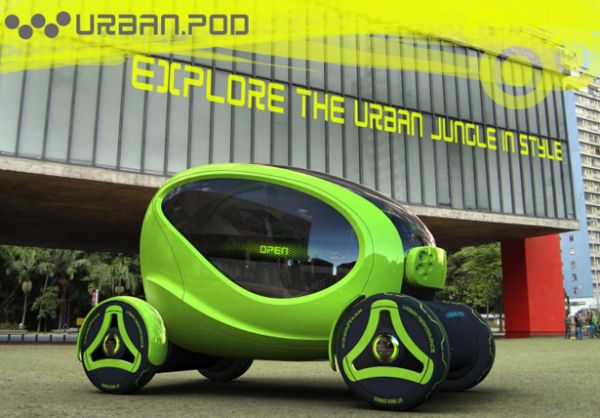 Conceived by designer Paulo Encarnai, visually; the car aptly embodies the bulbous shape of a pod. This system is complimented by the vivacious intensity of the color combination, and jauntily supported upon a set of spread wheels. From the practical perspective, the car also houses a storage space on the back section of the pod, above the rear wheels.
Now, we did mention something about the improved attributes of the Urban.Pod. Well, safety is one of those features. Encased in protective dual layer of skins, the chassis also accommodates a sensor system in its front end to automatically detect obstacles. On the interiors, the safety front is further strengthened with personalized user controls, an 'intelligent' info display that exhibits warning signs and a dashboard that turns red in emergency situations.
Finally, coming to its sustainable credentials, the roof section of the car will be equipped with transparent solar cells, which in turn would charge the portable battery system on the rear part. However, it is the materials to be used in the construction process of the Urban.Pod that really tickles our eco conscious senses. According to the designer, the contraption will be exclusively built from biodegradable plastics, which can be salvaged from several natural sources like vegetable fats and oils, corn starch, and even sugar cane. This certainly notches up the green scale, thus insinuating that rare scope of total sustainability.
Via: Tuvie