According to statistics in America women comprise of only 25 percent of the total bicycle riders. One of the reasons for this is the lack of bicycles on the market that focus on this niche, and provide a viable and comfortable product to its clientele. "Velo chic", is one such concept that aims to bring a trendy, comfortable line of bicycles to the female audience and bridge the gender gap in the bicycle industry.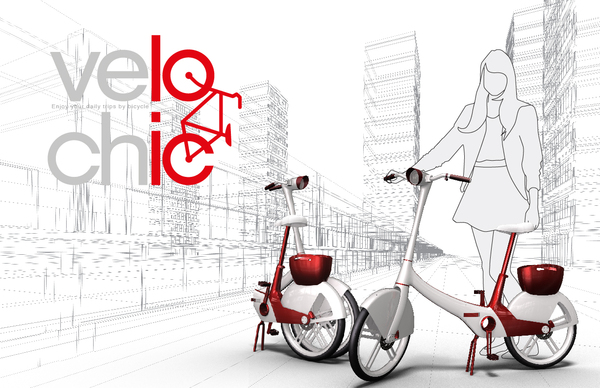 With the soaring costs of fuel and congestion problems in cities, governments around the world have been encouraging its citizens to ride to their office or other nearby places on bicycles. This includes a large fleet of bicycles available on rent to travel on daily basis. While males have resorted to this trend and are using this mode of transportation extensively, the number of females using the same is minimal.
The front and the rear sections can be folded together, which ensures that the minimal parking space at office or in the market doesn't bother you a lot. The foldable hinge and the handlebar also ensure the you don't need to specifically park it somewhere in your house but can place it in any corner of your house. It offers more storage space in front as well as rear by attaching your purse or groceries that you have picked up from the market, to its body. It comes with a Sussex Shaft Driven System and an electric Power Assist System that ensures comfortable ride during peak traffic hours. Designed by Guo-Shiung Hung, "Velo chic", certainly makes bicycling a lucrative prospect for urban women.
Via:Popmonbo