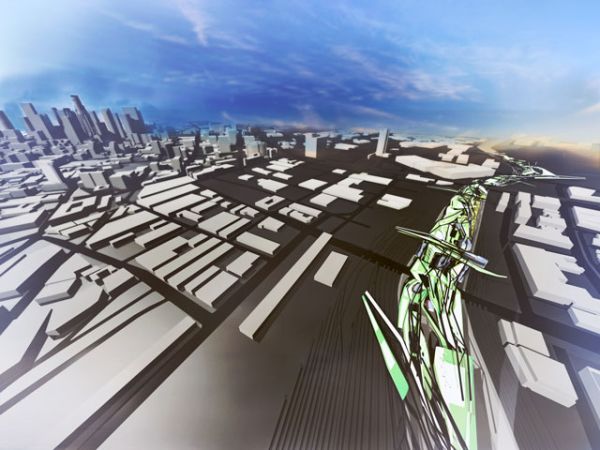 As a unique approach toward the creation of an Eco-friendly retail cum residential district at an uncommon location, the Urban Gestalt project has been proposed to be a part of the Los Angeles Cleantech Corridor Competition 2010. Designers Francisco Alarcon Ruiz and Gilbert Atick have focused on proposing a Clean-tech corridor plan that will not only support a green economy but will also incubate small businesses, enhance cutting-edge research and development of new environmentally friendly technologies, and large-scale manufacturing and assembly of such technologies. Thus, Urban Gestalt is not just a green building but is a neighborhood, as well as a block.
Inclined to take up a completely different option, the project intends to aim at the LA river site area instead of the proposed site options. The reasoning behind choosing this site option is to support the entire LA river basin's restoration efforts being done by various government groups. This ignored basin area just exists as a brutal concrete channel or storm drain that the project aims to revitalize and heal initially in an urban and then in an architectural manner. This LA Clean-tech area has always been viewed from the X or Y dimension and the Urban gestalt project wishes to provide a Z dimension viewpoint to it.
Inspired by the 1960s project by Yona Friedman, Urban Gestalt includes the plan to set up a multilayer structure along the LA river that has exclusive building types, open spaces, and circulation. The project plan focuses on building infrastructure to connect northern with the southern side so the distance can be covered by metro, as well as by car. The car infrastructure will majorly remain for parking, but with time, can aim to become a social and public space. In addition, the new metro line will connect to the existing Metro Gold Line and Blue Line, along with future metro lines.
Since the project aims at green architecture, self-sufficient recyclable and carbon-neutral units (called cells) will be manufactured on-site and set up at the required location. Focusing on longer life cycles of buildings, these cells can be used as single units and can also be combined into multiple units as and when changes in the infrastructure are required. Each single unit is usable to create a single-family house or small office, while a larger unit configuration can create a multifamily house, learning center or hospital building. The limitless Z dimension, which is the height of the structure, will be incrementally developed in a way to initially connect the whole structure to the existing city infrastructure, while opening new vistas for both horizontal and vertical expansion in future.
As traditional structures would start getting replaced, the new Clean-tech corridor may turn into a multi-element Urban Gestalt with a specialized transit network, neighborhood housing, hospitals, schools and universities, and commercial buildings and offices. With an emphasis on unblocked pedestrian pathways, the project plans at developing a connection between the city downtown and east side. The complete infrastructure aims at developing an ultimate super porous structure with three-dimensional streets and pathways, and an above-the-city and top-of-the-river carpet structure layer acting as artificial landscape. The otherwise lazy river area is planned to be developed as a happening place for future agricultural, transportation and recreational opportunities. With a vision to make LA as one of the most advanced cities, Urban Gestalt includes proposals to make the entire development an energy self-sufficient project.
Via: Studio Ruiz!Atick