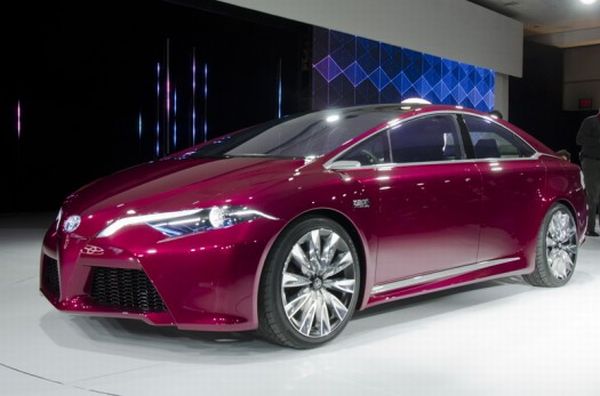 Toyota unveiled its next generation of plug-in hybrid cars at the Detroit Auto Show this month with the NS4 concept car. Toyota announced that NS4 represents its future thinking in respect of electric cars and will be a family distinct from the path-breaking Prius range. The first NS4 cars could be lunched as early as 2013.
The medium size model on display features a heavily curved body with a high roof, hardtop style design, which is a departure from the trend towards the more severe and low slung looks of other makes of concept cars seen recently. The shape conveys the visual impression of a car larger and heavier than the Prius. Very few technical details were revealed, but the NS4 is expected to be fitted with a 73 kW/ 142 Nm petrol engine coupled with 60 kW/ 207 Nm electric motors.
The fuel efficiency is expected to be around 2.2 liter/100 km and the hybrid would only emit 49 grams of CO2 per kilometer of driving. The NS4 will be fitted with an improved version of the Toyota Synergy Drive system that is expected to be lighter, to give the NS4 improved fuel economy and faster acceleration compared to the Prius. The Lithium-Ion battery capacity continues to be small at 5.2 kWH which means that the drive range on electric motors would only be about 20 km, the same as the Prius.
The NS4 will differ from the Prius in its human machine interface, with all the car controls being from intuitive touchscreens with the look and feel of a smart phone. The car electronics will have the built-in intelligence to learn from the driver's preferences and drive habits and make the drive experience more personalized than previous cars.
The NS4 also has the next generation safety features with millimeter-wave-radar signals and cameras for lane departure warnings and rear-end collision avoidance. In the event of accident with a pedestrian, the bonnet pops up to reduce injury to the person. The headlight beams are moderated to reduce glare and blind-spot monitors are provided.
The NS4 signals that Toyota believes the plug-in hybrid technology will continue to dominate in the near term and all-electric vehicles are still some distance in the future.
Via: Psfk