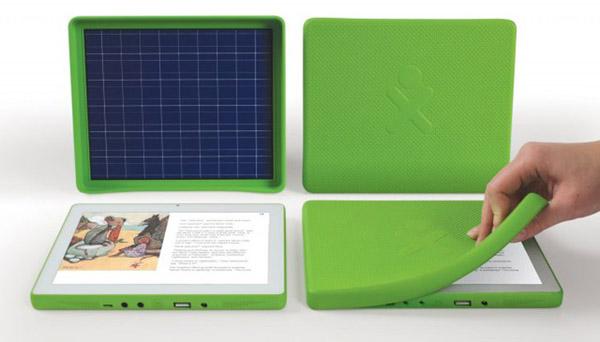 The gadgetry that brings convenience in our lives is also the cause of millions of tonnes of harmful waste generated on an annual basis. Whether it is our cars that release polluting gases into the environment or the pollution of water from the various activities we undertake, the fact is that we continue to use and support processes that damage our environment, sometimes irreversibly. The higher cost of products that do not generate harmful wastes proves to be an obstacle in large scale adoption of eco-friendly products. Efforts continue nonetheless to build such products at low costs. Here are some products that can add to the 'Go Green' credentials of those who believe in the cause of preservation of environment.
OLPC's XO-3 Tablet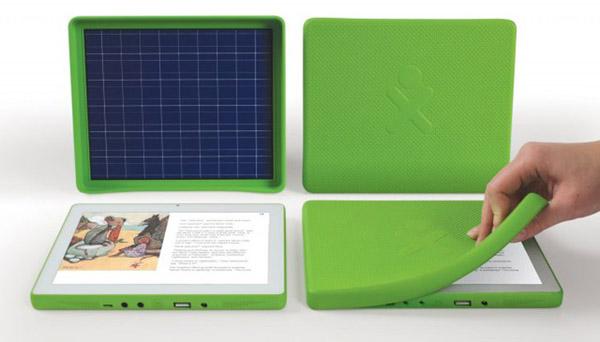 This tablet, to be made available in sub $ 100 range, uses the Marvell Armada PXA618 processor which reduces its power consumption substantially. It is coupled with 500 MB of RAM. It has an 8 inch display with 1024 x 768 pixel resolution. The high point is the mode of charging. A wind-up dynamo and solar cover harness the power of renewable sources of energy.
H&M launches exclusive eco conscious 'Red Carpet Collection'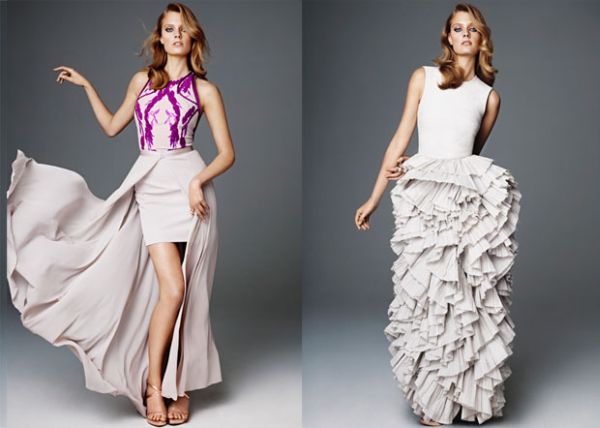 This red carpet collection from H&M is meant for fashionistas who believe in doing their bit for the environment. Cast off polyester, crude yarn and hemp are the raw materials that have been used to give shape to fashionable coats, shorts and embellished dresses. Celebrities such as Amanda Seyfried, Kristin Davis, Michelle Williams and Viola Davis have opted for dresses from this collection for their red carpet appearances.
Nest Learning Thermostat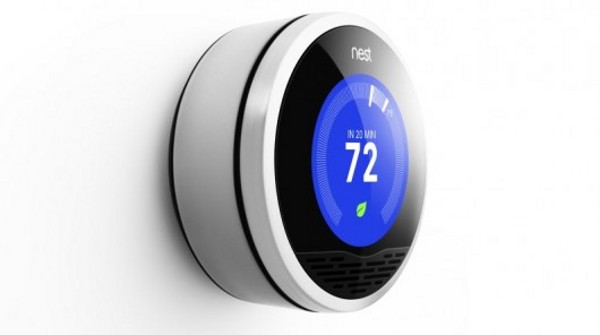 This programmable thermostat is meant to reduce the costs associated with energy consumption for heating by as much as 20 percent. The Nest Learning thermostat programs itself in accordance to the user habits and makes use of information from the internet via Wifi along with activity sensors to control the temperature level.
SWITCH Lighting Bulbs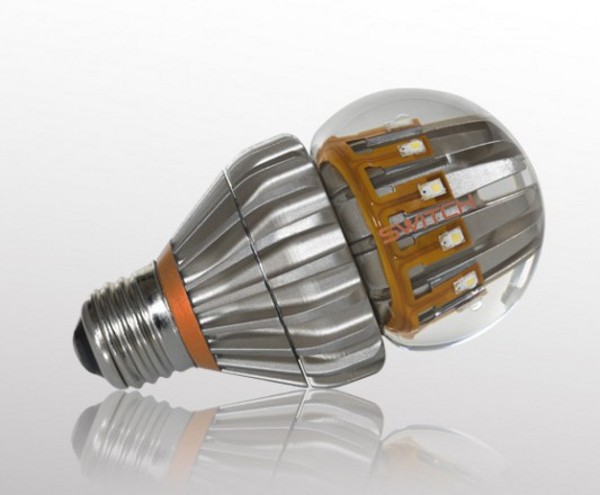 Switch has gone ahead and did what Sylvania, GE and Philips could not. LED bulbs are being seen as the future of lighting but manufacturers have been struggling to introduce high lumen models of these. Switch bulbs use a benign cooling liquid and the company has thus been able to design 75 watt bulbs with 25,000 hours range. The cost of purchase in 2012 will be around $40 but by 2013 it is expected to go down to about $13.
Energenie energy saver devices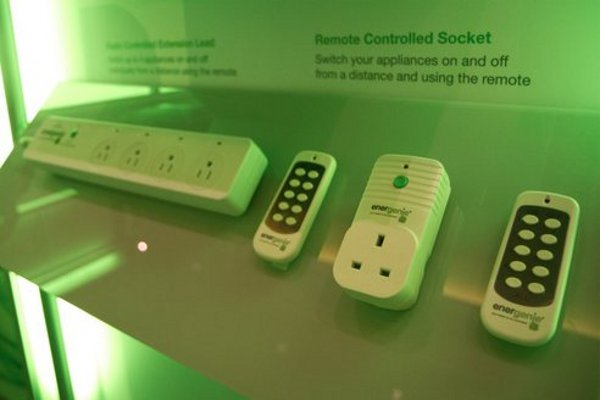 Radio controlled extension lead and GSM controlled power socket from Energenie help you reduce power consumption. This translates into lower power bills. The power socket monitors the temperature of the devices plugged in, can be turned off via a text message and also allows you to set a timer. The extension cord is remote controlled and can be used to turn on/off any of the connected devices separately.
Solar powered clothing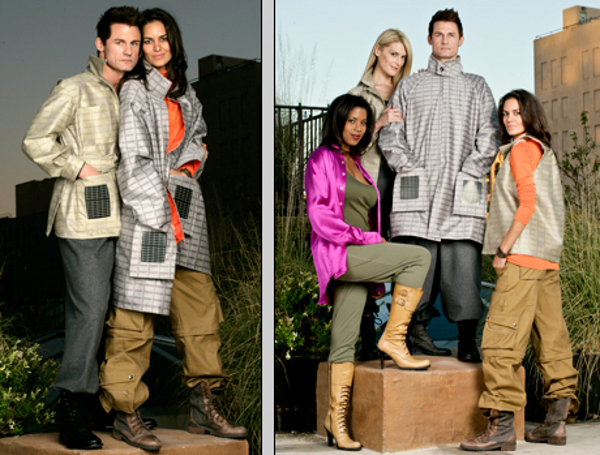 With this hooded vest that costs $620, solar powered clothing that can charge your portable devices has turned into a reality. It makes for an interesting concept indeed to be able to generate power on the move for charging small gadgets when the clothing is fashionable and does not appear odd.
Bedol: Water-powered eco-friendly clocks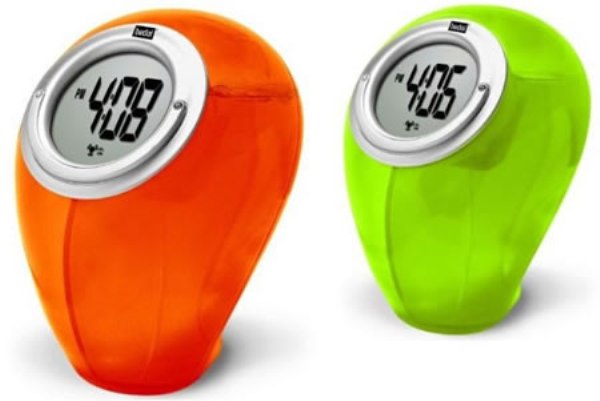 This eco-friendly clock generates its own energy and only requires you to add water every three months. No electricity or battery is needed after this. It costs $16 and is available in a range of colors. Aesthetic quality has not been given a miss either.
Aqua Tek S solar charging case makes your iPhone waterproof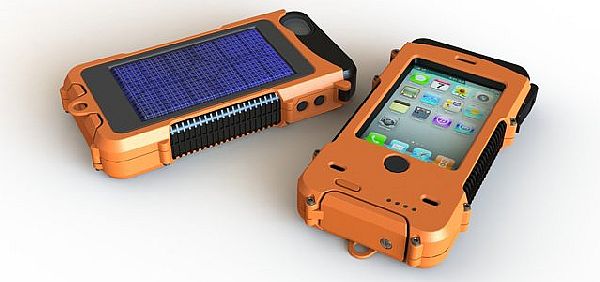 This water proof iPhone case, priced at $100, charges your iPhone through a solar panel fixed at the back of the case while ensuring that you can still access all the features of the phone with ease. Adventure sport enthusiasts form the target market for this polycarbonate iPhone case as divers can take the phone even underwater to take pictures.
Piggyback Solar Powered Gadgetbag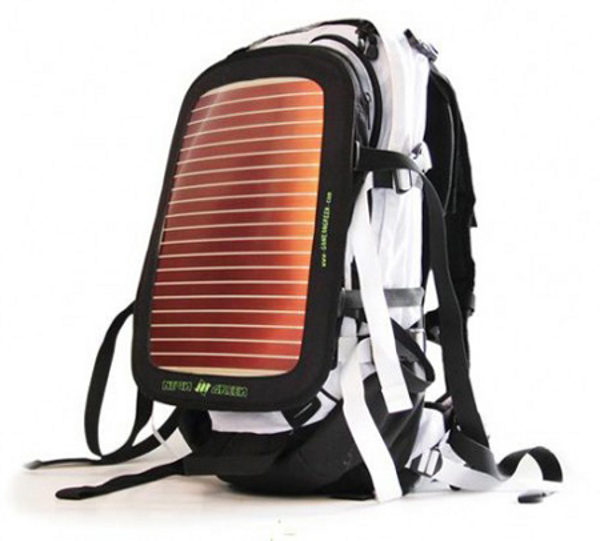 Strap this solar panel carrying bag atop your back pack to power your gadgets on the move. It has an 8 x 12 inch solar panel with a USB cable to charge your gadgets with 1000 mA at 5.6 Volt. The power can also be stored in a 800 mAh Li-ion battery for later use.
Water Powered Shower Radio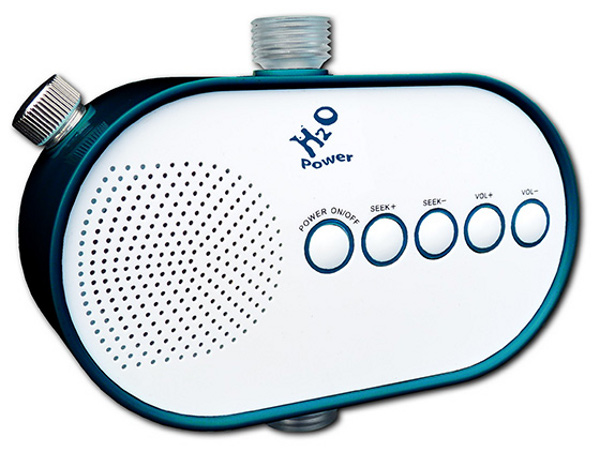 This one is for music enthusiasts who do not wish to give music a miss even while taking a shower. The elegantly design shower radio is not powered by electricity or disposable batteries but uses energy from running water to produce electrical energy through a generator. It can also store the energy for later use. It costs $57.