A small agri town in Switzerland, Teena, is home to the world's only ski lift that is powered by solar energy. The eco friendly ski lift was unveiled last year in December after two years of immense perseverance. The petite hamlet, in fact, uses only renewable sources to meet all of its energy requirements. With just 112 people, you will find solar panels installed in the roofs of all houses.The solar panels laden ski lift can be found on T-bar in Tenna.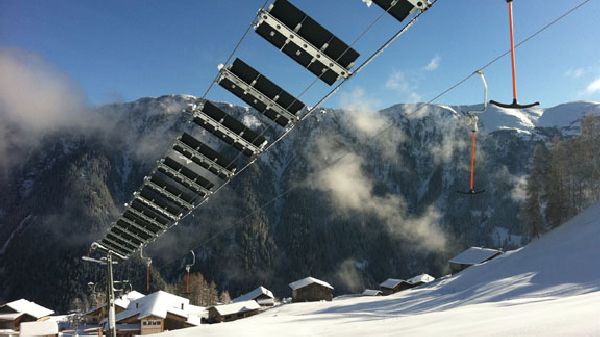 There are as many as 80 solar panels on top of the ski lift, which generate sufficient energy to take 800 people in one hour. The solar panels are positioned for harnessing maximum energy and they rotate according to the direction of the sun. They get tilted at a perpendicular angle during storms so that the snow slides off easily.
Ranging up to 1640 feet, this 450 m long ski lift has an annual generation capacity of 90,000 kilowatts. When the sun is at its best, the ski lift generates more energy than it consumes. This excess energy is sold to the grid to fulfill other energy requirements and is a source of income generation. Constructing green projects does not come easy and this solar powered ski lift cost as much as $1.5 million to the Skilift Tenna Association.
The tourism officials are hopeful enough of the fact that the ski lift will attract more tourists to Tenna. It is interesting to note that there are very few villages or towns, across the world, which relies on Mother Nature for their day to day energy requirements. Tenna is surely a role model for all cities and town, which plan to combat the daunting problem of climate change, by becoming greener in near future.
Source: ESPN