You might have witnessed various types of creative architectural buildings and landscapes. But, here is a beauty in the form of a lantern tower that would surely capture your attention. Designed to be a landmark, the Tianhe Mansion Tower is developed to be a part of the Guan Yin Qaio district in Chongqing, China. This is a state-of-the-art, high-rise tower that covers an area of around 119,500 square meters. With a total of 66 stories, the Tianhe Mansion Tower is as high as 312 meters. If you are at the top story of this building, you would feel marvelous while glancing at the world around.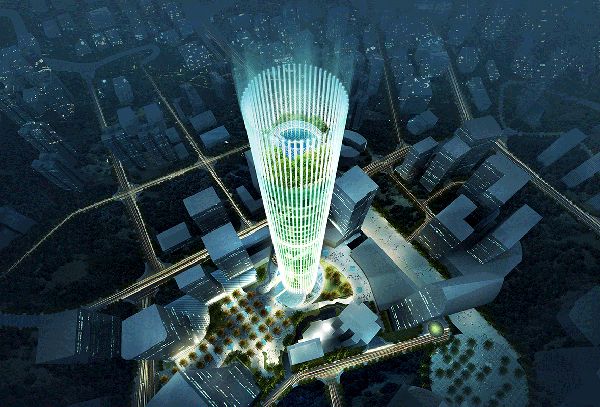 Inspired by diaojiao, which historically defines the pole housing structures in China, this tower has been designed to be perched over surrounding landscapes. There are existing terraced structures around this building on all sides. The city's parkland has a green pocket in which the Tianhe Mansion Tower is located. This tower has a circular design that supports the penetration of natural light during the day. What is seen as the building's podium is the parkland extension area wrapped with a cover of foliage. There is a blend of structure and skin reflected in the externals of the main tower.
The Tianhe Mansion Tower has operable portions that allow the mechanical structure a fresh breath of air and natural ventilation. Its pocket sky gardens give it a cool green touch as they appear across the facade throughout the building. The pole-shaped tower ranges up from its base to the top and literally goes beyond that. With its open arms toward the sky, the tower's theoretically extended top portion gives an amazing look at night as if a sparkling crown were placed on the head of this princely building. This is what adds up to the beauty of this bright lantern tower.
Via: HASSELL