If you are one among the people who want to go for an eco friendly kitchen then it is good to go through this article and have a look on some important things. Eco friendly kitchen remodeling is the best option in case you want to save money and choose a healthier way to renovate your kitchen. In other words, you don't need to spend a lot to make your kitchen look healthier as well as smarter.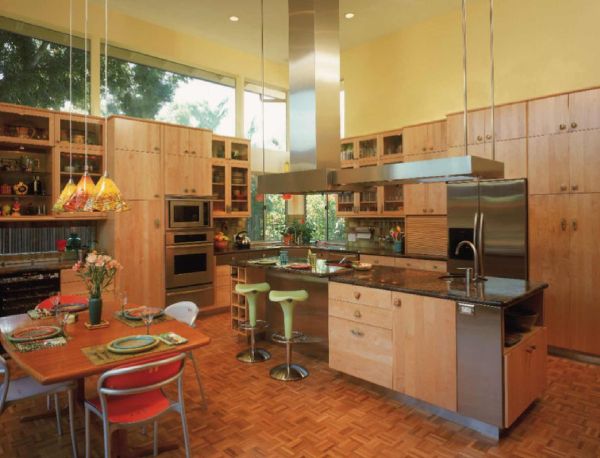 Nowadays most of the people prefer to go for environment friendly kitchens as they know that they don't need to pay much for buying green materials but simultaneously they might be unaware of the fact that it is somewhat difficult to get eco friendly counter tops, cabinets from a local store in their area. So, in order to make the process easier, you must search such stores that will provide you with the items you need to get an eco friendly kitchen installed in your home. There are many home improvement stores, which provide you with innovative ideas of kitchen remodeling. Moreover you can talk to your friends or relatives who are interested in tossing out their old kitchen cabinets, drawers and countertops in order to reuse the items and get eco friendly kitchen installed. Well you can also go for online stores, as these stores come with broader options and make the job easier for you. By doing this you also come to know about which countertops, cabinets and flooring suit your kitchen.
Kitchen appliances
Eco friendly kitchen remodeling includes the use of the appliances which you really need in your kitchen. Sometimes you don't need the appliances, but you still keep them in your kitchen in a way to give your kitchen a modern look. However it is important to know that it is mere wastage of energy and lead you to pay extra. In some cases it is good to sell the old appliances and spend the money in kitchen remodeling. In other cases, householders need to get some particular appliances installed in their kitchens; here they need to make sure that they bring only energy star appliances to their home. Even if these appliances are expensive, they help you to save money as well as energy.
Composting system
Eco friendly kitchen remodeling is incomplete without a garbage can, composting can and a recycling can. While going for eco friendly kitchen remodeling, make sure that there is sufficient place for all the three containers. This is the best lifestyle and sooner you adapt it sooner you live a healthier life.
Use of local materials for flooring, cabinets and countertops
In addition, it is advisable to look for the local manufacturers of raw materials, paints and appliances. By incorporating these local products in the kitchen remodeling, you are proving beneficial to the local economy as well as you are showing less dependence on the fossil fuels.
Now you might be thinking about the right material that would suit your eco friendly kitchen. There are many eco friendly materials available in the market but most of the experts suggest bamboo as the best option. It is good to use bamboo for kitchen counter tops, cabinets and flooring. Mostly, people do not prefer to go for the options that are not used before, but it is good to remember that you can be the one among those who bring innovations by introducing some new things and make others to copy their style. Bamboo is the best option for everyone including those who have never tried kitchen remodeling before and who are very meticulous about their environment. As bamboo is a natural material and grows much faster, you can use it for flooring your kitchen and other rooms of your home. Besides there are some other options for you. You can use natural stone or make the use of recycled materials in order to design the counter tops of your kitchen
Eco friendly paints
Kitchen remodeling is not restricted to counter tops, flooring and cabinets only. You also need to concentrate on the wall paints. While looking for the paints, you should know about the paints which matches environment friendly kitchen remodeling. There are some paints available in market that comes with low volatile organic compounds. These paints does not produce harmful gases, therefore act environment friendly.
This is all about eco friendly kitchen remodeling. You can create a new idea in order to give your kitchen a new look. It all depends upon your personal requirement and how creative you are.