Gardens built on rooftops have an magnetic aura, and their construction has been on the rise due to increasing popularity of open living spaces. A lush roof garden has been designed to be built in Mexico City by KVR Arquitectura De Paisaje. The well planned garden has a beautiful, practical and intelligent layout. The garden is an extension of the living space provided in a residential area. The main square of the garden has a lawn with a dining area lying in the front and a jacuzzi by its side.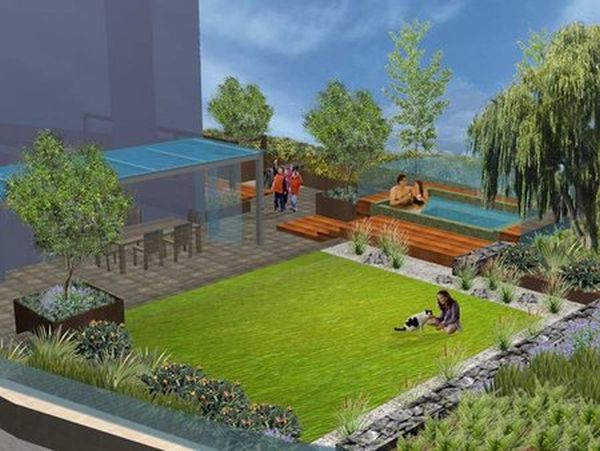 The entire landscape has been charted out very attentively using a set of parallel lines. There are 3 metal containers that split the continuity of the straight lines making root space for plants to grow out. Tough gray color volcanic stone has been used on the low walls and floors. The garden has a brilliant drainage system. A horizontal slab sloping in the direction of strainers has been provided, keeping in mind the need for storm drainage. The plantation area not only has vertical drains, but also a substrate for rooting, which allows easier drainage.
Many different types of plants have been cultivated here; with low lying grass and herbs that create a fine looking backdrop. The eleagnus and azaleas shrubs add tremendously to the beauty. The citrus trees along with jasmine, lavender and sage fill the air with a pleasant whiff creating a romantic ambiance. It also features a herb garden inside, which has been thoughtfully placed under the windowsill of the kitchen, right next to the grill.
The lush green lawn, jacuzzi, wooden deck, grill and dining area built in the garden are great for lounging with friends and family. The dining area has a windscreen glass enclosure so that you can enjoy a meal al fresco without being disturbed by the external weather conditions. The weeping willow, alders and shrubs enclosing the jacuzzi delineate a private zone in here, whereas the wooden platform built around it creates a heavenly sit out. This is truly an enticing open space and all onlookers will be smitten by its lavish splendor.