Is Taihoo a futuristic automobile or is it an avant-garde craft? No, it is rather a wondrous fusion of the two, conceptualized by Huang Hao ,a 22 years old Chinese transportation design student. Looking like a sleek spaceship on the loose, his design is aptly christened as the Taihoo. Why apt? Because, the perforated yet exquisite bearing of the vehicle is incredibly inspired by the shape of naturally occurring Taihu stones.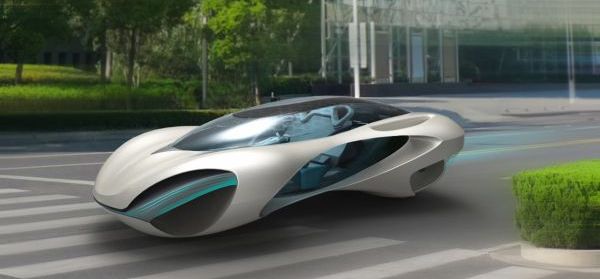 Taihu stones play an important role in Chinese based rock gardens. Now, according to the designer, he had been smitten by the ethereal scope of these uniquely translucent and porous rock specimens. The end result is a lustrous vehicle conception for the year 2046, with an utterly resplendent factor.
Targeted toward young people, the two seater automobile has been envisaged for a futuristic urban environment. The compactness of the design is comparable to modern day hatchbacks, well suited to generally cramped conditions of city traffic. Coming to its form, the intricately curvaceous lines along the structural 'voids' will be supported by the light weighted bearing of an aluminum frame. The chassis in turn will be complimented by high strength acrylic windows, shielded with an anti-wear film.
But beyond its visual and structural allure, it is the ardent green technology fueled mechanism that has tickled our fancy. According to the designer, the craft will comprise of a specially built glass material (extending up to the windows), which would be embedded with thin film solar cells. The harnessed solar energy in turn will be utilized for powering small equipment within the vehicle. As a matter of fact, the internal facade of the glass material doubles up as a projection screen for a variety of multimedia entertainment.
As its main power train, the vehicle will be driven by boisterous electric motors, housed in the hub section of the angular wheels and supported by a sturdy battery pack. Finally, to make things convenient for potential future users, the automobile will have an extended 'low emission' range of more than 500 km.