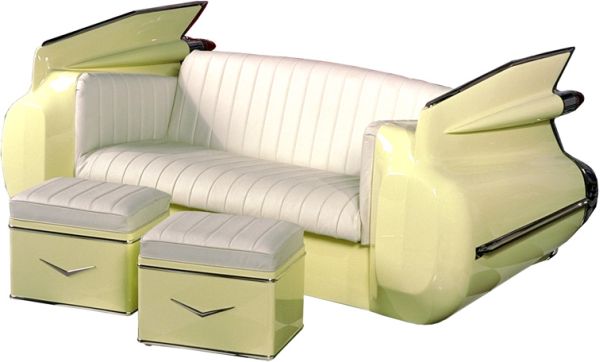 For the auto enthusiasts who wish to liven up their home décor with something unusual and interesting, the idea of having furniture made from auto parts seems to be a great option. Recycling of scrapped auto parts into furniture pieces not only make for conversation pieces inside your living space, but also helps the environment at the same time. Many of the creative designers and design houses have picked the neat idea, and have converted the obsolete auto parts into unique, extraordinary and stylish furniture pieces. Let's have a look some of the best furniture units made from old auto parts.
Couch and footstools made from a 1959 Cadillac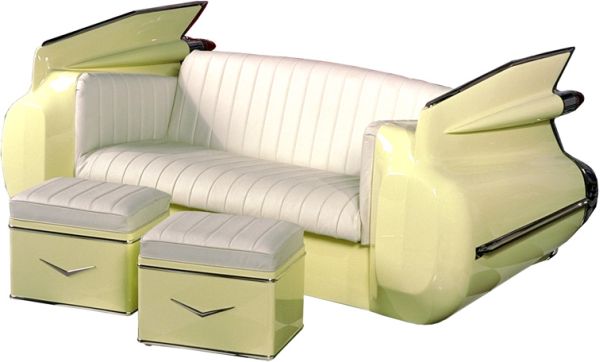 Most car couches are made to go against the wall and the back of the couch faces the wall. But, this comfortable and beautiful looking car turned couch is totally different, as the taillight fins of the car are featured on the back of the couch and the seating is in the forward. The couch gets an elegant look on either side and can be placed in the centre of a big room. This unique car couch is created from the rear quarter of a 1959 Cadillac and is designed by a company called Vintage Vending. The entire set comes with two footstools designed to complement the couch.
Automotive furniture by Steven Shaver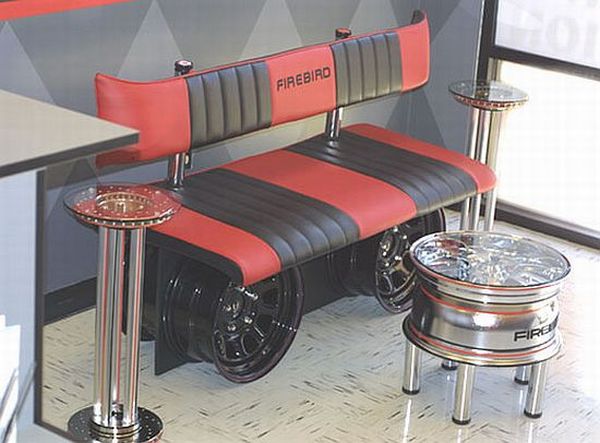 Designer Steven Shaver, who loves old cars, re-invents them into great and extravagantly interesting furniture pieces, instead of discarding them in landfills. He gives a new life to the obsolete car parts and makes them to add to your room's decor. One of his designs pictured above is an upholstered sofa made from '60s/'70s Firebird and Trans Am car parts that include trunk lid, brake rotors, rear spoiler etc. the sofa is accompanied by a coffee table made out of wheel rims with glass top. Each piece of the furnishing item is hand made by the designer and he lets the customer choose the furniture provisions with padding, springs, webbing, and covers and the wheel emblem etc. to create the furniture pieces according to his wish.
1960 Chevy Impala Bed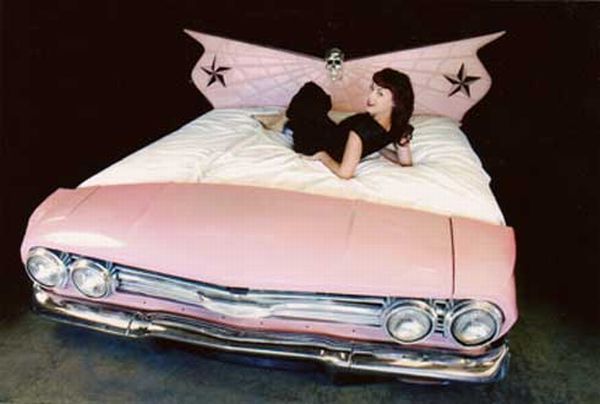 For car enthusiasts looking for decorative furnishing pieces, Jake's Chop Shop is the ultimate destination. This company deals with extraordinary furniture pieces designed from old and outdated cars. The gorgeous pink bed pictured above is made out of 1960 Chevy Impala designed for a comfortable and cosy sleep. The headlight also work as night lamps and the hood that opens up the engine compartment providing with a storage area for beddings. The cool and custom bed is painted pink with metal flake and is priced at $4000. The company exhibits funky and innovative furniture pieces that are appreciated by every auto enthusiast.
The V8 Table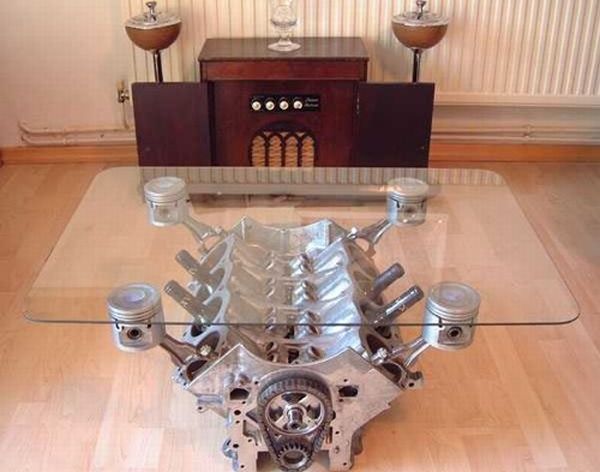 Designer Christoff Brock of England has created a unique and cool coffee table by making use of an old Rover V8 engine. The intention of this functional and one-of-a-kind table is to serve as a coffee table, but it can conveniently hold your beer bottles as well, flaunting its multi functionality. The top of the V8 table that is made of glass may make it appear like a regular coffee table, whereas the base of the table is divided in number of sections providing room for accommodating beer bottles. The table is made entirely of automotive parts making it more captivating the attention of the observer.
Custom Hotrod Furniture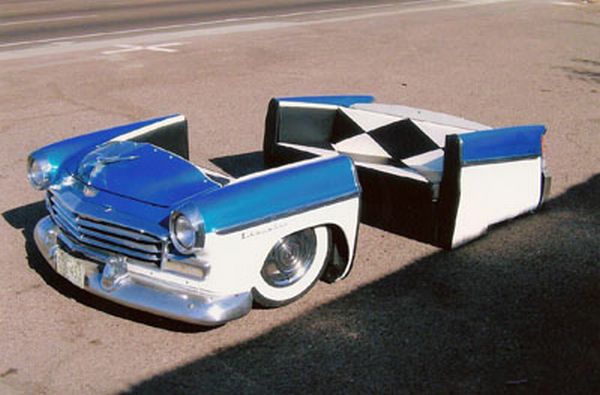 Jake, the owner of Jake's Chop Shop, creates marvellous furniture pieces form old and abandoned cars. He leaves his customers spell bound and rather speechless winning appreciation and holding the attention of many passersby. The old cars that are beyond repair is generally thrown as trash in landfills. But Jake views them as unique furnishing pieces. Each piece that he creates is handmade and very extra ordinary and will surely add to the allure of your house's decor.
Classic AC Cobra 427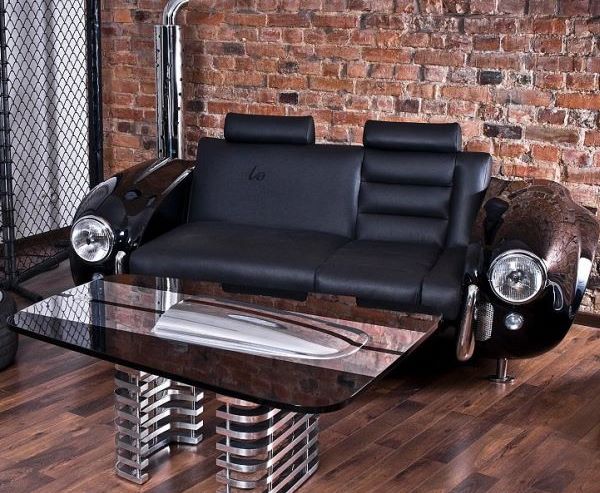 Polish designers, Łukasz Siódmok and Andrzej Sapierzyński of Poland-based LA Design Studio have created a stunning furniture range by making use of old automotive parts of the American classic AC Cobra 427, which was a luxurious car of 1960s. The 'Spirit of 427' is the name given to the furnishing series that constitutes of sofa, coffee table, armchair, office desk and standing lamp shade. All car parts including the bumper, fuel inlets, leather from Bentley and Ferrari factory stencils and lighthouses. The "Spirit of 427" collection is handmade and is guaranteed to give your home a classy makeover.