A solar enabled charger dock for your iPhone lets you have a safe backup while travelling. Well, the first solar powered portable charger for iDevices, the Power Dock has been surfaced by A-Solar. The compact solar charger dock is a lightweight and travel friendly. You can carry the gadget around during your journeys to keep all your iDevices alive.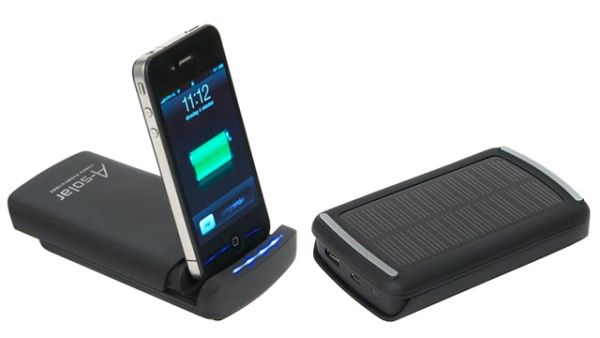 The solar Power Dock packs in a 6000mAh battery, which can provide enough juice to charge a pair of iPhones. Though having a small footprint, the charger can hold an iPad without keeling over and charge an iPad up to 60 percent of its battery capacity.
Thanks to a USB port, AC power can also be stored in the charger dock. The port also lets you charge your non iDevices through a USB cable. In short, the A-Solar product is a highly practical portable charger that you can put in your backpack to keep your iOS devices charged always.
The Power Dock is a plug and play device. It automatically starts to charge your iPhone instantly after you dock it on the charger. Yet another fantastic feature of the dock is that it lets you sync it with iTunes.
To fully charge the inbuilt battery of the Power Dock through solar panel, you need to place the device in direct sunlight for 12 to 16 hours. If you prefer the AC power, it will take only four hours, instead.
The solar charger dock is small and lightweight. It measures in at 12.3 by 7.5 by 2.4cm and weighs just 210 grams. An LED indicator shows the battery status and other details.
Via: Gizmodo