A project by Toronto, Canada-based architectural studio RAWdesign, the Shift 20*20 Prefab Residential building concept is a unique new initiative that looks to transform the urban landscape using sustainable and economically beneficial building concepts. The proposed concept for a 6-storey urban residential building in College Street, Toronto explores the potential for a self-functioning prefabricated dwelling unit that can be built in challenging spaces like sites with imposing building code restrictions and sites that make traditional building construction costly because of arduous and complex city bylaws. Also targeting sites that render urban sites virtually undevelopable because of the imposing of existing building structures in its proximity, the SHIFT concept opens up the scope for usage, habitation and redevelopment of existing tight urban sites much easier.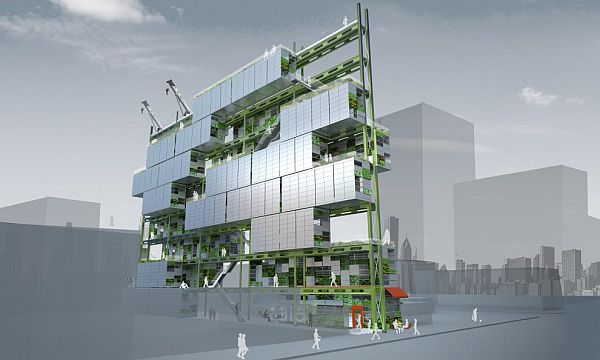 With a single frontage, the 7m wide and 60m deep site of the proposed SHIFT concept sits at the heart of Kensington Market in Toronto and has been left untouched by developers because of the building challenges that it comes with. The SHIFT concept, however, looks to create a residential building on the same spot without sacrificing a common space necessary for a building of this type. The concept proposes the use of semi private and public spaces located throughout the building to serve as circulation with modular living spaces arranged in a shifted manner. Either side of a vertical framework would be utilized by each unit which would attach themselves to it to respond to the limited width of the site.
The plugged-in prefab module and the corridors would be used to feed the building with electrical and mechanical utilities and both structure and infrastructure would be provided by the central framework. To serve as the main utility provider, a special unit crafted using the same prefab techniques would be installed at the rear side of the main building. Residents would be offered the option of determining the configuration of each apartment and the use of reclaimed materials and rainwater harvesting would make the construction more sustainable.
Via: Architizer