Biking is one of the healthiest and greenest ways of getting around. Emission free, bikes move around when physical power is applied, making for some good exercise. The popularity of bikes has continued despite many shelling out big bucks for cars. In fact, so desired are these humble two wheelers that the last decade saw bicycle sales trumping that of cars by over 2,000,000 in Australia.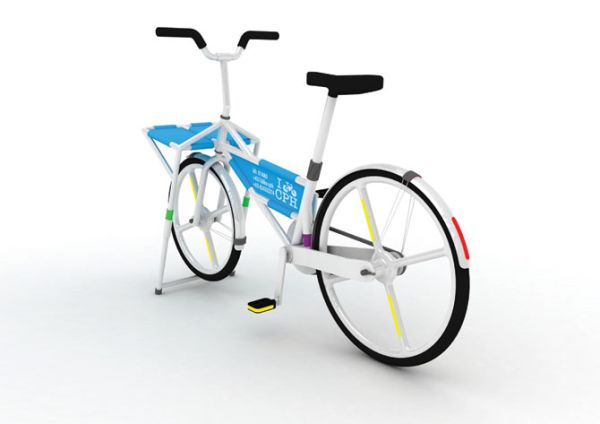 The bicycle has come a long way in terms of design and comfort. Modern bikes are equipped with gears to help ease the strain on riders during uphill climbs. Countries like Denmark see a significant number of people commuting to and fro using bikes. This has led designers to come up with new ideas for bicycles, and one that's caught our attention is the Share bike system designed for Copenhagen's roads.
The urban bike has been built for comfort and flexibility. A lock has been integrated in the stand and it can be manipulated accordingly. A sprung rear fork and flexible seat adjustment allows a comfortable ride. An additional seat has been fixed at the front instead of the rear in a bright blue color, which perfectly complements the overall sober and modern look of the bike. What stands out more than anything else are the integrated LED lights on the pedals, the stand and the front and rear spokes.
The share bike system is among one of the many new concepts being developed for bicycles. Ingenious individuals are putting their minds to develop bicycles that will efficiently cater to urban cities where automobiles are found in large numbers. If current trends continue, we may soon see ourselves relying more on this simple form of transportation than ever before.
Via: DullDays