The world renowned Salon du Chocolat, has toured the world and has presented great shows dedicated to chocolate. After showcasing their talent in Paris, NY and Tokyo, they have now arrived with their latest show in Zurich. They not only serve as a platform to bring together chocolate makers and customers but also have something or the other to attract everyone. Apart from the catwalk displays, it presents cooking of chocolate recipes at Choco Demo, conferences and tastings at Chocosphere, and children's workshops at Chocoland! This chocolate couture in Zurich left all the fashionistas with a sweet tooth.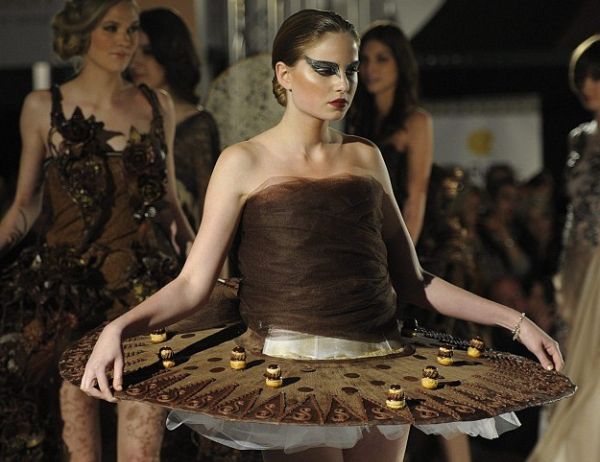 These incredible creations left the audience spellbound, as everything from the model's skirt to her hat and jewelry have been made from chocolate. Some of the exclusive designs took inspiration from a hit film. The models presented some of the most intricate, mouth watering creations of Salon du Chocolat. This three day Zurich chocolate show brings to light some unique creations by chocolatiers, bakers and other cooks from Switzerland and all over the world. In another part of the show, the model's body was painted with white chocolate squeezed out from a pastry tube, this was the most complicated as the specialists had to raise the melting point for chocolate by adding pectin.
Through this show Sylvie Douce, founder of the Salon, highlighted that chocolatires are equally admirable on the stage as the fashion designers. Fashion trends keep on changing from time to time, and it is this change which attracts the fashion lovers, and if this change is brought about by chocolate, it would be a match made in heaven. However, this will not be a trend that will exactly catch on, but is one off exception and just brings out the novelty factor.
Via: Dailymail