Unlike in centuries past, modern art can be created out of virtually anything. Many artists are ditching the usual paint, brushes, stone and clay and are working with materials that sculptors of the world wouldn't have given much thought to. The result is artwork that's interesting and unique and makes for stunning contemporary installations.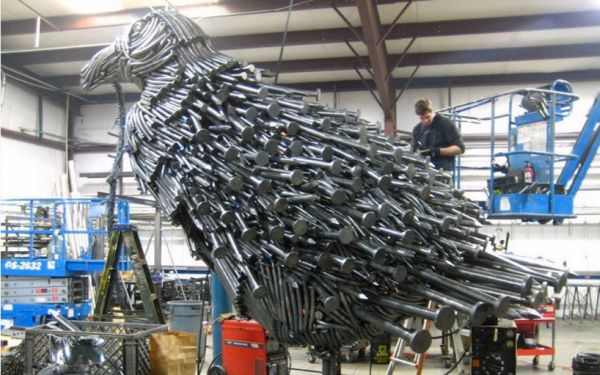 American artist Will Ryman has completed work on two sculptures, which are now being exhibited at the Paul Kasmin Gallery. The works will be on display till March 24th of this year. The huge installations have been titled 'Bird' and 'Everyman' and have been crafted out of everyday objects.
Such efforts do a lot to further the cause of recycling and reusing. Of course, Ryman's sculptures being very large, had to be made out of custom fabricated products at Demiurge studio. The 'Bird' was built using 4,500 nails that were custom made to create the 12 foot tall sculpture, which can be witnessed at 515 w 27th street. Incidentally, the avian piece was inspired by American poet Edgar Allan Poe's poem 'The Raven'.
The reclining 'Everyman', meanwhile, is made out of household products like bottle caps, paint brushes and work boots. Much bigger than the 'Bird', 'Everyman' measures 90 feet in length and is installed in 293 tenth avenue, curving around the perimeters of two gallery rooms. One of the arms – which is made entirely out of bottle caps, extends into the gallery.
'Everyman' is more than just a reclining figure, however; Ryman also worked on the brain by creating it out of thousands of paint brushes. Visitors to the gallery can take a walk inside the head and admire the work that went into creating this gigantic installation.
Via: Designboom